6 Products Under €15 You Should Try The Next Time You're In Superdrug
Their own brand stuff is VERY good.
Superdrug isn't as widespread in Ireland as its rival Boots, but there are a few shops dotted around the country including a HUGE new one in Dublin's Jervis Street Shopping Centre.
You might be wondering, what can I get in Superdrug that I can't find elsewhere? Well. Superdrug has a few brands you can't get anywhere else, as well as its extremely pocket-friendly own brands (which are cruelty-free and vegan for the most part, too). Next time you pass one, drop in and pick up these few bits…
When beauty guru Sali Hughes raved about this serum a few years ago, it almost immediately became a cult product. It does exactly as it says on the tin, hydrating the skin and keeping things smooth and supple. And at about €3.50, it is truly bargainous.
Superdrug's answer to Liz Earle's Cleanse & Polish, at less than half the price. It comes with rave reviews from customers, who say it suits their sensitive skin and removes every scrap of makeup. Ideal.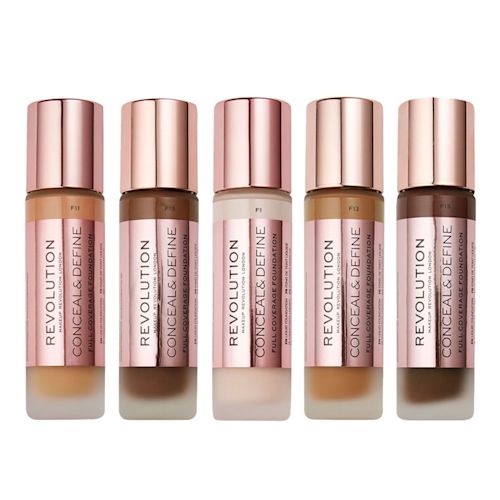 This concealer was a sell-out on its release a year or two ago, and it's still a bestseller. It's full, full, FULL coverage, which may not be everyone's cup of tea, but if you're a fan of concealers like Tarte's Shape Tape, you'll like this.
Anyone with dry skin might flinch at the idea of a toner, but this mist is specially designed to soothe, revitalise, and hydrate. Sounds nice, right? You can also spritz it on over makeup to keep yourself glowing all day long.
This AHA peel is basically like an at-home facial – pop a pea-sized amount of it on overnight once or twice a week for smoother, more radiant skin. Just remember to use an SPF the morning after to protect your shiny new face.
Makeup Revolution Eyeshadow Palettes, approx €12 each
It's hard to choose just one Makeup Revolution eye palette as they've genuinely got loads of brilliant ones, some of them pretty dead-on dupes of more expensive brands. If you don't know where to start, the one pictured above is the highest rated on the site – it's got a great selection of colours, fab pigmentation, and gives you excellent value for money.
Now, we're cheating with this last one as it technically hasn't launched in Ireland yet, but… Superdrug is the UK stockist of Drew Barrymore's brand Flower Beauty, which no doubt you have heard all your fave US bloggers going on about.
Some products are available on the Superdrug website, but we're hoping it'll land in Irish stores very soon. C'mon Drew, pull the finger out.
Have your say
More like this