9 Times Cardi B Took Acrylic Nails To A Whole New Level
These are ELABORATE.
Cardi B has become a fashion icon ever since she blew up after the release of her hit single, Bodak Yellow. However, one thing other than her fashion sense we feel we must bring attention to is her unreal nail game.
If you've seen any interviews with the 25-year-old rapper, you'll have noticed her rocking some serious acrylic nails. Even Ellen Degeneres herself couldn't miss her bedazzled claws. In an interview with Cardi back in April, Ellen asked if she could even pick anything up with her long nails, to which Cardi answered: "If you can clean your butt you can do anything." Sounds legit to us.
YouTube: TheEllenShowAfter having a look through her Instagram, we've officially established that Cardi is the queen of acrylic nails. Although we can't imagine being able to pull off any of these looks ourselves (or function with them, tbh), we've rounded up our top nine OTT Cardi B claws.
This Offset set
These have to be our first choice because Cardi is so extra that she has her fiancé, Offset's face on her nails. A literal queen.
This diamond explosion
Cardi tends to opt for a pointy stiletto nail shape. These white, iridescent, jewelled nails are serving us ice queen vibes.
The ones that got her to Vogue
These our one of our fave Cardi nail looks, still bling AF but not as OTT as usual. Also, the pointier the better in my opinion.
This matchy-matchy pink dream
One does not match their nails to their outfit, one must match their outfit to their nails. We appreciate this nail to outfit colour coordination.
This peachy bling
I feel like every time Cardi has her nails done she goes longer. These colourful claws are the perfect summery peach if you're looking to turn some heads.
These Christmas nails
We thought we were extra getting little snowmen painted onto our Christmas nails.
These surely very weighty embellishments
Question: Do the gems weigh Cardi's hands down? Is she having a finger workout when lifting things?
These ones that could take your eye out
These classy black acrylics look like they could do some real damage…but in a classy way.
And this pared-back red
This picture just shows that Cardi can pull off a classic red as well as her diamond dream acrylics. Teach us your way, Cardi.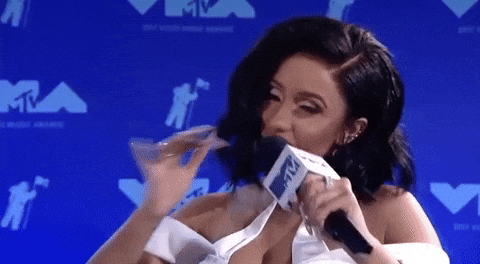 If you're popping over to the US any time soon, Cardi only gets her nails done by Jenny Bui in the Bronx. We admire her loyalty to her nail gal.
Have your say
More like this