4 Irish Clothing Rental Sites To Keep You In Style Without Breaking The Bank
As the cost of living rises with the temperature of the planet, sustainability and costings are two of the main problems facing our wardrobes and the fashion industry today. Hence, the rise in clothing rental sites worldwide, providing a sustainable way to update your wardrobe without the financial commitment of buying new clothes.
We are all trying to do our part of make our lives a little more sustainable and better for the planet, so renting rather than buying is fast becoming the best option for your wardrobe. Whether you feel like sprucing up your office fit for the week with a fresh coat or need a dress for a winter wedding, renting clothes can be a fun way to experiment with your style without breaking the bank.
We have rounded up 4 of our favourite clothing rental sites that we are certain you will love too.
How it works:
Firstly, go online and find the piece or pieces you want to rent, similar to how you would when you're doing you usually online shopping. Then select how long you would like to rent it for and it will be delivered to your home. At the end of your rental time, organise the return of the pieces (schedule this through their website, often with a free return label) and send the items back. Then you are ready to start all over again with a new set of fabulous clothes.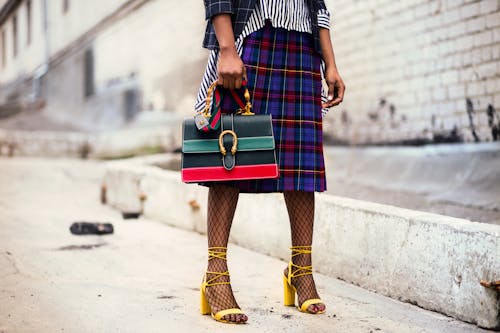 1. Rag Revolution
View this post on Instagram
When Edel Lyons found herself inundated with parties, events and weddings whilst facing the financial cost of living in Dublin, she landed on the idea for Rag Revolution. Encapsulating her passion for sustainability and fashion in an innovative business idea, the young entrepreneur decided to launch her clothing rental company that today rents over 70 styles you can rent for 3 or 7 days at a time.
2. Greens are Good For You
View this post on Instagram
When you're looking to add a little va-va-vooom to a special night out? Where else to start than with a new dress, top or trouser! Greens are Good for You is one of the trendiest clothing rental sites you will come across and we have to say, we obsessed are obsessed with them right now.
Did we forget to mention that this company is literally LOVED by Irish Influencers? With Sophie Murphy and Sinead Shannon recently spotted in many of their pieces, Greens are Good for You are serving looks this season.
3. The Designer Room 
View this post on Instagram
The Designer Room are a pioneer in renting clothes in Ireland and have therefore earned themselves a reputation for being the go-to site for occasion rentals. Whether it's weddings, birthdays or a big event, you can kit yourself out in the most gorgeous designer pieces for a fraction of the purchase cost. They also have a beautiful showroom where you can try before you buy.
4. Happy Days 
View this post on Instagram

Looking to add a bit of spice to your wardrobe for a special day? Happy Days is the answer to your wishes! Happy Days want to support their community of customers by providing cost effective, beautiful clothing regardless of taste or size. This inclusive size-inclusive company is passionate about making women feel their best in the happiest days of their lives.
By Grace Mollaghan
Have your say
More like this