Five OG Beauty Youtubers We All Watched Back In The Day
All hail frosted lipstick and bright pink blush.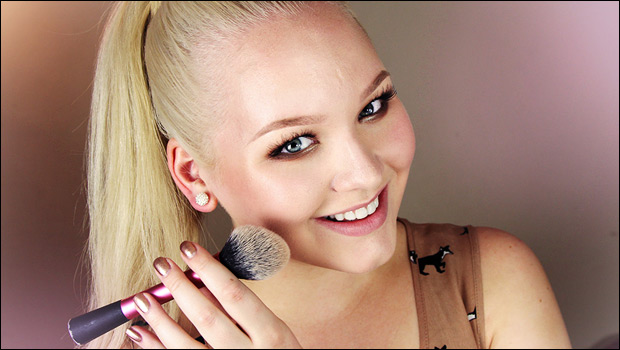 It goes without saying that millennials have learned a lot from the wonderful web. How to apply makeup being up there as the most important.
When Youtube cropped it's head back in 2006, it wasn't long before people took to plastering their faces with makeup on camera and sharing it with the world.
However, long before the days of Kim K contour and Lip Kits, there were women painting their eyes with Barry M Dazzle Dust pots as we all observed adoringly.
Although the makeup world has come a long way since those humble days, we still like to reminisce from time to time about the simplicity of it all.
Here are five of our favourite OG girls who helped pave the way for today's beauty vloggers.
Panacea81
Lauren Luke aka panacea81 (love the name) was the first beauty vlogger I had ever watched. Her fun and sparkly eye looks caught my attention as a young girl. Recreating looks from celebrities such as Avril Lavigne and Kylie Minogue, she had a look for everyone. Lauren has since gone on to turn her success into a beauty empire and continues to thrive today, you go girl!
Michelle Phan
This reigning no.1 beauty guru was the first woman to reach one million subscribers and has been giving us #inspo for over 11 years. Known for her transformation looks, I think we are all guilty of attempting to recreate her 'Barbie transformation' tutorial.
Kandee Johnson
In 2009 beauty lovers discovered someone new to subscribe to on Youtube, this being the mega babe Kandee Johnson. She taught us how to apply eyeshadow, clean our makeup brushes, and transform ourselves into Edward Scissorhands, you know, the basics. Kandee is still doing her thang today and we have been following her journey since day one #loyal.
NikkieTutorials
If watching Nikkie's first ever makeup tutorial doesn't give you hope for the future then I don't know what will. Just like us, back in 2008 Nikkie was not an expert at makeup, however, with time she has grown into the beauty phenomenon that she is today. Not only are her first few makeup looks iconic, they are also inspiring, showing us that with hard work and dedication you really can succeed.
juicystar07
Otherwise known as Blair Fowler, this gal was a firm favourite on our subs list back in the day. A fan of a brown smokey eye and pink lip combo, this lady taught us a lot back in 2008, like to apply lots and lots of blusher if you are going to an event that involves taking pictures. That explains our little red faces in the pictures from our underage disco days, damn you Blair!
Without these fab gals we wouldn't have the fancy YouTube tutorials we love today, so for that we are thankful!
Have your say
More like this