Here's Your First Look At Kim Kardashian's Fab Beauty Collab With Her Makeup Artist Mario
The collection marks their tenth year working together. Aww!
Like Kim Kardashian or not, she has had a huge impact on the beauty world over the past decade.
Her iconic sculpted look was crafted by her makeup artist Mario Dedivanovic, who she has been loyal to for ten years – and to celebrate the anniversary of their partnership, they've collaborated on a makeup collection for KKW Beauty.
The range consists of an eyeshadow palette, lip glosses, and a lipstick. We got our first peek at it all yesterday, and well, it's extremely attractive to be totally honest.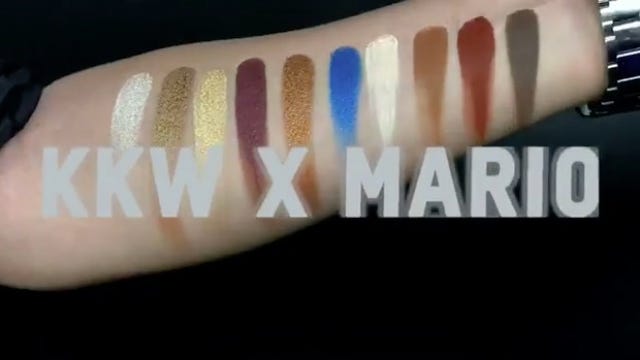 The pigment in those shadows is insane, and it's brilliantly (and hilariously) demonstrated in the following video:
Another cute detail about the collection is its launch date – April 5, a significant date for Mario and Kim. He explained it all in a heartfelt Instagram post:
Ten years ago on April 5, 2008, I met Kim Kardashian on a cover shoot… I had an agent who demanded that I stop working with Kim immediately. They said I would ruin my career… and that all of my hard work and struggles until then would be for nothing. I chose to stick with Kim because it felt right in my heart.
"When I parted ways with my agency, one of the last things they said to me was 'Good luck, Mario, because you will never get a Vogue cover working with her'," he wrote. And well, we know how that turned out.
The palette is $45 (€36), while the lipstick and lip glosses are $20 (€16) and $18 (€14.50) respectively. Like all KKW Beauty swag, it's not cheap – that blue shadow might just be worth it, though…
Have your say
More like this