James Charles Has Lost Over Two Million Subscribers Since Tati Westbrook's Video Dropped
And Tati has gained three million. Burn.
Our favourite kind of drama is YouTuber drama, and it really popped off over the weekend when Tati Westbrook posted a video 'exposing' her fellow beauty guru James Charles.
You'll find a full rundown of what she had to say here, but in short, Tati accused James of endorsing a supplement that rivals her own vitamin brand, which she felt was a betrayal after all she and her husband had done to help him establish his career.
The spat consumed social media for the whole weekend – James has lost over two million subscribers since the 'Bye Sister' video came out, while Tati has gained about three million new followers. Eh, wow.
Live videos are keeping running tallies of their respective counts:
In one part of the video, Tati claims that James used his newfound fame to pursue straight men, "tricking" them into thinking they're gay.
"You know it's really disgusting to manipulate someone's sexuality… You're using your fame, your power, your money to play with people's emotions," she said.
You're threatening to ruin them, you're threatening to embarrass them, and you're doing that to have them behave sexually in your favour even if they're straight, and you know what, that's not okay… Cracking someone's sexuality is not an escape room.
Swedish popstar Zara Larsson shared this particular clip, claiming that James had messaged her boyfriend, British model Brian Whittaker, on Instagram.
"I'm cackling cause he hit up my boyfriend in the DMs several times knowing damn well he's straight," she tweeted. However, Zara later clarified that there had only been one DM and a few comments under photos, and deleted her tweets.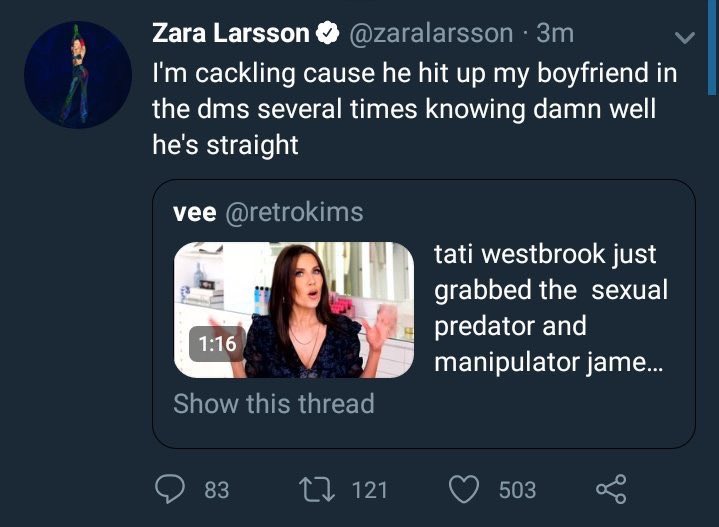 In his poorly-received apology video, James vaguely acknowledged these particular comments, saying he's been in "a lot of very unique, strange situations that have left people confused or upset".
I've learned the hard way about ways that I can interact with people that I'm interested in, and also ones that I should or shouldn't be talking to… It's something I should have been far more careful with, bringing [it] into the public eye.
Jeffree Star has also weighed in on the whole thing, taking Tati's side in a now-deleted tweet (can everyone stop deleting their tweets please? Thanks) calling James "a danger to society". Woah.
I'm waiting for this Jeffree Star ?? pic.twitter.com/onbFKi5jr3

— senpaiya (@senpaiya_) May 13, 2019
"There is a reason that Nathan [Jeffree's boyfriend] banned James Charles from ever coming over to our home again," the YouTuber said. "There's a reason why I haven't seen him since [Tati's] birthday in February. He is a danger to society. Everything Tati said is 100% true."
Let us bear in mind that Jeffree doesn't exactly have a spotless record himself, and seems to have come out previous scandals relatively unscathed. Will James Charles land on his feet? Give it a week, and we'll see if all will be forgotten…
Have your say
More like this