Reviewing The Fashion From Sabrina The Teenage Witch, 20 Years Later
Did you think you'd be dressing like Sabrina when you grew up? Us too.
Everybody's raving about the trailer for the Chilling Adventures of Sabrina, the new Netflix take on the classic comic book character.
But it's reminding us of how much we loved Sabrina the Teenage Witch, which ran for seven glorious years from 1996 to 2003. What a style icon she was. Really, watching it as kids in the 90s/early 2000s we believed that we'd be dressing *exactly* like Sabrina when we were 'grown up' – do we still wish we did? Let's have a look back and see…
Her sparkly bell-sleeved dress from the opening credits
The dress is still kind of great (love those sleeves), but please don't ask us what's on her feet because we can't tell you. Pointy frilled boots? Heels with a frilly ankle strap? No idea. The hairstyle is bad but also looks like the one we had for our Confirmation, so we can't fully hate.
All her sheer tops
Sabrina was a divil for a sheer top, or in this case, a sheer top-come-boob tube-come-choker? There's a lot going on. It's a bit racy for everyday wear, perhaps, but these sheer looks we can still get behind: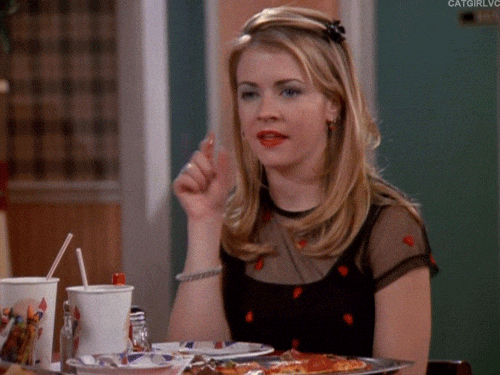 Cute as a button!
This blue velvet dress
Sabrina wore a LOT of velvet over the years. You'd get away with this blue dress nowadays no bother. The Newbridge Silverware-esque necklace we'd leave behind, though.
Her red leather trench coat from the later seasons
With a bootcut jean, a hoop earring, and matching red choker! Honestly? It works.
Her obsession with matching
We've already seen it in the red leather number, but when Sabrina could match something to something, she did.
This is, from what we can see, a matching top and jacket with a skirt and headband picking up the brighter red part of the pattern. She had an eye for detail, did Sabrina.
See, the snot green on snot green? We'd have never thought to pick up that colour (mostly cos it's YUCK). We don't know where you'd even find a matching top and jacket set these days, and we're not going to labour over matching our trousers to a pattern in our shirt, so maybe it's best we leave that trend behind.
All the brown
This is where she loses us. Brown velvet jacket, satin shirt, brown slacks, brown choker? It's just too much brown.
This number is SLIGHTLY better – the basic look of a polo neck and a mini skirt is good at least – but we still can't be dealing with all that brown. Get AWAY from the snot green and brown, girl!
This high-neck jumper and pinafore combo
Unimpeachable. In fact, we probably have this exact outfit in our wardrobes right now. We ARE dressing like Sabrina!
This possibly school rule-breaking outfit
Tiny mini with slit, knee high boots, and a v-neck top – this is genuinely what we thought we'd be wearing around the town when we were 16. Why Mr Kraft didn't tell her to get home and change is a mystery.
This purple ensemble
The top looks to be made out of that awful material that stretches to fit any size, the matching tights are a step too far, but the shoes… The shoes are every 90s girl's dream school shoe. Clunky platform loafer things that made every step you took sound like an earthquake. Heaven.
Her love of a high neck
Barely an episode went by where Sabrina was not wearing a high necked SOMETHING. The above purple jumper is cute (check out the matching hair clip!), but she especially liked terrible high-necked ribbed t-shirts:
No. Just no.
And this perplexing LBD
The LBD itself isn't perplexing (it's rather nice if very short) but the mustard accessories? Necklace, bracelet, bag, ring, AND knee-high platform boots? What in tarnation… (Edit: We've just realised that she might be trying to match with Salem, who has yellow eyes? Still… perplexing.)
Whew, what a ride. But listen, it's been over 20 years since the show began. It's surprising that ANYTHING Sabrina wore is still fashionable today. If we've learned one thing, it's that she can't be trusted with an accessory – but don't worry Sabrina. We still love you.
Have your say
More like this