Scared Of The Blue Eye Makeup Trend? Here Are 5 Easy Ways To Master It
Blue eye makeup is well and truly back, and we're not complaining.
For a very long time, blue eyeshadow has inspired nothing but bad memories in the average gal.
Whether you're getting flashbacks to the 80s or the frosty blue shadow of the 2000s, you probably weren't too thrilled to learn (possibly via the KKWxMario palette) that blue is back.
We're going to credit its resurgence not to Kim K but makeup queen Pat McGrath, who's been incorporating rich blue into her work for ages – for example, on model Adwoa Aboah for this gorgeous Vogue cover: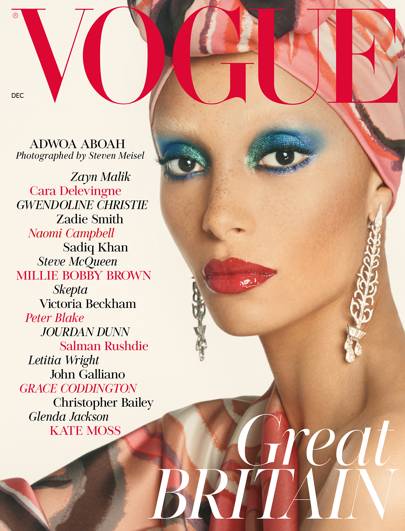 It's stunning, but yes, quite scary to the uninitiated. So how does one dip their toe into this trend? Well, it's actually very doable, and it doesn't have to be very expensive either.
As the centrepiece of a smoky eye
You can go for a pop of royal blue like Kim, or choose a deep navy to get really sultry.
Kat Von D's Metal Crush in Paranoid isn't an exact dupe of the KKW colour, but it is just €13.34 in Debenhams at the moment – Wet'n'Wild have some good navy options with their single eyeshadow in Suede (€2) or their trio Can't Touch This (€3.95).
In a feline flick
This is so simple and SO striking. The best coloured liquid liners on the market right now are the Vivid Brights by NYX (€7.75) – take the shade Sapphire and go mad.
On your lower lash line
The easiest way to update your standard warm-toned eyeshadow look is to pop a bit of blue liner under your lower lashes. You can go with teal, turquoise, cobalt – try the Rimmel Exaggerate Waterproof liner in Aqua Sparkle, or the NYX Slide On pencil in Azure or Sunrise Blue (€7).
In a 60s pastel hue with black liner
So this look won't be for everyone, but vintage-inspired pastel blue shadow has been seen on cool gals everywhere (heavily inspired by the titular character from the film The Love Witch, as seen above). Very Lana Del Rey, no? NYX have the answer again with their Nude Matte Shadow in Voyeur (€6).
As mascara
It's not for the faint of heart, we agree. But if you want to push the envelope, blue mascara looks amazing with a very pared back face and perhaps some eye gloss. Try Urban Decay's new Double Team mascara in Gonzo(approx €19) if you dare.
Have your say
More like this