Heading Up North? 3 Places To Visit That Aren't Belfast
There are tonnes to see and do just a few hours away from home
If there's one thing we all love, it's a staycation. After the garbage fire that was 2020, we've all learned to appreciate what's on our doorstep when it comes to travel, and just because we're able to leave the country now, doesn't always mean that we want to.
The north of Ireland is a mecca for culture and satisfying your wanderlust. But, for many of us in the south, when we think about heading up north, our first thought is usually Belfast. Of course, while there are tonnes to do in the buzzing city (if you're looking for some inspo, see here), there's also plenty more just outside of it too.
From bougie hotel stays to idyllic cabin breaks, there are tonnes to see and do just a few hours away from home.
Relax and unwind in county Down 
If you fancy a bit of the high life in a quaint town, this is the one for you. The Slieve Donard Hotel in county Down is the perfect balance of glam and down-to-earth. Outside, the luxury hotel looks like something straight out of Harry Potter but inside is a whole world of bougie. We recommend hitting the spa, where you can enjoy the pool and thermal suits as a guest, or book in for a treatment of your choice.
Nestled in among the mountains of Mourne you can take a stroll down the town, stop into the arcade for some child-like fun and refuel with a coffee from some local coffee shops.
Explore til' your heart's content in Antrim 
There are tonnes to do in county Antrim, and a lot of it is surprisingly outside of Belfast. I recently took a trip to Dunadry in Antrim, and can vouch for how amazing the area is. If you're keen on getting out there and seizing the day, there's little more thrilling than The Gobbin's Experience. Europe's most dramatic cliff walk, the Gobbins journey takes you along the coast of Islandmagee, while your tour guide will teach you all about the landscape and how it shaped the lives of those long before us. For information on booking, check out here.
If you're looking for somewhere to lay your weary head after a full day of adventuring, look no further than Dunadry Hotel. With Rod Stewart and Bill Clinton as past guests, you know you're in for a good stay. Seeped in history, the Dunadry Hotel is family-run, with that home away from home feel. It also has a pool and thermal suite area to rest your muscles after a day spent out, and 3 restaurants to choose from when you're ready to unwind. The best part about it? It's just a 15-minute drive outside of Belfast city, giving you a chance to hit up some shops too on your drive back home.
Go off the grid in Donegal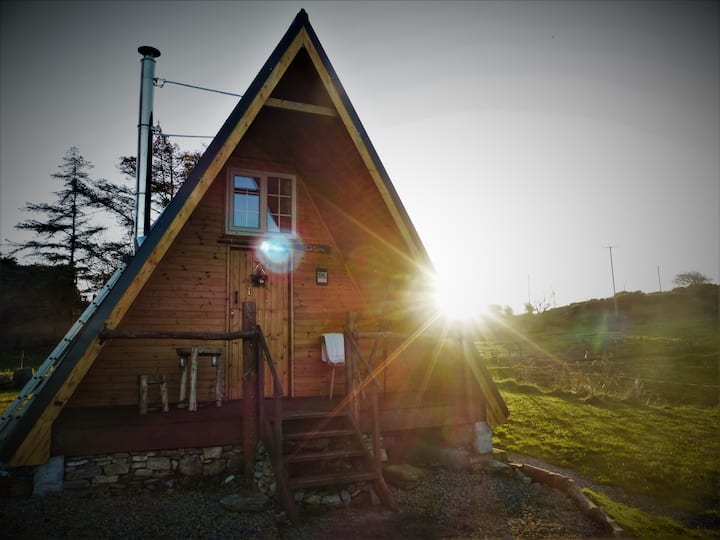 We likely all agree that we could probably do with spending less time on our smartphones these days. So why not unplug in the gorgeous location of Ballyshannon in Donegal? Of course, Tom Crean's Eco Cabin has built up a reputation as being one of the most picturesque ways to spend a weekend technology free.
Right at the tippy top of the country, County Donegal has a reputation for being out-of-this-world stunning, and this AirBnb proves just that. Surrounded by forests, lakes, meadows, and mountains this cabin is technology free, meaning you can escape the hustle and bustle of everyday life to get back to nature for a day or two. It's also just 2km outside of Ireland's oldest town, where you can find restaurants, bars, and cafes for all your social needs.
Have your say
More like this