A Period Emoji Is On The Way To Our iPhones, And Not A Moment Too Soon
The new batch of emojis also includes people in wheelchairs and guide dogs. Nice!
With poo so well-represented in our emojis, we've often wondered if there'd ever be one we could use when Aunt Flo is in town.
Well, in the latest emoji update, there will be. Please welcome to the stage, the blood droplet emoji!
You might be wondering if it is indeed a 'period emoji' or just a drop of any old blood – and in fact, it officially represents both.
In 2017, humanitarian organisation Plan International found that 47% of women aged 18 to 34 believed having a special period emoji would make it easier to discuss their periods with friends and partners.
"With emoji becoming one of the fastest global languages, we realised having a period emoji could help change things," they said at the time.
With the help of the public, Plan designed a 'period pants' emoji to submit to the Unicode Consortium (the official body that makes emojis), but it wasn't accepted.
Undeterred, they teamed up with the NHS's blood and organ donation service to submit another proposal for a blood droplet emoji – this was approved, and will be available in the new iPhone update later this month.
Lucy Russell, head of girl's rights and youth at Plan International UK, said of its inclusion:
An emoji isn't going to solve this, but it can help change the conversation. Ending the shame around periods begins with talking about it.
Given how popular the poo emoji is, we're sure the blood droplet will fit right in.
This batch of new emojis is more inclusive all around – there are interracial couples, as well as prosthetic limbs, people in wheelchairs, a guide dog, and ears with hearing aids.
Other additions include a hand making a pinching motion (cheeky), an otter, a yawing face, a bulb of garlic, and a sloth. A SLOTH!
✅ Approved in #emoji12: Pinching Hand https://t.co/g9P4Zdq7UW pic.twitter.com/WmNMSPa1dc

— Emojipedia ? (@Emojipedia) February 5, 2019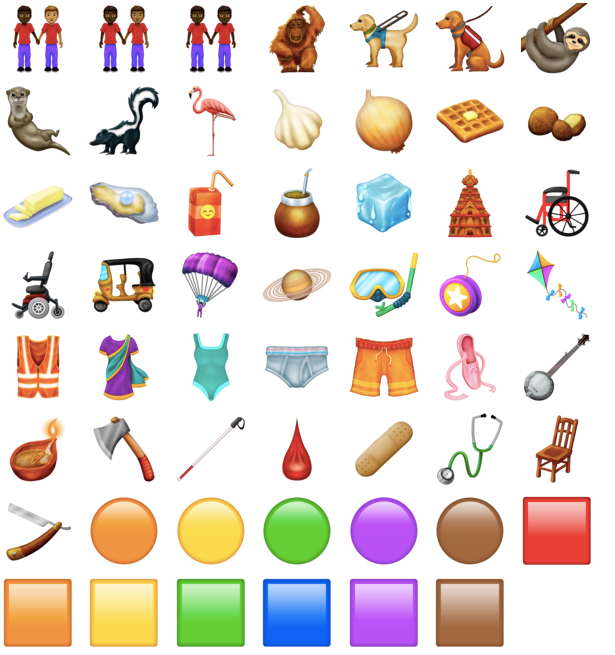 This is very exciting. Can't wait to send sloths and drops of blood to all and sundry.
Have your say
More like this