Corduroy Trousers Are The IT Fashion Item Of The Season
Here's some to get you inspired
View this post on Instagram
Corduroy pants are making a comeback this Autumn, and we can absolutely get on board.
The material may have been once associated with your geography teacher, but now it's something only the coolest of cool gals wear. It gives off that effortless retro look without trying too hard. You can style them with your warmest turtleneck jumper and Converse, or dress them up with a dressy top and jeans.
View this post on Instagram
Celebs can't get enough of them either, everyone from Bella Hadid to Dakota Johnson have been spotted rocking the 70s inspired pants on photoshoots recently.
Finding a good pair can be hard so we're taking the tough work out of it for you. Whether you're looking for a statement pair, or a more everyday essential pair, we've got some for you.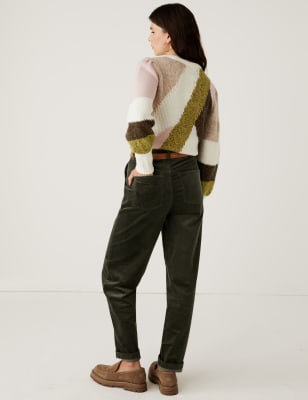 M&S €54.00 – Tapered Pant
Written by Rebekah O'Reilly.