Curtis Finally Got Called Out For His Terrible 'Advice', And Love Island Viewers Were Delighted
What is he AT?
You'd think with mere days to go before the Love Island final, everyone would just settle down and try to get that £50k. But no.
The past few episodes have seen turmoil erupt in the villa, as just a couple of days after extravagantly asking Anna to be his girlfriend, Jordan decided he actually liked India better.
He told Curtis that he was developing feelings for the new girl (who is coupled up with Ovie), and Curtis encouraged him to talk to India about this before telling his girlfriend. Of course, this got back to Anna fairly quickly, and things descended into chaos.
Even though it was clear that no one was taking the news well, Curtis stood by Jordan – and the terrible 'advice' he gave to him.
Greg asked him the question we all wanted the answer to: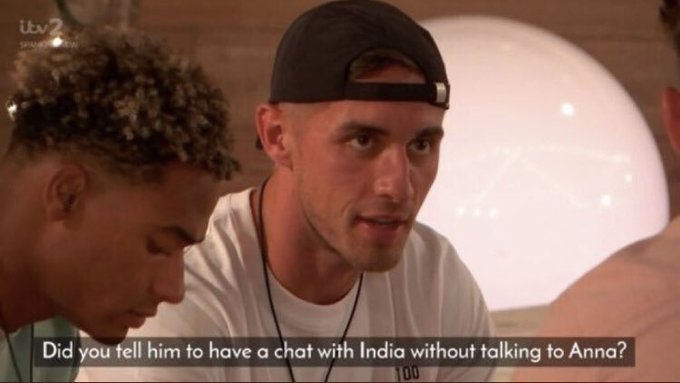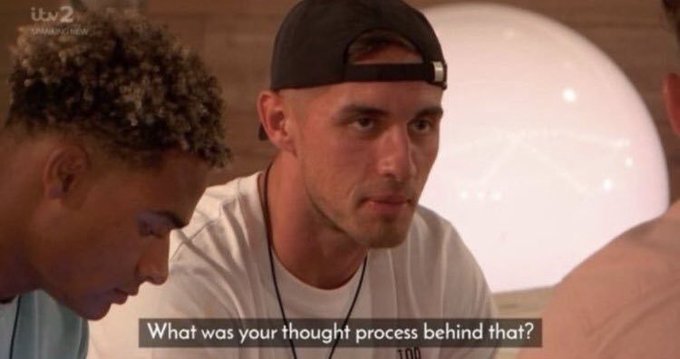 Curtis' involvement had consequences in his own relationship too, with Maura wondering if she would be able to trust him anymore.
"[Anna] is my friend. I care about her," she told Curtis after the furore had died down a bit. "I'm angry that Jordan asked her to be his girlfriend a few days ago and now he's cracking on with someone else."
Curtis disagreed, saying Jordan was "brave" for speaking to India, as he'd "only just had these feelings now."
A shocked Maura replied: "Wow. That's cheating, Curtis! It's cheating. Would you do the same thing if I was your girlfriend? Why give advice if you didn't know what you would do in this situation?" Yikes.
Curtis approached Anna for a chat about the whole thing the next day, during which she delivered a blistering assessment of his character.
"I just don't know if you're a good person really, because good people don't move like that," she told him.
A good person would never say to anybody to do that to their other half. Do you not care about me a little bit? I have been living with you for the past two months, you obviously don't care about me. You're a narcissist, that's my opinion of you.
Viewers were delighted that Curtis didn't get off scot free, and that the other Islanders are starting to get wise to his ways.
Maura talking to the girls vs Maura talking to Curtis#LoveIsland pic.twitter.com/y7Bgqke1J4

— Georgia Anne ? (@GeorgiaRiches13) July 24, 2019
Anna clocking Curtis with actual facts wow the girls this series have been ICONIC #LoveIsland

— lewys (@lookingforlewys) July 24, 2019
Curtis thinks he's still dealing with Amy ? Maura will burn this villa to the GROUND #LoveIsland pic.twitter.com/c1XRHfCkCz

— four chickens on the dancefloor ? (@yewandeforever) July 23, 2019
Maura not giving two shits if Curtis is mad at her because she's not about to allow Jordan to get away with fucking over one of her besties. #loveisland pic.twitter.com/x02KZPar4x

— blank (@beautifulsonic) July 23, 2019
Will anyone be able to patch things up? Will the girls band together and snatch the £50k and head on a mad one in Vegas with Greg and Ovie? We can but dream.
Have your say
More like this