"After that time, make a conscious decision to change your attitude and take some action," she says. You don't want to carry any baggage from losing your old job into interviews with potential new employers, nor do you want to aim too low or go for something 'safe' because you're still feeling wounded.
There's no point in doing anything if your attitude is still the same, and you're still mourning this old company. That's like in a relationship when you're comparing your new partner with your old partner – you can't do that. You're setting yourself up for disappointment.
"We can also sensationalise how amazing our old job was, when actually, if you dig a little deeper, maybe there weren't too many reasons to stay any longer anyway."
Clara, 28, didn't even realise she was grieving her old job until she started a new one, and immediately started romanticising her former workplace in her head. "I left a job I loved in a great company because I just wasn't progressing there in the way I'd have liked to, and at first, I felt pretty positive about my decision," she says. However, on taking up a position at a different organisation, she couldn't stop comparing it to how things were at her old place. "I should have been delighted about this new role, but instead I had this sinking feeling that I had made the wrong choice. I wasn't even giving this new job a chance, I was so full of regret about ever leaving the old one. Eventually, I realised I had to stop putting my former company on a pedestal and remember why I left in the first place. Now I'm at least going into work every day with my best foot forward."
As tempting as it is to wallow and feel sorry for yourself, it's important to put things in perspective and give yourself a bit of tough love. "A job isn't a soulmate," Jane reminds us.
This isn't the breakup of a relationship here. It's the breakup of a work relationship that may have worked very well for you, but it's not a person, it's an organisation or a company.
Saying that, if things start getting overwhelming, don't be afraid to tell someone about how you're feeling. "Sometimes we have to lose roles that we love to develop our careers and develop ourselves," says Jane. "That's always going to knock your confidence, but you've got to try and look at it as a learning experience."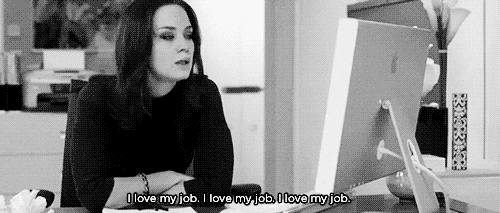 This is something Vicki has done, and though it took her a little while to get there, her experience of losing a job she adored taught her that you can never really know what's coming around the corner. And you know what? That's okay.
"It was only a couple of years later when I took this job editing STELLAR that I began to feel like I was healing, that I was truly good at something and that I had a purpose.
"But I also realised that it was not healthy to have so much of my self worth tied up in something that is essentially a means to an end, at the end of the day. I've no problem being passionate about my work now, but I know it's not my reason for being."
I read a quote somewhere that said 'your job might be special and a privilege, but it's not what makes YOU special', and that's so true.
"Now I know that there's no straight course trajectory for my career, and it could literally take me anywhere," she says. "I just have to live in the moment, try not to panic about the future and do my very best, because that's all any of us can really ever do."