Insta Creep: A Beauty Guru Promoted Her Range Of Lashes From The Delivery Room After She Gave Birth…
What all the celebs are up to on social, from A to Z listers.
In our gossip column, we indulge our nosiest desires and delve deep into what the celebs (and 'celebs') are doing on social media. Who's tweeting and deleting? Who's shady faving? Let's find out.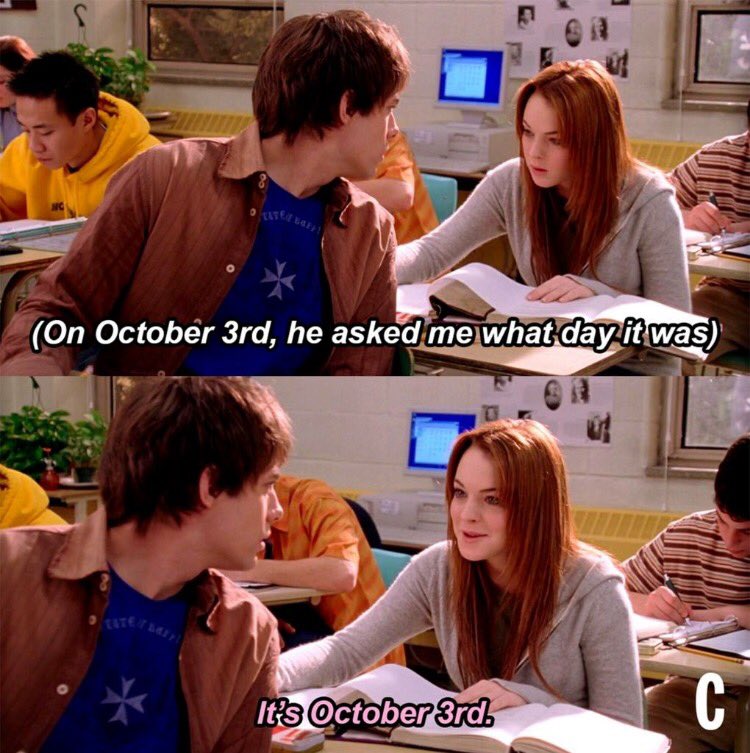 The cast of Mean Girls very graciously helped us to celebrate Mean Girls Day yesterday. It was October 3rd, remember?
Lindsay Lohan recreated the scene in question:
Jonathan Bennett (Aaron), Lacey Chabert (Gretchen), Daniel Franzese (Damian), and Amanda Seyfried (Karen) all commemorated the day by plugging Jonathan's new Mean Girls-themed cookbook… yes, Aaron Samuels has released a Mean Girls-themed cookbook. He's also the host of a show called Cake Wars, so you know. Food is his thing now.
Meanwhile, Tina Fey chatted to the crowd at the Mean Girls Broadway musical yesterday:
How amazing is it that Mean Girls Day has become a thing? Or should we say… how fetch?
Kate Hudson has given birth to a baby girl! And there's a nice significance to the name.
This is the actress' first child with boyfriend Danny Fujikawa – she has two sons, Ryder and Bingham, from her relationships with musicians Chris Robinson and Matt Bellamy.
She explained the reasoning behind the name, Rani Rose Hudson Fujikawa:
We have decided to name our daughter Rani (pronounced Ronnie) after her grandfather Ron Fujikawa. Ron was the most special man who we all miss dearly. To name her after him is an honour.
"Everyone is doing well and happy as can be. Our family thanks you for all the love and blessings that have been sent our way and we send ours right back," she continued. Aw, congrats!
Everyone is talking about this *incredibly* rude 'interview' with Drew Barrymore in the Egypt Air in-flight magazine. 
Twitter user Adam Baron tweeted pages from the magazine yesterday – the writer goes straight into slagging the actress off, mentioning her 'failed marriages':
It is known that Barrymore has had almost 17 relationships, engagements and marriages; psychologist believe that her behavior is only natural since she lacked the male role model in her life after her parents' divorce when she was only 9 years. Ever since that time, she has been subconsciously seeking attention and care from a male figure; but unfortunately things do not always go as planned and she has not yet succeeded in any relationship for various reasons.
This interview with Drew Barrymore in the Egypt Air in flight magazine is, umm, surreal. pic.twitter.com/fN3lNHXbL0

— Adam Baron (@adammbaron) October 2, 2018
Eh, what? The article goes on to chide Drew for gaining 'several kilograms' after giving birth to her children – and 'Drew' admits that she felt "depressed" because of the weight gain:
I find this a great opportunity to encourage every woman who is overweight to work on regaining her beauty and body, especially that it is not as hard as one may think; it is all about determination and following the appropriate diet under the supervision of a physician.
The first question on everybody's lips was if Drew did an interview with Egypt Air at all – and according to a representative for the actress, no such chat ever took place. Good lord.
And now it's time for… #SponConCorner
*Spon con = sponsored content. Who's flogging what, and why?
We might as well end #SponConCorner here, because no one will ever top this. Beauty guru Lilly Ghalichi, the woman behind the influencer-approved lash line Lilly Lashes, used the birth of her child to advertise the range, and honestly, it's perfect.
"Wearing the MILF lash during delivery by Lilly Lashes from the Living Your Best Life Collection." Sorry, but we have to give her props. This is just iconic.
Have your say
More like this