Insta Creep: A Feud Between Love Island And TOWIE Stars Ended In A Glass Being Thrown At The NTAs…
What all the celebs are up to on social, from A to Z listers.
In our gossip column, we indulge our nosiest desires and delve deep into what the celebs (and 'celebs') are doing on social media. Who's tweeting and deleting? Who's shady faving? Let's find out.
Love Island's Zara McDermott has defended her boyfriend Adam Collard after TOWIE star Ferne McCann threw a drink in his face at the National Television Awards. We'll let you digest all that information.
Police were reportedly called to the ceremony on Tuesday night when Fern threw a plastic cup at Adam – an eyewitness recounted the drama to The Sun:
There has been bad blood between [Zara and Ferne] because Ferne got together with Charlie Brake just weeks after he split with Zara's mate Ellie Brown. Things really escalated when Adam heard Ferne slagging off Zara.
"He said some things he regrets but did not expect under any circumstances to have a drink thrown in his face," said the 'source'.
Last night, Zara shared screenshots of nasty messages she'd been getting since the incident occurred (Adam allegedly called Ferne a "pathetic little slag" after the drink was thrown, and he's getting heat for that) and said:
Imagine someone threw alcohol in your eyes… what would you do?? If you had done nothing wrong and you simply stood up for someone who was being bullied? All I'm saying is if it were to be the other way round and he launched a glass at her face, it would be a completely different story.
Yikesyikesyikesyikesyikes. Expecting several people to 'hit back' in 5, 4, 3, 2, 1…
Harry Potter actor Matthew Lewis experienced the nice side of the internet this week.
On Tuesday, he tweeted saying his wallet had been stolen/lost in London the day before (which is quite a Neville Longbottom thing to happen, aw). He didn't mind them taking the money, but asked them to post back a sentimental trinket from his wife:
Yo, if you stole my wallet in East London yesterday or even if you just found it: it's yours, keep it, have the money, the cards, the lot. But the note from my wife engraved on a piece of metal, if you can post that to the address on the driving licence I'd call it evens. Please?

— Matthew Lewis (@Mattdavelewis) January 22, 2019
You'd wish him all the best, but feel like the situation was pretty hopeless, right? Wrong. This morning, he tweeted that his entire wallet had been returned to him:
Wow. You guys are dope. Really humbled by this response. That got more pick up than any of my Brexit material. And guess what I have? My wallet! I did not expect that to happen. I owe you all a debt of gratitude and can't thank you all enough. You're amazing. This is a good day.

— Matthew Lewis (@Mattdavelewis) January 25, 2019
Maybe the person who picked it up was a huge Harry Potter fan and couldn't risk the bad juju from keeping it. We love a happy ending!
Huda Kattan (AKA Huda Beauty) has had her lip filler dissolved after revealing that they had "ruined" her lips.
The beauty mogul has been getting her lips filled since around 2009, before the practice exploded in popularity. Yesterday, she told her 31m followers that she had decided to get rid of her fillers, and shared some "really important info" that she wished someone had given her before she took the plunge:
I don't actually think I got the benefit that I was looking for… I personally don't know anybody who's had lip filler, kept it in their lips and continued to look good over time. It just started to look really bad, I was constantly trying to fix them and make them look better.
After consulting with a doctor, she decided to have all the filler in her top lip dissolved, claiming that the pain of this was comparable to childbirth. OK! Even so, she's happier with her "more natural" new look, and plans to just overline her top lip from now on.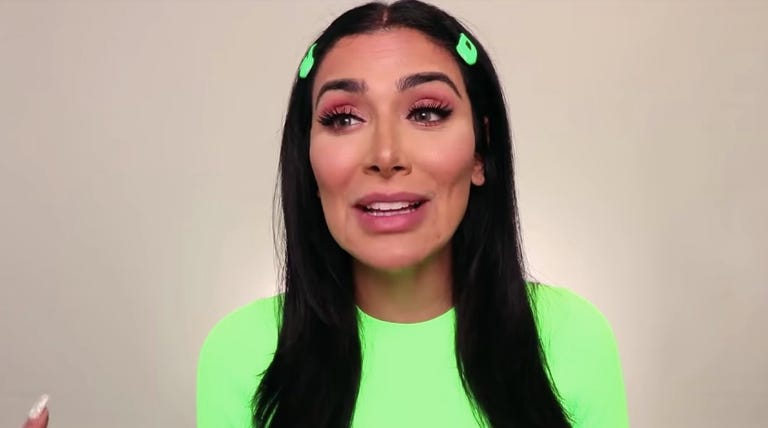 Kylie Jenner made a big buzz about getting her fillers dissolved, then got them straight back in… will it last? We'll see.
And now it's time for… #FBF
The best celebrity throwback photos of the week.
yea my receipts be lookin like phone numbas pic.twitter.com/7ahGmSqwmG

— Ariana Grande (@ArianaGrande) January 22, 2019
This is baby Ariana! If we'd seen this photo out of context we'd have had NO idea who it was. Maybe if we visualise her with fleeky brows and a extension-stuffed ponytail…
Have your say
More like this