Insta Creep: An Influencer Is Being Called Out For Turning Her Motorbike Accident Into A Photoshoot…
What all the celebs are up to on social, from A to Z listers.
In our gossip column, we indulge our nosiest desires and delve deep into what the celebs (and 'celebs') are doing on social media. Who's tweeting and deleting? Who's shady faving? Let's find out.
Today in influencer weirdness… A lifestyle blogger is being called out for turning her 'motorcycle accident' into an impromptu photoshoot.
Nashville-based Tiffany Mitchell got into an accident two weeks ago that left her with a few scrapes – a photographer friend had been driving along taking pictures of her at the same time, and continued the shoot even after Tiffany was thrown from the bike.
The photos show the blogger lying on the side of the road, battered and dirty: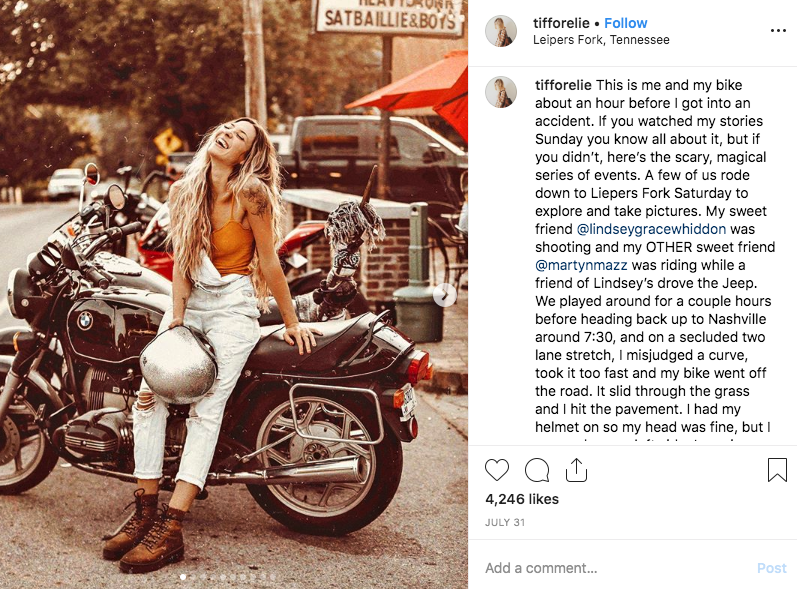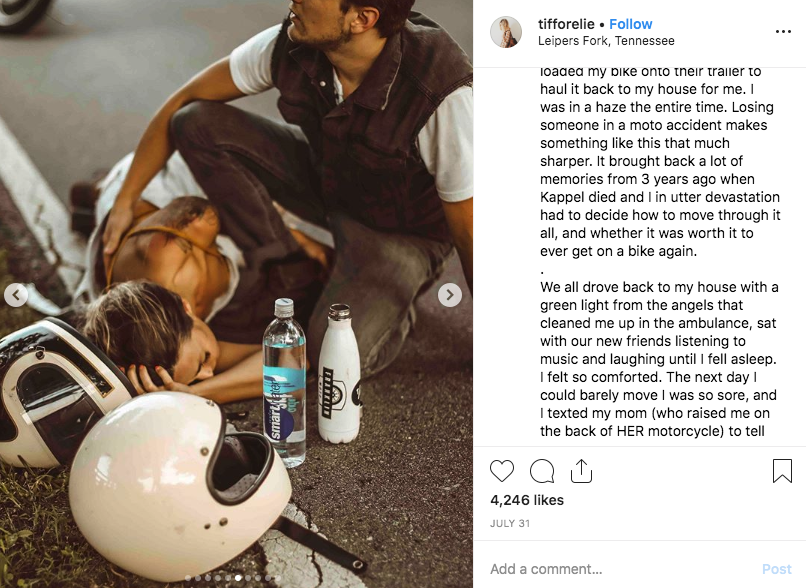 Tiffany posted a long caption describing the accident as a "scary, magical series of events" and said that strangers tended to her and helped her get back home.
But some people have questioned the whole thing, asking why a friend would continue to take photos of her lying in the road, and why a bottle of SmartWater can be seen prominently in one shot. "Who DOESN'T take arty photos in the midst of a motorcycle crash, amirite?" wrote one commenter.
Tiffany told BuzzFeed that the shoot was in no way staged, nor does she have any deals with the water company:
I didn't know [my friend] was taking them, but later on when she showed them to me I was so grateful that she captured such an intense moment for me. I would never turn a very important personal story like this into a brand campaign.
The post is now archived due to the influx of negative comments. What a world.
Elton John has defended Prince Harry and Meghan Markle over their use of his private jet. 
Harry and Meghan recently went on their first family holiday with baby Archie, staying at Elton's home in Nice.
The couple are passionate about the environment, so when paparazzi photos leaked of them boarding a decidedly eco-unfriendly private jet, people were none too impressed.
However, Elton has spoken out in their defence, saying he is "deeply distressed" by the "distorted and malicious" accounts of the trip in the media.
"Prince Harry's mother, Diana Princess of Wales, was one of my dearest friends," the singer wrote in an Instagram post. "I feel a profound sense of obligation to protect Harry and his family from the unnecessary press intrusion that contributed to Diana's untimely death."
David [Furnish] and I wanted the young family to have a private holiday inside the safety and tranquility of our home. To maintain a high level of much-needed protection, we provided them with a private jet flight.
Elton said that he "highly respects" Harry and Meghan's dedication to charity work, and made their flight carbon neutral with a donation to the organisation Carbon Footprint.
"I'm calling on the press to cease these relentless and untrue assassinations on their character that are spuriously crafted on an almost daily basis."
Tom Felton and Emma Watson are hanging out again and stirring up all kinds of FEELINGS for Harry Potter fans.
Apparently, they were in South Africa together at some point, and Tom posted a picture of him teaching Emma how to play guitar.
They can't keep doing this. Remember that cute skateboarding video? The Draco/Hermione shippers are out in force, wondering if they're still just friends or what.
"I wanna cry. Really wanna cry. Feltson is real," commented one hopeful Dramione truther. They'll probably never tell us, but we can dream, can't we?
And The Rock got married! So you can't marry him, sorry. 
The actor/wrestler/legend wed his longtime girlfriend Lauren Hashian in Hawaii on Sunday, and it looked only gorgeous:
So cute. The pair have been dating since 2006 and have two daughters together, three-year-old Jasmine and Tiana, who is one. Dwayne has a teenage daughter, Simone, from a previous marriage (she's currently following in her dad's footsteps and training to be a wrestler).
Congrats to the beautiful couple!
Have your say
More like this