Insta Creep: Ariana Grande Shared A Brain Scan Showing Her 'Terrifying' Levels Of PTSD…
What all the celebs are up to on social, from A to Z listers.
In our gossip column, we indulge our nosiest desires and delve deep into what the celebs (and 'celebs') are doing on social media. Who's tweeting and deleting? Who's shady faving? Let's find out.
Ariana Grande shared an image of her brain scan, which indicates that she has 'terrifying' levels of PTSD.
The singer has been open about her struggles with mental health after the Manchester bombing in 2017, telling Vogue that she suspected her dizziness and anxiety were signs of PTSD.
She posted a side-by-side comparison of a 'healthy brain' and a brain lit up with PTSD, then her own scan results underneath: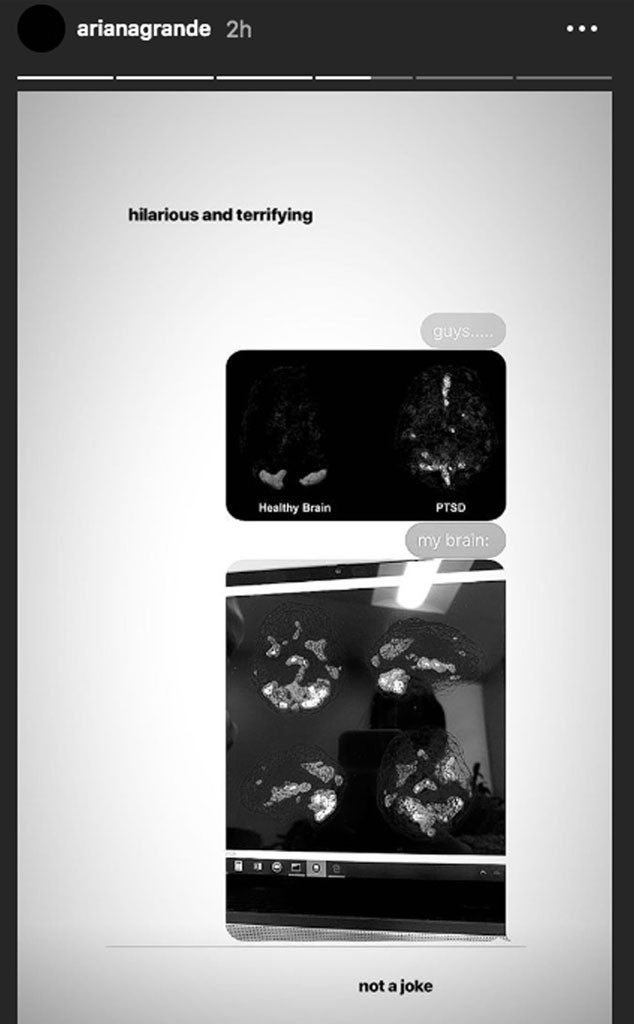 "Hilarious and terrifying," she wrote.
Ariana previously told Vogue magazine that she found it hard to talk about her PTSD, given the amount of people who lost friends and family in the attack:
It's hard to talk about because so many people have suffered such severe, tremendous loss. But, yeah, it's a real thing. I know those families and my fans, and everyone there experienced a tremendous amount of it as well.
Adele is just as if not more excited about the Beyoncé documentary as the rest of us. 
The singer is famously a HUGE fan of Bey, calling her "the artist of my life" in her 2017 Grammy Album of the Year acceptance speech.
And given the fantastic time she had during Beyoncé's Coachella set last year, we're not surprised she's pumped for the documentary:
Adele shared a text conversation between her and a friend, speculating on whether Netflix was planning to release a Bey doc… and then freaking out when they realised it was true.
Relatable AF.
Homecoming will give us a peek behind the scenes at the historic Coachella gig, which made Beyoncé the first black woman to ever headline the festival. It drops on April 17, and like Adele, we will be READY.
Hugh Jackman and his wife Deborra-Lee are celebrating 23 years of marriage. Twenty-three!
The couple met on the set of an Australian TV show in 1995 and married a year later, adopting a son and daughter in 2000 and 2005.
The Greatest Showman actor shared a cute/cringey photo of them as young wans to celebrate the big day:
Deborra-Lee is of course an actor like her husband, but she's also focused on reforming adoption laws in Australia, and supporting orphans worldwide. A good woman.
And now it's time for… #FBF
The best celebrity throwback photos of the week.
It's been ten years since (500) Days of Summer came out – every indie girl dreamed of marrying Joseph Gordon-Levitt, and every indie lad loved Zooey Deschanel. The actress posted this cute behind the scenes photo of them sharing an ice cream cone, and now we want to listen to that amazing soundtrack again.
Have your say
More like this