Insta Creep: Ashley Benson Says A Hacker Left Those Comments 'Confirming' Her Relationship With Cara Delevingne…
What all the celebs are up to on social, from A to Z listers.
In our gossip column, we indulge our nosiest desires and delve deep into what the celebs (and 'celebs') are doing on social media. Who's tweeting and deleting? Who's shady faving? Let's find out.
So remember yesterday when we were like AHA ASHLEY BENSON JUST CONFIRMED HER RELATIONSHIP WITH CARA DELEVINGNE? About that.
For a brief moment, it appeared that Ashley had commented 'Mine' and something about sushi under a photo of Cara from the Toronto Film Festival:
Now Ashley is saying that her Instagram was 'hacked' while she was on a plane with no Wifi, heavily implying that the comments were left by the hacker.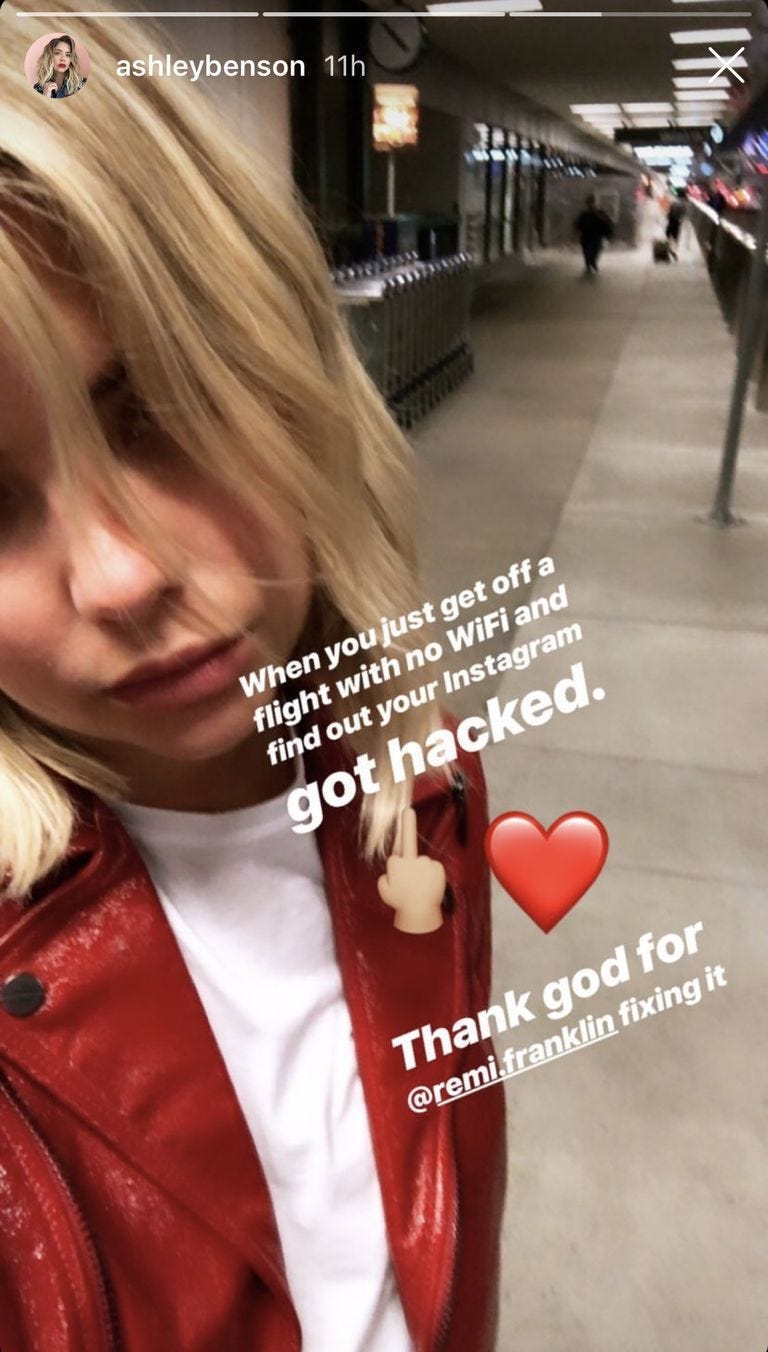 The comments have now been deleted, but what an incredibly mild thing for a hacker to do, no? No intimate photos or weird Instagram Stories, just a comment under the photo of a rumoured girlfriend. Interesting. 
Hi, did you know that Julia Roberts has Instagram now and it's perfect? The legendary actress debuted her Instagram account in June and has been posting some excellent TBTs:
As well as this wonderfully odd photo of herself standing beside a photo of herself:
She's also become skilled in the art of the clapback, responding to this commenter who didn't like the black nail polish she wore at the Toronto Film Festival.
Tell them Julia! Ugly navy polish with garnet crystals!
In case you were wondering if the current crop of Kardashian/Jenner babies are still cute: They are. 
Kylie posted this photo of Stormi and her cousin Chicago West having an adorable, extremely pink 'slumber party' (on Hermes blankets, no less) and well, we can't get enough of them.
All three (Stormi, Chi, and Khloe's True) have been photographed together for a 'cousin photoshoot', which, though as yet unreleased, is already iconic. The three of them are only a few months apart in age – we can't wait for them to learn to walk and form a tiny gang.
And now it's time for… #SponConCorner
*Spon con = sponsored content. Who's flogging what, and why?
SHE AINT EVEN ACTUALLY RUB HER EYE IM CRYING LMFAOOOO pic.twitter.com/JVbWbg5P1i

— jordan (@ohjlizzle) September 9, 2018
Star of Pretty Little Liars (and the upcoming Netflix series You) Shay Mitchell is being roasted for this ad she did on her Snapchat for a makeup remover – see how she doesn't actually touch her eye? Is the micellar water magnetic or something? Simply amazing.
Have your say
More like this