Insta Creep: Cara Delevingne And Ashley Benson Ripped Into A Troll Who Said Ashley Should Date Men…
What all the celebs are up to on social, from A to Z listers.
In our gossip column, we indulge our nosiest desires and delve deep into what the celebs (and 'celebs') are doing on social media. Who's tweeting and deleting? Who's shady faving? Let's find out.
Cara Delevingne and Ashley Benson have hit back at 'homophobic' Instagram trolls. 
The couple were tagged by an Instagram user that seems obsessed with getting Ashley to break up with Cara, alleging that the model is still in love with her ex St Vincent.
The girls decided to respond when the account posted a video of Cara playfully tying up a friend, with another user telling Ashley that she needs a "strong religious man" instead of "that devil".
Ashley wrote: "You need to mind your own business. Stop making things up." Cara went harder:
You are fucking disgusting! If you have a problem with true love then come and say this shit to my face instead [of] pathetically hating through Instagram… Maybe get a hobby that doesn't involve being homophobic and hating others for being happy.
Ashley and Cara have never officially confirmed their relationship, but it seems pretty clear that they're together and happy. Leave them alone!
Katherine Heigl has stepped in to explain how her character in 27 Dresses was able to afford being a bridesmaid 27 times. 
An Instagram meme account posited the question yesterday, asking its followers to speculate on how the perennial bridesmaid did it all.
Responding to a commenter who got some essential parts of the plot wrong, Katherine wrote:
Well first off, the dresses were cheap… obviously. Secondly she did not write a column for a fancy NY newspaper, she was a personal assistant to an outdoor clothing entrepreneur and had a one bedroom apartment with a kitchenette and one closet. Where she kept all the cheap bridesmaids dresses.
"I'm gonna need you to go back and re-watch the movie ten times to solidify these facts in your brain and then I'll be presenting a 27 Dresses quiz to confirm your commitment to the film," she joked.
Guys, Katherine Heigl is gas! Who knew.
Sophie Turner is back with another excellent reaction to this week's Game of Thrones. Some spoilers ahead, so once again, do not proceed if you have not seen it yet.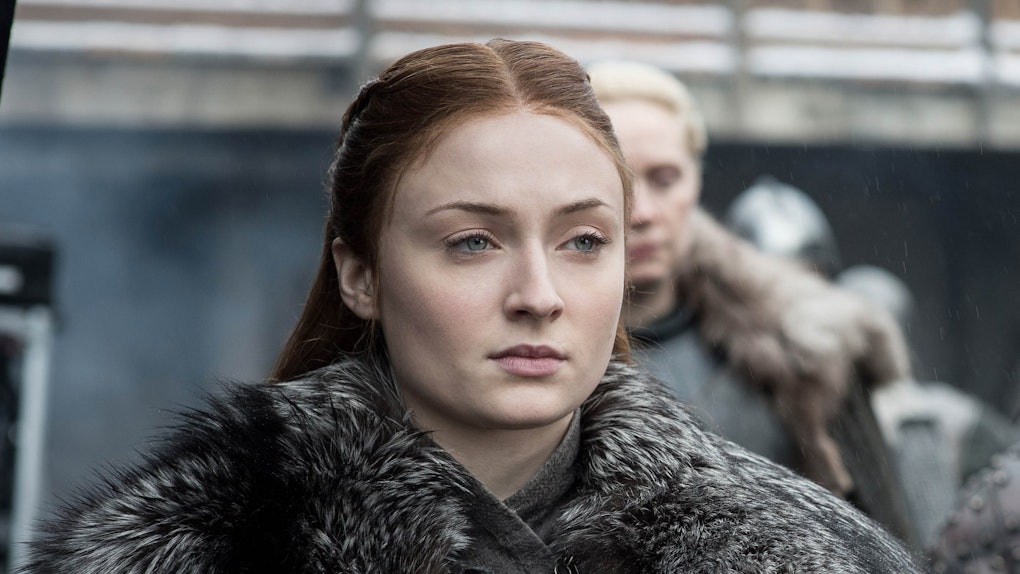 Sophie jumped on her Instagram Story to once again commend her co-star Maisie Williams – her character Arya pulled off something MAJOR this week, saving all our faves' skins.
Sophie was appreciative:
sophie turner reacting to THAT arya scene is all of us reacting to the scene tbh #GameOfThrones pic.twitter.com/3jqVn59s5v

— kathleesi (@kathleenceralde) April 29, 2019
Arya really is that bitch. Yes. You. Are. Bitch!
Everyone loved that, but HATED that she posted a huge spoiler to the grid. We won't get into lots of detail, but she paid tribute to a sadly departed character in a post that made it pretty clear what happened to them. Have you not learned over the past million seasons, Soph?
And now it's time for… #WilloughbyWatch
Charting the public's obsession with what Holly Willoughby is wearing. 
She LOVES a midi and a jumper, does our Hol. This tonal look is made up of a skirt by Massimo Dutti (it's €249, so don't get too excited) and a cashmere jumper from Pure Collection, which as you may have guessed is also spenny.
Some commenters are opposed to this look on account of it not being summery, to which we say: Save that for when it's actually summer. Don't know about you, but we're FREEZING.
Have your say
More like this