Insta Creep: Emilia Clarke Has Taken The Blame For The Game Of Thrones Coffee Cup Mystery…
What all the celebs are up to on social, from A to Z listers.
In our gossip column, we indulge our nosiest desires and delve deep into what the celebs (and 'celebs') are doing on social media. Who's tweeting and deleting? Who's shady faving? Let's find out.
Tyra Banks has come out of modelling retirement to WORK IT on the cover of Sports Illustrated. 
In 1996, the model became the first African-American woman to make the cover of the magazine, and 23 years later she's back to do it for a third time.
Sharing the cover on Instagram, the 45-year-old wrote:
This is for everybody that has been told that they are not good enough because of their body, their age, their everything. BanX is here to tell you that you ARE friggin' fierce no matter what anybody says! Drop mic now!
('BanX', by the way, is her new modelling name. But to us she is and will always be Tyra.)
Since her first cover in 1996, of course, Tyra has been an actress, a Victoria's Secret Angel, and the creator and host of America's Next Top Model. She's also had her own talk show, and now hosts America's Got Talent. What a career!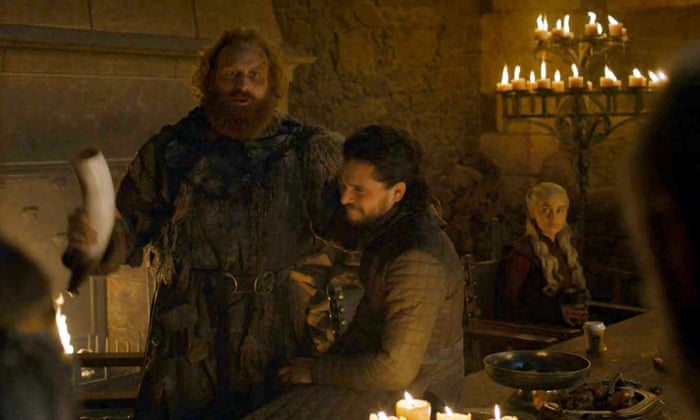 There are now two main suspects in the mystery of How That Coffee Cup Ended Up On Game Of Thrones.
You are probably aware by now that a paper coffee cup was spotted sitting on a table in front of Daenerys Targaryen during an important scene in the latest episode.
Some fans wondered if the cup was put there on purpose as a joke, but on a show that costs $15m an episode to make… there can be no jokes. HBO rushed to edit it out, confirming that it was indeed a blunder – but they're trying to take it in their stride:
News from Winterfell.

The latte that appeared in the episode was a mistake. #Daenerys had ordered an herbal tea. pic.twitter.com/ypowxGgQRl

— Game of Thrones (@GameOfThrones) May 6, 2019
So how did it get there? And how was it missed? We could speculate and speculate, but two actors have come forward to take the blame.
Bella Ramsey, who plays Lyanna Mormont on the show, posted a photo of herself and Sophie Turner which shows the actress HOLDING THE VERY COFFEE CUP that started it all:
Emilia Clarke, meanwhile, has provided evidence that SHE was the one to place the coffee cup on the table – in the form of a throwback photo of herself, Jason Momoa and Peter Dinklage:
Did I just stumble upon the truth here? The cup bearer does not drinketh the Starbucks tea… Oh and this ain't a spoiler just a lost wanderer coming home for a mid-filming cuppa.
So what is the truth? Is this all part of the Game Of Thrones? We'll have to tune in this week to find out.
Eh, is Hailey Bieber pregnant? One interesting Instagram Story has gotten rumours flying. 
Hailey rocked up to the Met Gala on Monday wearing a skin tight Alexander Wang gown, looking just as svelte as she normally does, but posed with her hands on her belly quite a bit:
Of course, sometimes you just put your hand on your belly and it means nothing other than you maybe had a hearty meal – but why was Kendall Jenner doing it too?
In this video from an after party taken by Bella Hadid, Kenny can be seen patting and rubbing Hailey's belly as they dance:
Looking at that Vogue interview, and Justin's subsequent posts about his struggles with mental health, it didn't seem like they were going to have a baby any time soon. We'll see where this goes…
In more baby-related news, here is a fascinating video of Stacey Solomon's unborn baby basically going apeshit in her tummy. 
The TV star is expecting her first child with partner Joe Swash – they each have children from previous relationships, and have gushed about how the new baby will "tie the family together".
We knew babies liked to kick and move around in there, but we didn't know they liked to do full on choreographed routines:
"You OK in there hun? It is definitely starting to feel like an alien who wants to escape now though," she wrote. LOL. Pregnancy is weird.
Have your say
More like this