Insta Creep: Jameela Jamil Hopes Celebs Who Promote Detox Teas 'Sh*t Their Pants In Public'…
What all the celebs are up to on social, from A to Z listers.
In our gossip column, we indulge our nosiest desires and delve deep into what the celebs (and 'celebs') are doing on social media. Who's tweeting and deleting? Who's shady faving? Let's find out.
Jameela Jamil has said she hopes any celebrities who peddle those detox teas "shit their pants in public". Extreme, but is she wrong?
The Good Place actress is outspoken about celebrities pushing weight-loss products – she previously called out Kim Kardashian for promoting those infamous 'diet lollipops'. Now her target is Cardi B, who did an ad for the 'skinny tea' brand Teami over the weekend:
They got Cardi B on the laxative nonsense "detox" tea. GOD I hope all these celebrities all shit their pants in public, the way the poor women who buy this nonsense upon their recommendation do. Not that they actually take this shit. They just flog it because they need MORE MONEY pic.twitter.com/OhmTjjWVOp

— Jameela Jamil (@jameelajamil) November 24, 2018
Generally just don't ever take diet advice from women who know nothing about nutrition/basic advertising ethics. IF you want to get healthier, talk to a trainer/doctor. ??

— Jameela Jamil (@jameelajamil) November 24, 2018
"Those 'weight loss products' like Flat Tummy Co don't make you thinner, they make you shit," she wrote. "Please unfollow celebrities who try to push this nonsense on you. It's not safe."
I don't hate on Khloe [Kardashian] because that poor woman has been conditioned/outright bullied by her own family and the press to believe that being thin is the most important thing in the world. Laxatives are BAD for you. Tying your worth to your weight or the flatness of your tummy is empty and a waste of your brilliant mind.
Chris Brown is leaving thirsty comments on Rihanna's Instagram, and everyone is like, GET A JOB. STAY AWAY FROM HER.
The singers had a tumultuous relationship, with Chris pleading guilty to assaulting Rihanna in his car in 2009. They got back together in 2012, breaking up about a year later.
Rih has a new boyfriend, but it seems Chris is still hovering around – he commented a 'flushed' emoji on two pictures of her modelling her Savage X Fenty lingerie: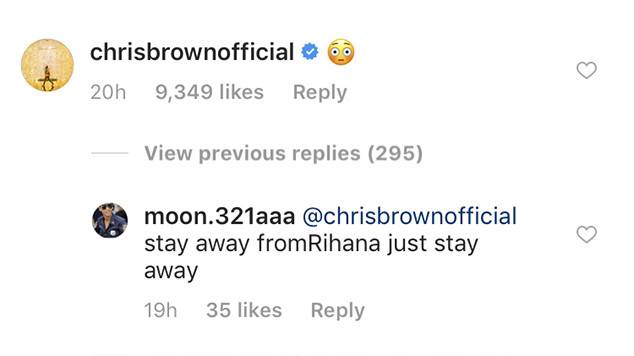 All of Rihanna's fans are warning Chris to stay far, far away from her – as Queen Kelly Clarkson put it so eloquently: You had your chance, you blew it. AND SINCE YOU BEEN GOOOOOOONE…
Actual Aaron Samuels is going to be in Ariana Grande's Thank U, Next video. Actual Aaron Samuels!
Actor Jonathan Bennett is returning to his iconic character for the video (which is heavily inspired by 2000s films like Mean Girls, Legally Blonde and Bring It On) and shared some BTS pics from the set:
Just drop this video already, OMG. And FYI, that's not actual Lindsay Lohan as Cady – it's Dynasty actress Liz Gillies, who is one of Ariana's close friends from her days on the Nickelodeon show Victorious. She's a dead ringer for LiLo, no?
And now it's time for… #WilloughbyWatch
Welcome to our regular segment in which we document the public's obsession with what Holly Willoughby is wearing.
We love how Holly is really embracing the wildlife theme with her outfits – she wore a zebra print dress over the weekend, and look at those snakeskin boots. "No cleavage again?" laments one of the creeps, while others are just wondering at wearing jeans and boots in the Australian heat. We're sure she has her reasons.
Have your say
More like this