Insta Creep: Justin Bieber Has Apologised For His 'Insensitive' April Fools' Joke…
What all the celebs are up to on social, from A to Z listers.
In our gossip column, we indulge our nosiest desires and delve deep into what the celebs (and 'celebs') are doing on social media. Who's tweeting and deleting? Who's shady faving? Let's find out.
Justin Bieber has apologised for his 'insensitive' April Fools' Day joke. Oh boy.
ICYMI, Justin posted a photo of an ultrasound scan (literally one of the first pictures that comes up on Google Image Search), plus a photo of Hailey in what appeared to be a doctor's office with her hands on her 'baby bump'.
The photos were later revealed to have been a joke – one that people didn't find very funny, however. Commenters pointed out that the prank was 'disrespectful' and 'insensitive' towards the thousands of women who struggle to conceive.
Justin responded by posting a screengrab of one of the headlines slamming the joke:
"There's always going to be people offended, there's also people who don't take jokes very well, I am a prankster and it was APRIL FOOLS," he began, a not extremely auspicious start to an apology.
I didn't at all mean to be insensitive to people who can't have children. A lot of people I know, their first go-to prank on April Fools is telling their parents they are pregnant to get a big reaction. But I will apologise anyway and take responsibility and say sorry to people who were offended.
"It's like when I shoved cake in my little sister's face for her birthday expecting her to laugh but she cried," he continued. "You sometimes just don't know what will hurt someone's feelings, not to compare pregnancy with cake in the face, but it's just to paint the picture of not knowing what will offend."
We get what he's saying, and we appreciate the thought he's put into understanding his detractors' position. Ah Justin.
Jordyn Woods' mam is out here commenting on Kylie Jenner's photos. So has the Woods family really been cut off? What is the truth?
Reports allege that Kylie has 'given up' on trying to salvage her friendship with Jordyn following the cheating scandal, and that they still weren't talking. Which is understandable, given all that has gone on.
However, Jordyn's mam Elizabeth Woods is commenting little hearts under Kylie's pictures of Storm: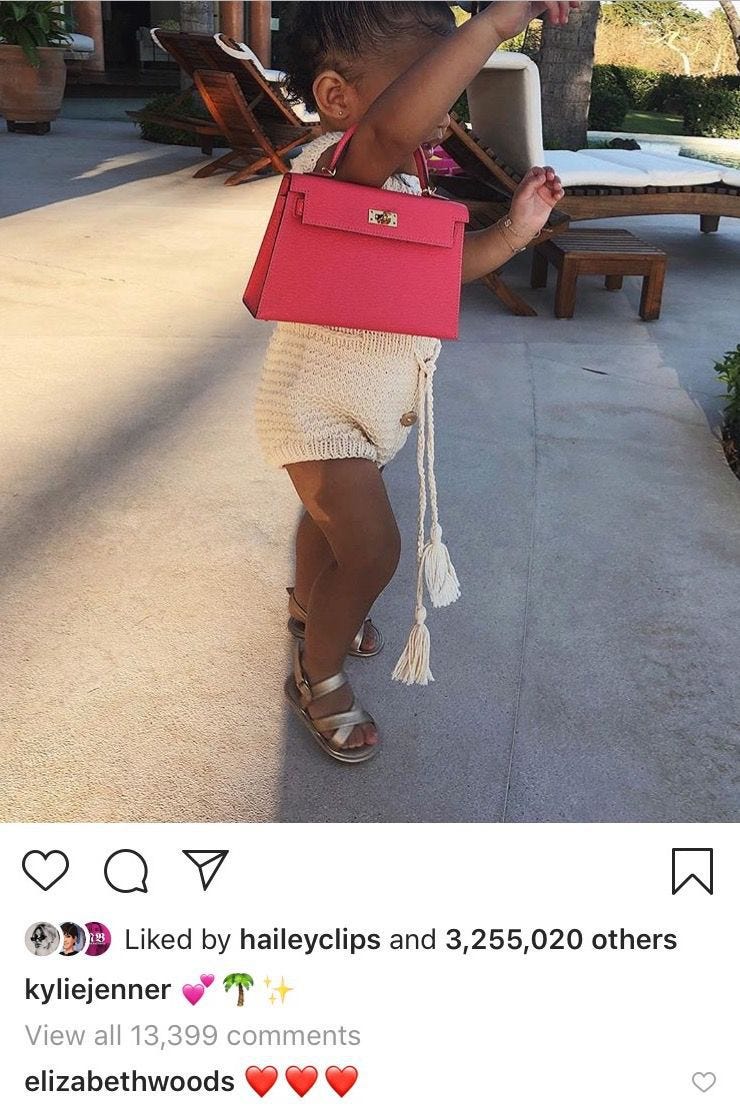 And Jordyn herself liked that adorable video of the one-year-old toddling down some steps. So what does it all mean?
Well, it might be linked to the rumours that Jordyn is missing Stormi the most – which is unsurprising, given she was like a second mother to the tot. According to US Weekly, she misses Kylie as a friend, but "looks at old pictures of Stormi and misses her every day." Well that's just a little bit heartbreaking.
Ariana Grande is doing that thing where she implies something but doesn't explicitly come out and say it.
On Monday she dropped a new song with her best friend Victoria Monet which contains the lyric "I like women and men", something fans took as Ariana coming out as bisexual.
While some fans were pressing for a more concrete confirmation, the singer said she didn't feel the need to label herself:
i haven't before and still don't feel the need to now ???‍♂️ which is okay

— Ariana Grande (@ArianaGrande) April 1, 2019
It's a diplomatic statement, but after being accused of 'queerbaiting' with the video for Break Up With Your Girlfriend, I'm Bored, it's hard to know if she's being sincere.
Victoria, who co-writes many of Ariana's songs, came out as bisexual last year, and sings the line along with her. Whether this line comes from her or Ariana's perspective, we'll probably never know, but… as usual, messsssyyy.
Lauren Conrad is expecting her second child! 
The former star of The Hills announced the lovely news with a suitably pastel-hued photo, saying: "It's been hard to keep this one to myself! Very excited to share that our family will be getting a little bigger this year."
Lauren and her husband William Tell married in 2014 and have a son, Liam, who is one and a half. He's an adorable little squish:
Congrats to the lil family!
Have your say
More like this