Insta Creep: Love Island's Dani And Jack Have Broken Up. Is Love Alive?
What all the celebs are up to on social, from A to Z listers.
In our gossip column, we indulge our nosiest desires and delve deep into what the celebs (and 'celebs') are doing on social media. Who's tweeting and deleting? Who's shady faving? Let's find out.
Stop all the clocks, cut off the telephone. Dani and Jack, the winners of Love Island 2018, appear to have broken up. 
Their sweet love story captured the hearts of the public in the summer, and thousands of us watched them awkwardly kiss, declare their love for one another, and ramble on like an old married couple. (If you didn't get weepy at Dani's delight when Jack returned from Casa Amor alone, you are made of stone.)
Last night, however, Dani revealed on her Instagram Story that they have decided to part ways, saying they've "come to the realisation that it's not meant to be long term".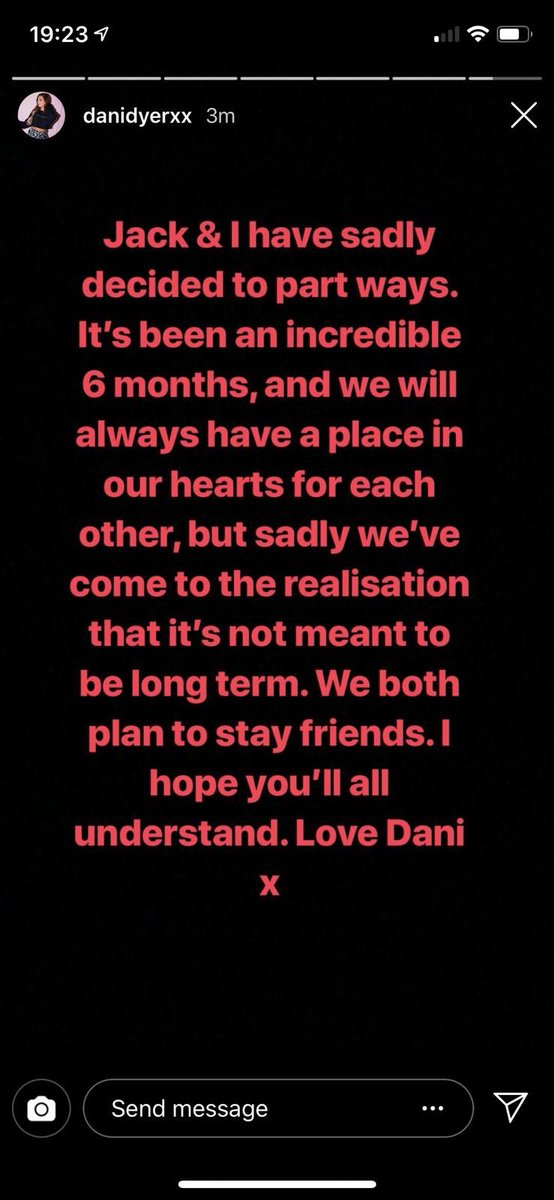 HOWEVER. She has since deleted the statement, and Jack never put one up at all. What does this meeeean? Was she hacked? Is it all publicity for the Love Island Christmas special, which was filmed a few weeks back and due to air on December 17? We wait in hope.
Kevin Hart has stepped down as the host of the Oscars after people went digging through his old tweets and found some… less than savoury jokes about gay people and sexuality. 
To give you an example – in one tweet from 2011, the comedian said he'd break a doll's house over his son's head if he tried to play with it (because "that's gay").
The tweets were quickly deleted, and Kevin responded to the controversy in an Instagram video:
Guys, I'm nearly 40 years old. If you don't believe that people change, grow, evolve as they get older, I don't know what to tell you. If you want to hold people in a position where they always have to justify the past, do you. I'm the wrong guy, man.
A few hours later, he was back with another video in which he claimed the Academy had given him a choice: Apologise, or step down as host. And at the time, he didn't want to apologise, saying he'd already addressed his old jokes in the past.
"I'm not going to continue to go back and tap into the days of old when I've moved on and I'm in a completely different place in my life," he said. However, a few hours later, he tweeted this:
I have made the choice to step down from hosting this year's Oscar's….this is because I do not want to be a distraction on a night that should be celebrated by so many amazing talented artists. I sincerely apologize to the LGBTQ community for my insensitive words from my past.

— Kevin Hart (@KevinHart4real) December 7, 2018
So that's that then. The Academy now have to scramble to find a new host, but there are plenty of offers already:
I will say this again. I AM TECH AVAIL. https://t.co/Sw5gf24zYB

— Busy Philipps (@BusyPhilipps) December 7, 2018
LET BUSY DO IT.
Directioners (yes, they are still legion) are freaking out because Louis Tomlinson may have called Zayn Malik a hypocrite in a cryptic tweet. 
Zayn dropped a new single called Good Years on Thursday – the lyrics are believed to refer to his days in One Direction: "I'd rather be anywhere, anywhere but here / Too much drugs and alcohol. What the hell were we fighting for?"
His former bandmate Louis wasn't having that.
Proper confused. What a hypocrite!

— Louis Tomlinson (@Louis_Tomlinson) December 6, 2018
Now he never SAYS the name Zayn, or refers to the song itself, but well, who else could he be talking about? They've been having pops at each other for years now. Oh boys…
And now it's time for… #TBT
The best celebrity throwback photos of the week.
Two cute ones for you. The above is Ariana Grande being a little awkward bean at the Victoria's Secret Fashion Show four years ago (we believe that was also the year this happened)…
And Joseph Gordon-Levitt shared a bunch of continuity Polaroids from the filming of 10 Things I Hate About You. Look at him!
Have your say
More like this