Insta Creep: Maura Higgins And Curtis Pritchard Spent New Year's Day In The Bath…
What all the celebs are up to on social, from A to Z listers.
In our gossip column, we indulge our nosiest desires and delve deep into what the celebs (and 'celebs') are doing on social media. Who's tweeting and deleting? Who's shady faving? Let's find out.
Did we think we'd be entering a new decade with Maura Higgins and Curtis Pritchard still very much an item? We didn't, but here we are.
The couple are one of the last Love Island 2019 pairings still standing (alongside Molly Mae Hague and Tommy Fury, who are currently on a fancy holiday in the Maldives) and spent New Year's Day in the bath together, with wine.
You wanna see? Sure you do.
Maura's knees are performing a huge service there in protecting us from Curtis' manhood.
The pair seem happy as Larry, and with both of them starting new projects in the coming weeks – Maura has Dancing On Ice, and Curtis is part of The Greatest Dancer team – it's all coming up roses for Maurtis.
Gigi Hadid and Zayn Malik may just be back together, if these culinary hints are anything to go by.
The model and former One Directioner first split in March 2018 after two and a half years together, then reconciled, then called it off again in early 2019.
However, fans now reckon they're at least friendly again, as Gigi is bantering with Zayn's mum about curry recipes.
Sharing a photo of some ingredients, Gigi wrote that she was making one of her "favourites" – a recipe for chicken curry pasta salad devised by Zayn's mother Trisha: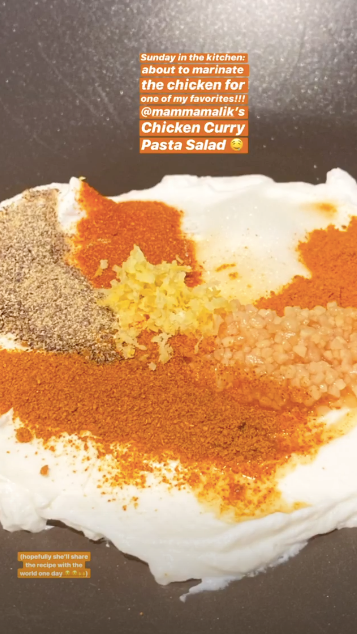 Trisha re-posted the photo on her Story, and linked to an old video of Gigi saying her favourite restaurant in the world was her "boyfriend's mom's house".
Does this mean that Zigi is back on once again? Or is it just a sign that Gigi and Trish are still good friends and it's all very cute? Will we ever get the recipe for the pasta salad? Watch this space.
Miley Cyrus included her marriage to Liam Hemsworth in her 'highlights of the decade' video. 
Yesterday, Miley announced a 'new era' for 2020 – no doubt she's referring to the second of her She Is trilogy of EPs, which is due for release this year.
She summed up her rather wild decade in a ten minute video, which includes everything from the demise of Hannah Montana to her Bangerz era and yes, marrying Liam:
Miley and Liam wed on December 23 2018, announcing their intention to divorce in August last year.
While their split was anything but drama-free, it's nice to see that she still looks back fondly at their (brief) marriage and ten-year relationship.
And finally, rugby star Rob Kearney proposed to his long-term girlfriend Jess Redden in New York. She said yes, of course.
It appears that Rob got down on one knee on New Year's Eve, announcing the news on the first day of the decade.
"It's a yes from NYC!" he wrote on Instagram, with Jess excitedly posting: "Happy NYE from me and my hubby to be!"
She also shared a photo of herself literally jumping into 2020:
Cute. Congrats to the happy couple!
Have your say
More like this