Insta Creep: Maura Higgins Wore A Gown By An Irish Designer To A Swanky Awards Show Last Night…
What all the celebs are up to on social, from A to Z listers.
In our gossip column, we indulge our nosiest desires and delve deep into what the celebs (and 'celebs') are doing on social media. Who's tweeting and deleting? Who's shady faving? Let's find out.
Maura Higgins rocked up to the TV Choice Awards in London last night wearing Irish designer Eamonn McGill. 
Eamonn dressed just about everybody at the VIP Style Awards this year, including Suzanne Jackson, Aideen Kate, Marissa Carter, and Doireann Garrihy – and lent his skills to the reigning Queen of Ireland for the night.
He created a slinky, sparkly gold number that was naked, but not too naked:
She looks fab, to be fair. Maura of course brought her beau Curtis Pritchard as her date, and the pair scrubbed up well:
Now we want to get dressed up all fancy and go on a night out. No fair.
Kaitlynn Carter is unleashing her thirst for Miley Cyrus in her Instagram comments. 
Kaitlynn and Miley are well and truly coupled up now after all the drama of August, and according to People, have even moved in together.
Just last week, Kaitlynn posted a rake of photos of them together on her birthday: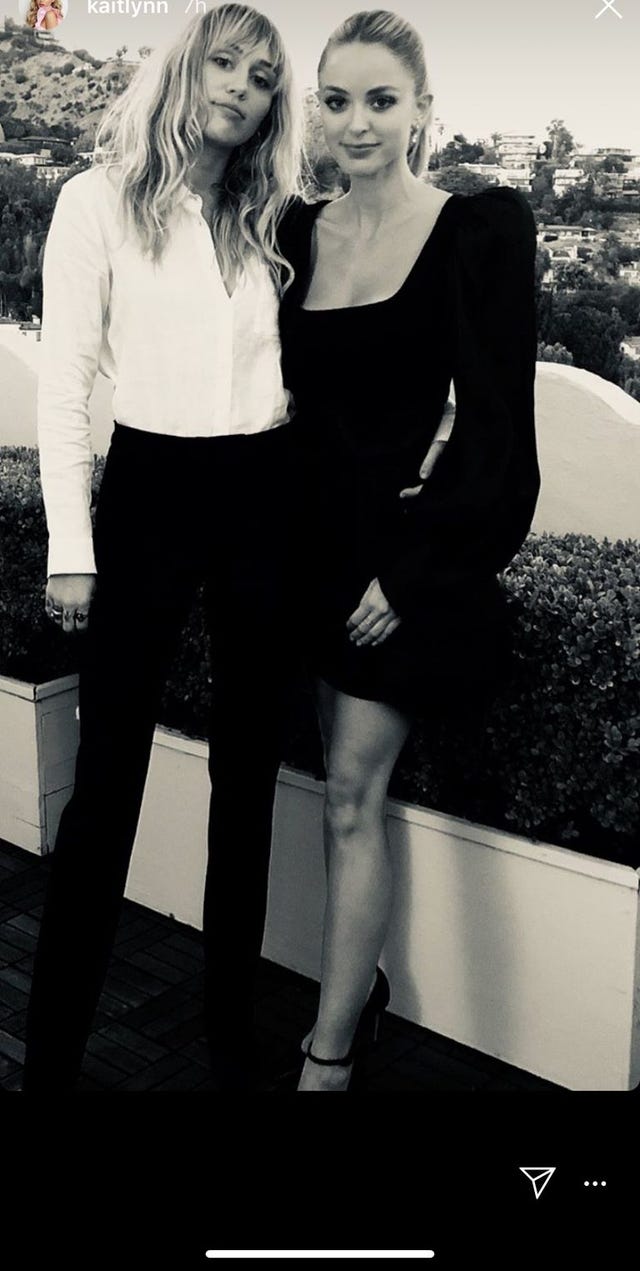 And now she's happily leaving thirsty comments under Miley's pics.
The drooling emoji. GET A ROOM, YOU TWO.
OK, this news will appeal to a very slim group of people, but: Jenny Slate is engaged!
The Parks and Rec actress has been dating artist Ben Shattuck for almost a year – he popped the question in an abandoned castle in France, and she "screamed YES".
The ring looks vintage and very nice.
If you're a fan of Jenny's you may remember that she dated Avengers star Chris Evans on and off between 2016 and 2018, and since then we have been rooting for her to find a lovely person for herself. Looks like she did! Congrats, Mona Lisa.
And finally… #WhatsChrissyUpTo?
Because she's always up to something.
Chrissy is once again the target of Donald Trump! Because what else would he be doing than complaining about celebrities who don't like him. John Legend apparently didn't give Trump enough credit for signing a criminal justice reform bill into law, driving the President to tweet late at night:
Guys like boring musician John Legend and his filthy mouthed wife are talking now about how great it is – but I didn't see them around when we needed help getting it passed.
Chrissy was amused that he didn't dare tag her in the tweet, instead simply calling her 'his filthy mouthed wife' – so she leaned in to the moniker.
lol what a pussy ass bitch. tagged everyone but me. an honor, mister president.

— christine teigen (@chrissyteigen) September 9, 2019
Luna, remember the night before your first day of school? When mommy was making your sign and the pussy ass bitch president had his 9th meltdown of the day pic.twitter.com/ZFZHJYrDPG

— christine teigen (@chrissyteigen) September 9, 2019
the absolute best part of his tweet is I literally didn't speak in the special, nor was I mentioned. I'm cackling at the pointless addition of me because he cannot not be a bitch pic.twitter.com/9ZkV7bh4FA

— christine teigen (@chrissyteigen) September 9, 2019
State of him, as per usual. People started tweeting #PresidentPussyAssBitch en masse, but Twitter did not allow it to trend. Which is rude considering the hack of things they DO allow on that hellsite…
Have your say
More like this