Insta Creep: Naomi Campbell Is Reminding The Kardashians That She's The Original Fashion Queen…
What all the celebs are up to on social, from A to Z listers.
In our gossip column, we indulge our nosiest desires and delve deep into what the celebs (and 'celebs') are doing on social media. Who's tweeting and deleting? Who's shady faving? Let's find out.
Naomi Campbell has been subtly (but not too subtly) reminding the Kardashian/Jenner family that she is the original fashion queen.
People have observed that Kim has recently sported a lot of things originally modelled by Naomi, from a Thierry Mugler catsuit to a silver Versace dress:
Once is an accident. Twice is coincidence. Three times is a pattern. pic.twitter.com/f7rHXqo8Ts

— Rashida Reneé (@fuckrashida) March 11, 2019
Obviously, Kim is allowed to be inspired by Naomi (she is an icon after all) but this many times? When Kim posted a photo of herself in a leopard ensemble by Alaia, Naomi posted a photo of herself in a leopard ensemble by Alaia.
When Kim wore a Versace gown to Chance the Rapper's wedding, Naomi put a picture of herself wearing the same dress on her Insta Story: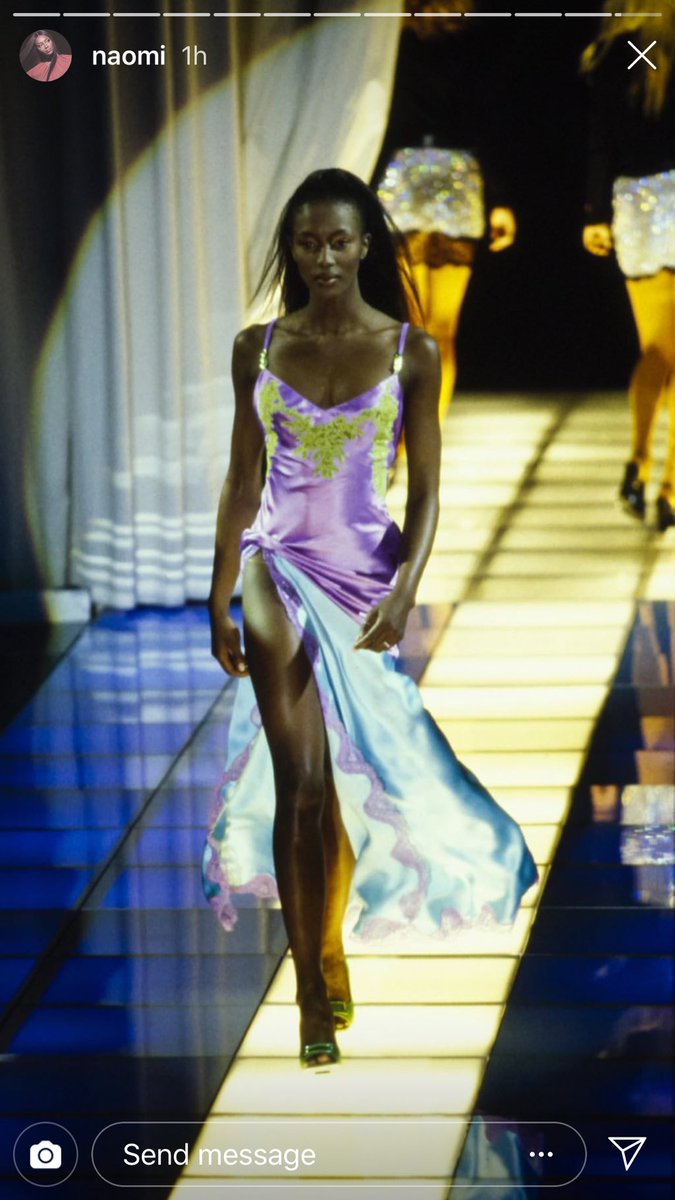 She knows, Kim! And she knows that the rest of the family are trying it, too.
Earlier this week, Kylie posted a photo of herself wearing bedazzled sunglasses with a matching choker…
…And Naomi posted a photo of herself in similar getup with the caption '#MOOD'.
We won't mistake this for real beef – Naomi wished Kim a happy birthday in October, after all – but the supermodel is letting everyone know that she did it all first.
Hi. My name is… What? My name is… Who? My name is… Channing Tatum.
The Magic Mike actor jumped on Instagram Stories yesterday to show off a new platinum blonde buzzcut that doesn't look too far from Eminem's signature look:
"Bad idea? Haha," he wrote, asking fans to vote on the new do. He didn't reveal how they voted, but added: "Well, bad ideas are sort of my thing. So…"
Channing is the latest in a raft of male stars to reach for the bleach – Zac Efron did it earlier this year, as did The Mindy Project actor Chris Messina.
Anything you guys want to discuss? Should be worried?
Literally right after he had to tell the world that he didn't have sex with his cat, Shane Dawson has announced his engagement. 
The YouTuber proposed to his boyfriend, fellow YouTuber Ryland Adams, after three years of dating. He shared the news with a photo of himself down on one knee (well actually two knees?):
"He said yes! This is the best night of my life! Thank you guys for all the love my heart is literally gonna explode," Shane wrote.
Ryland shared a close-up of the diamond-studded ring, saying: "I can't wait to spend the rest of my life with you, I've never been happier in my whole entire life!"
The timing sure is interesting, considering only on Sunday Shane had to tweet an apology for a 'joke' he made in 2015 about having sex with his cat. Well, if they can weather this storm together they can survive anything, right?
And now it's time for… #WhatsChrissyUpTo?
Because she's always up to something.
Also experimenting with hair is Chrissy Teigen, who just debuted a blunt caramel bob with a fringe. It's very different for her, but foxy, no?
She has also adopted a hamster for Luna and Miles – his name is Peanut Butter, and so far he's gone missing around the house and danced with the family to John's Christmas songs (yes, in March):
daily dance party has a new member pic.twitter.com/uSEk4qfa6s

— christine teigen (@chrissyteigen) March 15, 2019
Never a dull moment.
Have your say
More like this