Insta Creep: People Are Nitpicking Meghan And Harry For Calling Their Nephew By His Name…
What all the celebs are up to on social, from A to Z listers.
In our gossip column, we indulge our nosiest desires and delve deep into what the celebs (and 'celebs') are doing on social media. Who's tweeting and deleting? Who's shady faving? Let's find out.
Ed Sheeran's wife Cherry Seaborn surprised him by showing up to his tour in a gift box. 
Ed is currently playing gigs around Asia, and opened his hotel door one morning to discover a massive box wrapped in a pink ribbon.
His hungover head didn't even want to open the box at first:
Ah how cute. The couple have never confirmed their marriage, but apparently they married in December at her family church in Suffolk, with a reception in a local pub. A celebrity couple we can get behind, TBH.
Hailey Baldwin is hitting back at the Justin Bieber fans convinced that he belongs with Selena Gomez.
Justin and Hailey have been plagued by comments like these for their entire relationship – the singer recently responded to one who said he only married Hailey to get back at Selena, saying "Hailey is my bride period, if you don't support that you don't support me."
This time, Hailey took aim at the stans' "delusional fantasies":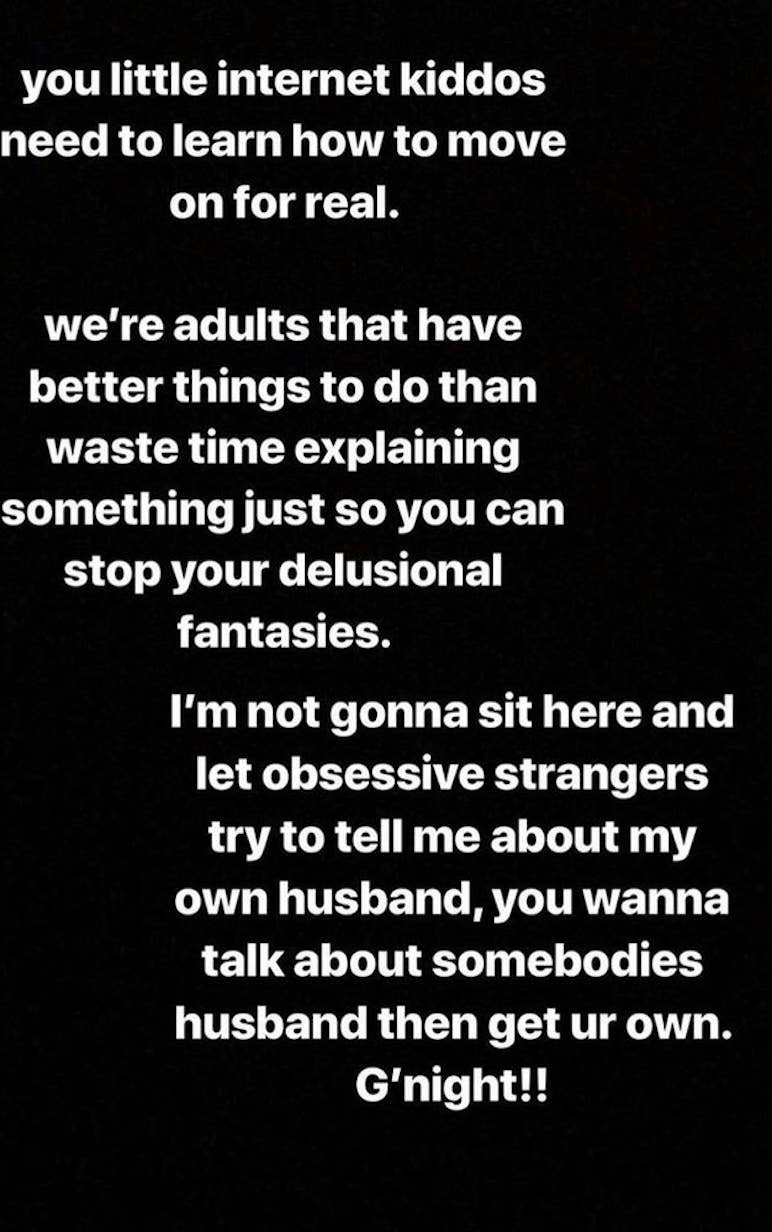 "You little internet kiddos need to learn how to move on for real," she wrote on her Instagram Story.
We're adults that have better things to do than waste time explaining something just so you can stop your delusional fantasies. I'm not gonna sit here and let obsessive strangers try to tell me about my own husband, you wanna talk about somebody's husband then get your own.
What are the chances that the Biebers will stop giving these people air? Doesn't seem likely.
People are nitpicking Meghan Markle and Prince Harry for calling their nephew by his name. Seriously, lads. Acquire a life.
Prince Louis turned one last week, and the family celebrated by releasing some new photos of the tot to the public. Meghan and Harry's Instagram account @sussexroyal commented under the photos on Instagram, saying: "Happy Birthday Louis! Sending lots of love from both of us xo".
It was cute, but some truly sad individuals immediately started sniping. "It's Prince Louis to you; he outranks you both," commented one.
"If you don't believe in titles that's fair enough, but then don't expect people to use yours to address you," wrote another.
PLEASE. They are related! If anyone can ignore the rank of an actual baby, it's his aunt and uncle. Oh my god.
This video of Chrissy Teigen, Jen Atkin, Kourtney Kardashian and Steph Shep trying to take a photo is real AF.
"DID IT TAKE?" No Jen, no it didn't. We feel this so hard.
And now it's time for… #SponConCorner
*Spon con = sponsored content. Who's flogging what, and why?
Geordie Shore's Marnie Simpson is expecting her first child with boyfriend Casey Johnson (he was in two X Factor-produced boybands, Stereo Kicks and Union J). The pair of them are thrilled to bits – but she's still promoting 'weight loss capsules' for some reason?
Can't imagine losing 7lbs in seven days is good for most people, especially not a pregnant woman, but… go off.
Have your say
More like this