Insta Creep: Storm Keating Had To Get Stitches After Her Baby Stabbed Her With A Fork…
What all the celebs are up to on social, from A to Z listers.
In our gossip column, we indulge our nosiest desires and delve deep into what the celebs (and 'celebs') are doing on social media. Who's tweeting and deleting? Who's shady faving? Let's find out.
Storm Keating had to get stitches after her baby stabbed her with a fork. Yes, you read that right.
Fifteen-month-old Cooper Keating is evidently well able, because according to his mama, he whipped a fork off the dinner table while she wasn't looking, then jammed it in her eyebrow.
Storm had to go to a Singapore hospital (Ronan is currently on tour in Asia) to get stitched up, and documented it all on Instagram:
"Where you find yourself at 2am after your toddler sneaks a fork off the table during dinner & you couldn't get it back quick enough," she wrote.
That's a story to bring out at his 21st…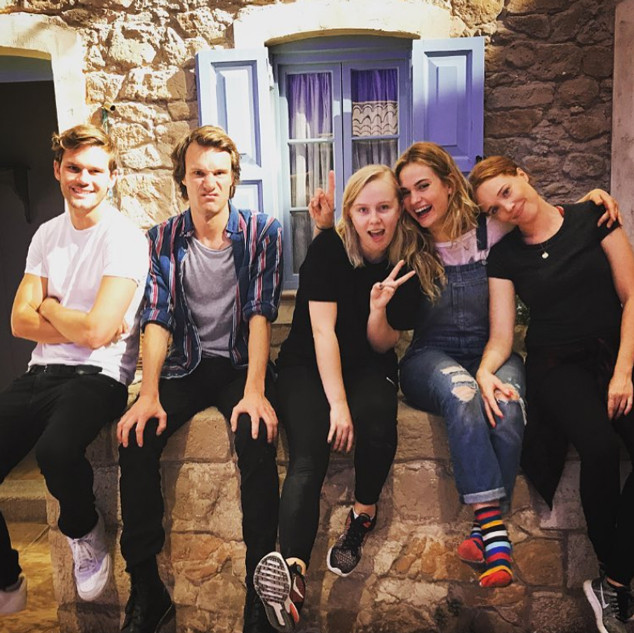 We LOVED Mamma Mia: Here We Go Again, and one of the best things about it were the younger versions of Sam (Pierce Brosnan), Bill (Stellan Skarsgard), And Harry (Colin Firth).
Played by Jeremy Irvine, Josh Dylan, and Hugh Skinner respectively, they were absolutely delightful Like, you're 100% lying if you say you didn't come out of the cinema fancying Young Bill.
While they don't have many scenes together in the film, the three lads evidently forged a friendship on set – and even went on holidays together this week (in matching tracksuit tops).
Don't you just love them? Young Bill, call us.
Hello, what the actual F**K is this thing Kim Kardashian is wearing around her neck?
Kimmy shared some snaps on her Instagram Story yesterday wearing a glow-in-the-dark choker that looked to be made of her own skin:
Anyone else want to cry? But it's not only Kim – Chrissy Teigen and Queer Eye's Tan France also modelled some highly unnerving body modifications:
All this is to promote A Human, a fashion line-cum-'theatrical art experience' based around prosthetics – it's produced by Simon Huck, a longtime friend of the Kardashians, which explains why so many famous people have been roped into it. Upsetting.
Drake might be dating an 18-year-old model, and Jesus Christ Drake. You have a son now! Be better!
The 31-year-old rapper is rumoured to be romancing Bella Harris, the goddaughter of Janet Jackson – according to some reports, he has known her since she was 16. Eh, bleak.
Earlier this week, she posted some snuggly pictures with Drizzy, captioning them 'No place I'd rather be'. HMMT.
Last month, Drake admitted that he had fathered a secret son, but as commenters on Bella's Instagram have noted, he has no problem not 'hiding this child'. LOL.
Have your say
More like this