Jameela Jamil Has Called The Kardashians 'Double Agents For The Patriarchy', And Ouch
*Grabs popcorn*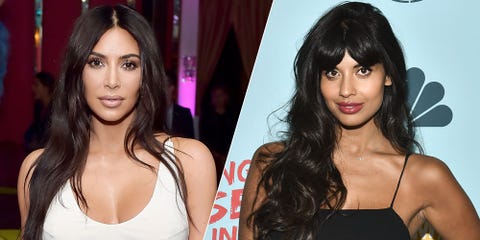 Not one to shy away from voicing her opinion, it appears that Jameela Jamil is back at it again calling out the celebs.
When the TV presenter and actress appeared on the podcast Change the World, she said that the Kardashians are profiting from the patriarchy.
In the interview, Jameela said that just because the Kardashians are a team of women, does not mean that they do not reinforce harmful ideas of how women should look, behave, and be.
Jameela also goes on to explain what exactly a 'double agent' is:
The double agent for the patriarchy is basically just a woman who perhaps unknowingly is still putting the patriarchal narrative out into the world, is still benefiting off, profiting off and selling a patriarchal narrative to other women.
She continued:
You are selling us something that really doesn't make us feel good. You're selling us an ideal, a body shape, a problem with our wrinkles, a problem with ageing, a problem with gravity, a problem with any kind of body fat. You're selling us self-consciousness, the same poison that made you clearly develop some sort of body dysmorphia or facial dysmorphia you are now pouring back into the world. You're recycling hatred.
This is not the first time Jameela has called out the Kardashian clan for how they make their living.
Back in May Jameela said Kim Kardashian was "toxic" and "terrible" for her promotion of a lollipop that claims to suppress appetites (we can't say we totally disagree there though, Kim, that was not cool).
No. Fuck off. No. You terrible and toxic influence on young girls. I admire their mother's branding capabilities, she is an exploitative but innovative genius, however this family makes me feel actual despair over what women are reduced to. ☹️ pic.twitter.com/zDPN1T8sBM

— Jameela Jamil (@jameelajamil) May 16, 2018
In the podcast, Jameela also clarified that she doesn't care if it is a woman who is profiting from these ideas.
She says: "It's a wolf in sheep's clothing. Just because you look like a woman, we trust you and we think you're on our side. But you are selling us something that really doesn't make us feel good."
After receiving a bit of backlash for targeting the Kardashians, she said on Instagram that the family were a "symptom, not the cause".
"You're selling us self-consciousness." Jameela Jamil explains why she thinks the Kardashians are "double agents for the patriarchy", in the latest Ways to Change the World podcast. pic.twitter.com/NWHfGH2wNs

— Channel 4 News (@Channel4News) August 31, 2018
The Kardashian/Jenners are yet to respond, BUT as we all know they are not a family to back down. It's only a matter of time before things get heated. Let the games begin.
Have your say
More like this