Janice From Friends Just Revealed The Inspiration Behind Her Iconic Laugh
OH.MY.GOD
Whether you think Phoebe is a gas bitch or that Ross is #relatable, we all know that, deep down, the best character in Friends is by far Janice.
Janice's piercing laugh is something most people will never forget about the show, and now the actress who played her, Maggie Wheeler, has revealed the inspiration behind it.
Speaking to Emma Barnett on BBC Radio 5 Live, the 57-year-old star said Flipper the dolphin and Woody the Woodpecker played big parts in the laugh's creation.
"There was a character called Arnold Horshack and he used to laugh and he would say [laughs]," Maggie explained.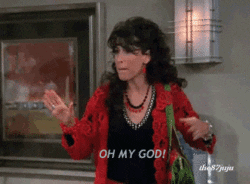 Have your say
More like this