Kelly Rowland Has Spoken Out About Getting Caught Up In Nicki Minaj And Cardi B's Brawl
"We have way bigger issues as women"
We're all aware that Nicki Minaj and Cardi B's New York Fashion Week fight was extremely public, but who was a witness at one of the biggest celebrity events of the year? Poor old Kelly Rowland that's who.
This is how it went down. The celebs were having a mingle at an afterparty, everyone was getting along, Kelly Rowland goes in for a pic with Nicki and La La Anthony and then all of as sudden shoes were thrown, weaves were snatched, words were had and the media went wild.
We've heard both Nicki and Cardi's sides of the story, but what about poor Kelly? She was only trying to get a fire snap for her insta and became intwined in what can only be described as one of the biggest celeb feuds of the year.
Kelly has finally giving her two cents on how she feels about the heated encounter, telling E! News on Monday:
I think in a time where Serena Williams is fighting for equality—I love both Nicki Minaj and Cardi B and I think that they are extremely talented—and in a time when she is fighting for women's equality, we just can't be fighting.

There's no time for us as women to fight and they are just so talented and I just genuinely love them both so much, but it's just not the time. We have way bigger issues as women, you know what I mean? So I don't know. I'm Switzerland, I don't f–cking know.
In other words, Kelly just wishes we could all get along like we used to in middle school.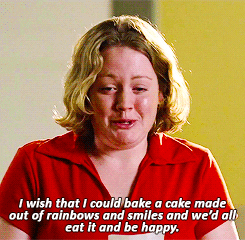 Some other celebs have chosen their sides in the battle. Hailey Baldwin, Karamo Brown, Jonathan Van Ness and Snooki are among the stars who liked Cardi's statement on Instagram, while Adriana Lima said in a since-deleted comment, "@iamcardib you got my support in this one."
Winnie Harlow, Vanessa Hudgens and Lisa Rinna, all praised Nicki in the comments section of her Insta the night of the altercation.
Fellow female rapper Azealia Banks, who is an outspoken critic of Cardi B, also commented on the drama while chatting on her Instagram Live. She said:
[Cardi B] doesn't understand the rules of black female etiquette… She doesn't understand that black women in 2018, we fight with our words and not with our hands.
Oh the DRAMA.
Have your say
More like this