Kim And Pete's Full Relationship Timeline
What a wild ride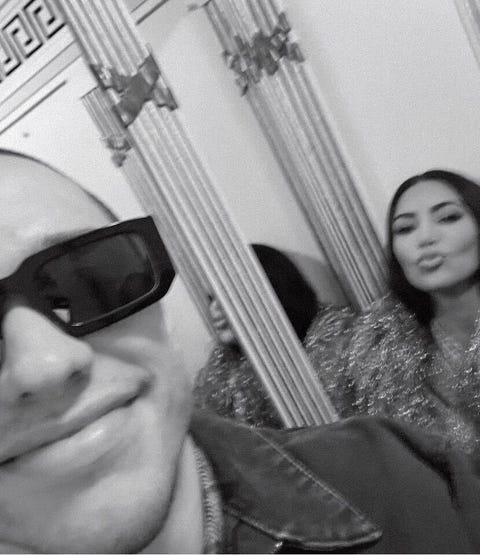 They're the couple people can't stop talking about. Kim Kardashian and Pete Davidson have been going steady for a number of months now, with things seemingly beginning with a kiss on SNL.
But as it turns out things kicked off way before last October, as the two have known each other since 2019. Let's take a trip down memory lane.
2019
So Kim and Pete actually had dinner together back in 2019 to celebrate mutual friend Kid Cudi's birthday.
Happy Birthday @KidCudi pic.twitter.com/rPkAvTgDLE

— Kim Kardashian (@KimKardashian) January 31, 2019
The pictures from the meal infamously reappeared earlier this year when Kanye shared them on his Instagram grid to condemn Pete. However, at the time of the dinner Pete was pretty team Kimye. He even mentioned during an interview with Jimmy Fallon that they're 'the cutest couple ever' – yikes.
Early October 2021
This is where things begin to really get going. Pete and Kim made headlines across the world for their hilarious skits together during Kim's Saturday Night Live show. The most memorable moment being the kiss they shared while dressed as Aladdin and Princess Jasmine on a rug.
Late October 2021
Kim and Pete were spotted for the first time outside of work commitments when the two went on a group trip to Knott's Scary Farm.
Here, the pair were papped holding hands as they navigated the amusement park, setting many tongues wagging.
November 2021
The internet collectively lost its mind when Kim visited Pete in his homeland – New York. The pair apparently enjoyed a rooftop date in Staten Island.
Later that month the Kardashian Klan gathered to celebrate matriarch Kris' birthday, with a video of Kim trying karaoke appearing online. While Pete can't actually be seen in the video, a very familiar voice does scream 'Nooo c'mon!' In the background with everyone jumping to the conclusion that Pete was in attendance.
We'll let you be the judge on that one.
Also November 2021
View this post on Instagram
Things went Instagram official in November 2021 when Pete celebrated his birthday. In the snap Kim, Flava Flav and Kris Jenner can be seen wearing matching PJs – honestly, we're so confused by it too but just happy it exists.
January 2022
View this post on Instagram
Throughout the rest of 2021, Pete and Kim enjoyed multiple date nights, but in early 2022 they really ramped things up. Jetting off to the Bahamas together, Kim wasn't shy in sharing plenty of holiday snaps, with some very loved-up captions. Oh, and we're certain Pete's shadow is lurking in them too.
February 2022
It's official – Pete calls Kim his 'girlfriend' for the first time. In an interview with People, he talks about his life in the spotlight, sharing that actually, he's a pretty chill guy IRL.
"Well, I don't really have Instagram — I don't have Instagram or Twitter or any of that stuff. So, most of my daily life is getting into cars and showing up to a set"
"Or, if I'm off, I just either hang with my friends or chill with my girlfriend inside. So I don't do much."
March 2022

Instagram official! The moment we've all been waiting for. On March 11th Kim shared a carousel of 'candids' on her Instagram grid after a weekend together. And the pics are very sweet.
Have your say
More like this