The #DogsAtPollingStations Twitter Hashtag Is The Most Wholesome Thing You'll See Today
Give the paw for tá!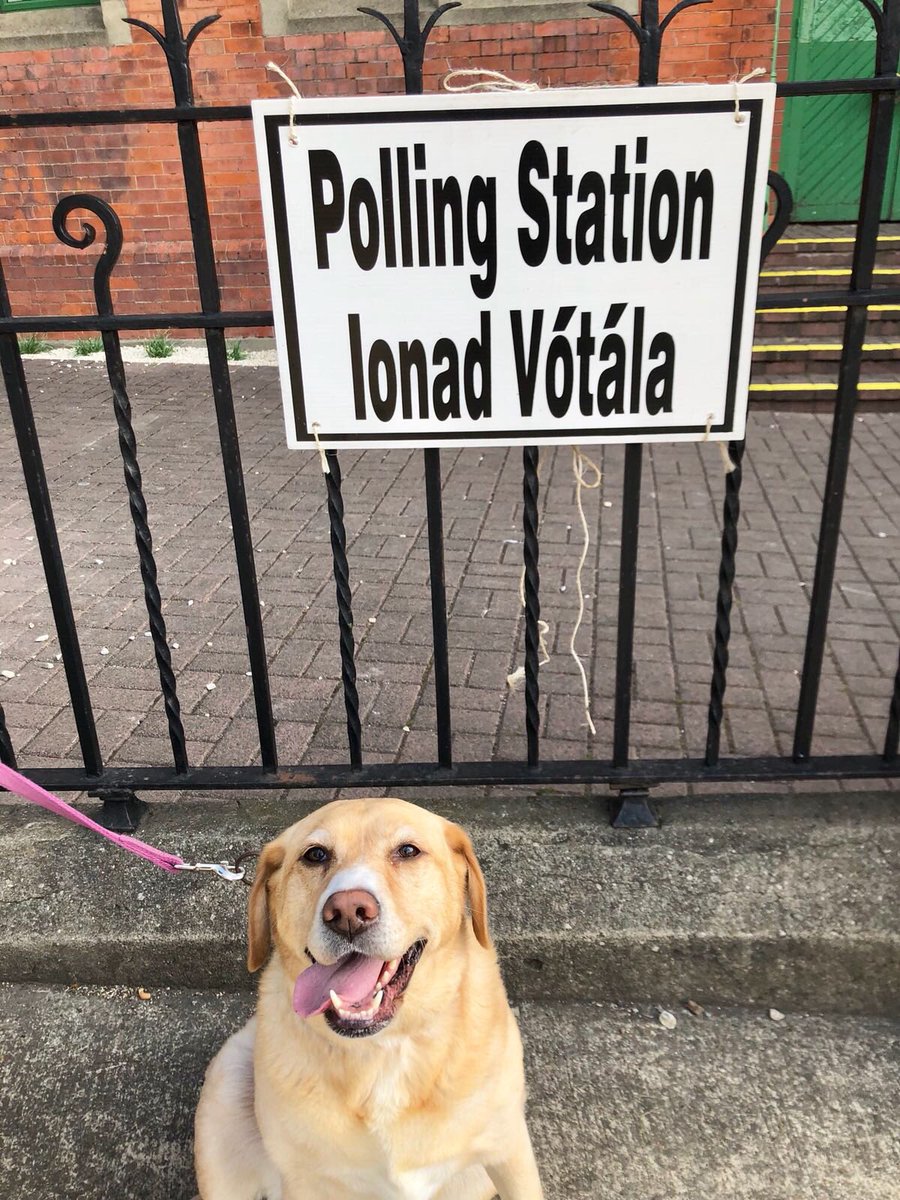 Pooches have come out in force today to get behind the Yes vote in the 8th Amendment referendum. The hashtag #DogsForChoice is receiving lots of love on Twitter as proud owners share pictures of their loyal pets accompanying them to their local polling station.
May 2018/ May 2015 #missellie @Lawyers4Choice #dogsatpollingstations #pawfortá pic.twitter.com/QxZ8pYEXqY

— Michael Doherty (@dohertymi) May 25, 2018
Even dogs who couldn't see came in support of their owner's choice!
Our dog is blind & has diabetes so I carried her to the polling station to be part of #dogsatpollingstations
An injury to one is a concern for all & no-one should ever be forced to make difficult journeys alone #Together4Yes pic.twitter.com/es0AXyPPEm

— Nic Murray (@nic__murray) May 25, 2018
@DogsForChoice Here's Cooper waiting patiently outside the polling station #dogsatpollingstations pic.twitter.com/9qnNd70zRt

— Lynn Boylan MEP (@LNBDublin) May 25, 2018
Just voted and made two new buddies in the process!#DogsAtPollingStations #VoteYes #Vote2018 pic.twitter.com/XBT1U3vQcG

— Nuala McHale (@NuliBouli) May 25, 2018
Together For Yes also gave their support to dogs turning out at polling stations today using the popular #dogsatpollingstations hashtag.
Would you look who it is! ??These gorgeous doggos have accompanied their humans to the polling stations this morning, their humans voted Yes, have you? #dogsatpollingstations #Together4Yes #voteyes pic.twitter.com/95STuMjSWT

— Together for Yes (@Together4yes) May 25, 2018
Throughout the campaign, the Twitter and Instagram accounts for DogsForChoice have garnered thousands of followers for the pictures of the cute canines at work supporting and canvassing for a Yes vote.
There's even fan art dedicated to our favourite canvassing canines:
If you haven't voted yet, make sure to get yourself and your dog to the polls before 10pm!
Have your say
More like this