Vogue Williams And Katy Perry Bond Over Pregnancy On Radio Show
"I'm right behind you, I'm with you in spirit."
Vogue Williams got more than she bargained for this week on her DJ slot on Heart Radio. The presenter was in shock as she got her very own 'Katy Video.'
It seems some of her colleagues were involved with the video, as she thanked them on Instagram when sharing the video. The clip shows pop singer Katy Perry, who is also pregnant wishing Vogue Williams the best of luck. She says; "We're in the same boat but I think you ship is coming into the dock."
"Good luck to you and push, push, breathe, breathe, I'm right behind you, I'm with you in spirit."
She finished her good luck video to Vogue with a poignant message for the Mum to be; "I've heard this is the best thing we will ever do or give ourselves to in our lives."
View this post on Instagram
Vogue was clearly thrilled with the video as she shared; "Can you cope!!!!! I think this means @katyperry and I are now best friends."
The model recently revealed she's counting down the days until her daughter arrives into the world.
The Howth native, who's already mum to little Theodore, is expecting her second child with Spencer Matthews in the very near future.
Their little girl is due at the end of the month, but Vogue is making the final preparations incase she arrives early.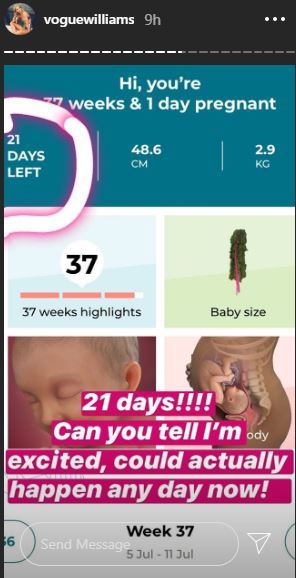 Sharing a screenshot of her pregnancy app, Vogue said, "21 days. Can you tell I'm excited? It could actually happen any day now."
Vogue previously revealed she's been savouring every minute with her son, as they've been spending quality time together and making memories before their family expands.
"Lockdown has been great for all of the extra time I have gotten with my T," she beamed. "Soon to be the best big brother in the world."
Ahead of their baby's birth, Vogue recently revealed she bagged her dream house in Dublin.
While they don't intend to live here full time, they do come back to Ireland quite a bit and wanted something a little more spacious than her previous apartment to accommodate their growing family.
Have your say
More like this