What Can We Learn About Love Island's Casa Amor Crowd From Their Instagrams?
We must consult the Oracle.
Well, it's happened. On last night's episode of Love Island, the boys got a text informing them they were being packed off to Casa Amor to meet a new batch of girls, while the OG ladies were told to expect some brand new lads.
The new set up is already causing trouble, with Callum gleefully getting to know new girl Molly, sending Shaughna into a panic back at home by not leaving her a keepsake to remember him by.
Shaughna herself isn't lacking attention though, as new boy Josh made it very clear that he could give her "a bit more than Callum can give". Wouldn't be hard, in fairness.
But who exactly are these new hunks and temptresses stirring the pot? Let's dive into their Instagrams and find out.
Ched Uzor, 23
Ched is a personal trainer, in case you didn't already know by how completely ENORM he is. His Instagram mostly shows off his prowess at the gym, and there's not even a sniff of a transformation pic, which makes us think he came out of the womb this hench. Perturbed by the fact that he thinks crappy bathroom lighting was "sent from heaven", TBH:
He's interested in Rebecca and Siannise, so we'll see how that goes for him.
Josh Kempton, 21
Ah wee Josh. At first, we wondered why his Insta bio said 'Manchester – Nemesis/ London – Evolve' but we think he's talking about the modelling agencies he's signed to? Otherwise someone in Manchester needs to WATCH OUT.
Josh's page is full of model shots, but scroll back far enough and you'll see that he was in the army! He also seems to know ex-Love Islander Jordan Hames (who has commented on a few of his photos), because this world is a tiny one. Hope he doesn't also have Jordan's f*ckboy energy.
Alexi Eraclides, 23
Alexi works as a 'Butler in the Buff', and sure enough, on his Instagram you can see him butlering in the buff. Here he is painted completely gold, for some reason:
Alexi went to see 50 Cent in 2015 and was VERY excited about it. We don't really know what that says about him just yet. We'll wait until we know him a little better.
George Day, 23
Scrolling through George's first few pics, you wouldn't know that he actually knew any other people. He's very into his own face, which is a good face, but there are only so many pouty selfies a person can take.
The only other things we can figure out are that he, like many of these Love Island men, enjoys luxury travel, designer clothing, and the gym. *stifles yawn*
Biggs Chris, 27
Biggs Chris. Not Chris Biggs. Honestly, we enjoy him very much already, seeing as he appears to be a smiley, happy man who doesn't take himself incredibly seriously. Look how excited he is about his burger!
Someone take a chance on Biggsy, The Man With The Backwards Name. If he proves himself to be anything less than an angel we'll eat our hats.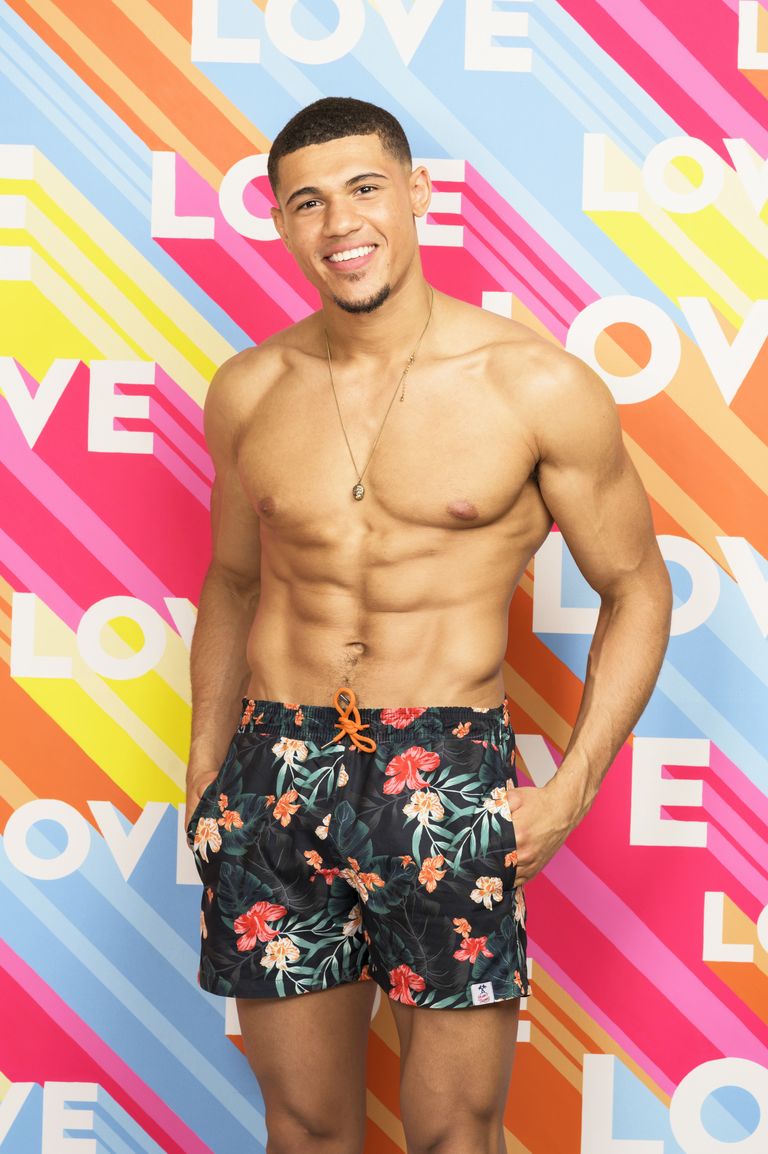 Jordan Waobikeze, 24,
People think he looks like the dearly departed Connagh, but we don't really see that? Anyway, the new Connagh With A G has only a few posts on his Instagram depicting a life of partying wit da lads and maintaining his eight pack:
He will fit right in.
Molly Smith, 25
Molly is girl all the lads are falling over themselves for, and yep, she's unbelievably gorgeous. She has modelled lingerie and fitness gear and flipping through her photos is enough to give your self-esteem a real hammering, let us tell you that.
She's got an ugly couch though. She's not perfect!
Natalia Zoppa, 20
Natalia is similarly stunning but has the misfortune of being a brunette, meaning it's going to take the boys about three days to actually notice her presence in the villa. Nothing against her at all, it's just a fact.
Like George, she mostly posts photos of herself, except when you get back to the very start of her account and see she posted ALL DOGS, ALL THE TIME. We suspect she's done a pre-Casa Instagram cleanse, as many of her fellow Islanders did.
Eva Zapico, 21
Zoppa! Zapico! Loving the names this year. Eva's social media is filled with photos of luxurious holidays, luxurious handbags, and luxurious hair, and well, a very luxurious life in general. The privilege jumps out.
Here's the fun bit though: Her mum's Twitter account shows her to be a HUGE Love Island fan, which makes us wonder if Mama Zapico Kris Jennered her daughter on to the show. You'd have to respect it.
Jamie McCann, 24
Jamie-Louise doesn't have the best Instagram handle for SEO – how's she gonna get those followers in? She could comfortably pass for Rebecca's twin, which we're sure Rebecca is going to LOVE. You know, cos she's so warm and welcoming and that.
Jamie seems like a nice, down-to-earth gal who enjoys treating herself to spendy purchases like Louboutins and Gucci purses. We can vibe with that.
Priscilla Anyabu, 25
She's already winning with a name like Priscilla. The glamour of it! The model has already attracted attention from Mike, and us too TBH because she is simply glorious:
She seems to go by the name Cilla Purple, which must be her version of Sasha Fierce. Cilla Purple sashayed into that villa last night, not Priscilla.
Jade Affleck, 25
Jade is a horse girl! You love to see it. Really, here she is with a horse:
She also likes to take her OOTN photos in the same spot by the cooker, and we appreciate that kind of consistency in life. When you find something that works, why change it?
So that's the lot of them – we can't wait to tune in tonight and see what havoc is wreaked. Are we evil? Maybe.
Have your say
More like this