Your Complete Guide To Everyone Who's Been Kicked Out Of The Kardashians' Inner Circle
Keep up with the Kardashians? It's kinda impossible, TBH.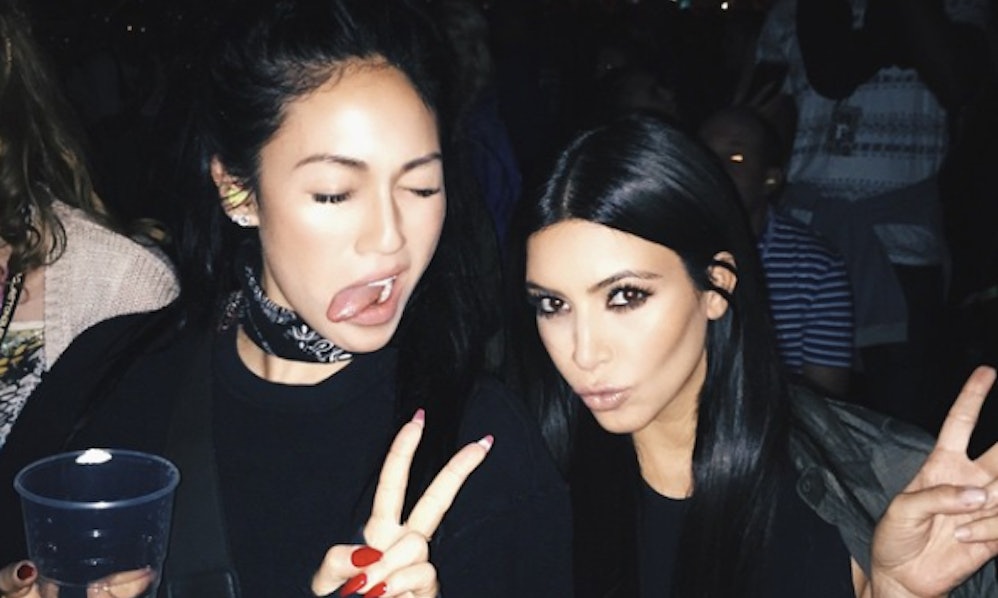 The Kardashian/Jenner clan's tight inner circle of makeup artists, hairstylists, personal trainers, assistants, publicists and sometimes plain old friends are almost as well-known as they are.
Lots of them stick around – hairstylist Jen Atkin and MUA Mario Dedivanovic are two constants – but a few have been cast out over the years. Let's take a look.
Stephanie Shepard (AKA Steph Shep)
If you're a close follower of Kim's Instagram, you'll know Steph Shep. Stephanie was Kim's assistant for four years, was bestos with the rest of the family, and became just as glam as her famous employer.
After a few years as an assistant, Stephanie naturally wanted to progress, and Kim promoted her to COO of Kardashian West Brands. This is where things started to go sour. From People:
She was a good assistant but when Stephanie wanted to transition into a larger role with Kim's brand and businesses, it just didn't work. Kim gave her the chance but after a short period of time it became clear that Stephanie just didn't have the knowledge to take on a role like that. Kim made an executive decision to part ways.
Yikes! What an extremely uncomfortable situation for all involved. But it seems like they've gotten over any awkwardness or resentment that might have followed – Steph is still good pals with Kourtney and Jen Atkin, and Kim sent her a Ride or Die perfume:
It's all G, TG.
Joyce Bonelli
Joyce was the OG Kardashian makeup artist, working with the whole family for more than a decade. However, in June all of them unfollowed her on Instagram, which is basically like the Kardashian/Jenner equivalent of the kiss of death.
Then she posted this Instagram photo, which was seen as a thinly-veiled dig at the family:
What happened there? Well, a 'source' told People that Joyce tried to work around them on a deal so they wouldn't make money on it, and you know you never come between the Kardashians and their money.
However, Joyce said she wasn't fired, but left on her own terms: "I definitely have never been fired in my entire life. And something personal happened to me that I wasn't OK with, and that's what happened." Veeeerrrry cryptic.
Marina Acton
This is a weird one. Back in 2017, Kim and Kanye sold their Bel-Air mansion to Ukrainian 'entrepreneur and philanthropist' Marina Acton, who is often reported as being the wife of WhatsApp co-founder Brian Acton (more on that later).
At the time, Marina said that the sale had nothing to do with the former residents' fame – but Kim later went to Marina's single release party, was spotted going to dinner with her, and tweeted a birthday message to her 'beautiful friend':
Happy Birthday my beautiful friend Marina! pic.twitter.com/d5ngvXBNej

— Kim Kardashian West (@KimKardashian) December 6, 2017
According to US magazine Spin, a term of their real estate deal required Kim to hang out with Marina and promote her music. HMM. Six months later, she listed the house for sale again, saying she needs more space than Kimye's six-bed, eight-bath house could provide, and we haven't seen her with Kim since.
As for that WhatsApp connection – Brian Acton is currently married to a woman called Tegan (they run a charity together), and he claims he's never been involved with Marina. Curiouser and curiouser.
Sofia Richie
She was friends with Kendall and Kylie growing up, and benefited from the exposure she got on their respective Instagrams… and now she's dating Kourtney's 35-year-old babydaddy, Scott Disick. It's pretty self-explanatory, no?
The falling-out was compounded when Kendall commented on an Instagram photo of Scott, Sofia, and his children, saying: "Aww, Scott and his kids."
Monica Rose
Like Joyce Bonelli, Monica Rose worked as a stylist to the Kardashians for over a decade before they split under mysterious circumstances (they unfollowed Monica en masse too).
Page Six reported that Khloe was 'furious' with her former employee and was considering suing Monica… and while the report didn't specify what she intended to sue over, these tweets added fuel to the fire:
What would you do if you found out a friend was stealing from you?

— Khloé (@khloekardashian) June 1, 2017
Would you cut off the friendship and let God handle it? Or would you go the legal route?

— Khloé (@khloekardashian) June 1, 2017
Khloe never denied that the tweets were about Monica, but whoever she was talking about, it seems she's let God handle it. Never cross these sisters, swear to god.
Brody Jenner
Yes, he's sort of related to them (sort of) but that doesn't mean he has to like them. The Hills alum Brody is the son of Caitlyn Jenner and actress Linda Thompson, and while he was happy enough to appear on Keeping Up With The Kardashians for a season, he's drawn a line since his dad divorced Kris.
It didn't help that he wasn't invited to Kim and Kanye's wedding, and that Caitlyn didn't show up to his own. He's also said that he's had it with the 'drama': "I'm sick of the Kardashians' drama… all of the girls are as bad as each other and it's not a healthy environment to be in." Firmly off the Christmas card list, then.
Have your say
More like this