Bigger-Busted Gals, Rejoice – There Are 6 Easy Ways To Stop Your Clothes Gaping All The Time
Boobs are great, but they do get in the way sometimes.
If you're a gal with a larger bust than most then you're gonna know the true struggle of wearing anything with buttons. But there's no reason why you have to steer clear of shirts just because you've been blessed with big boob – here are six easy fixes for that dreaded peek-a-boo gap.
1. Grab some safety pins
Safety pins yet again prove themselves to be the answers to all our prayers. As soon as that button down shirt shows signs of gaping, grab a safety pin or three and close that gap. The great thing about this fix is that it's super quick and you don't have to be some sewing goddess to make it work. Top tip: using a matching coloured safety pin will leave everyone clueless that you've pinned your top together.
2. Try a minimiser bra
Clothes gape because there isn't enough fabric to cover your chest – wearing a minimising bra can reduce your bust down a couple of cup sizes, meaning there'll now be plenty of fabric to go around. We recommend this two pack from Marks and Spencer.
3. Get your hands on some velcro
Any items from your wardrobe that cause you gaping problems are about to be covered in velcro – no, seriously. Velcro won't budge so there's no fear it's going to slowly come apart as the day goes on. If you're a bit like us and absolutely useless with a needle then the good news is you can buy self-adhesive velcro. All you have to do is cut it to the size you need, mark where you're going to put it, and stick away.
4. Size up
There should be no fear in having to go up a size or two so that button down dress you're drooling over fits you comfortably. It doesn't mean you're suddenly now a bigger size than before, it just means you were blessed with a fuller chest. Besides, the sizes on clothes these days are so inconsistent we shouldn't be paying any attention to them anyway.
5. Try a concealed zipper
For this one, you're gonna need to be able to throw your hand at stitching – but if not, we all have an aunt that can, right? Sewing a concealed zipper under the button panel means you don't have to worry about your buttons gaping. It's also gonna save you a ton of time getting ready in the morning, because you won't have all those buttons to do up.
6. Get your clothes tailored
Sometimes a gap can just be too big for DIY, and that's why becoming besties with a tailor is the way to go. Say you bought a shirt a couple sizes too big to avoid gaping, but you need it to look more fitted everywhere else, or you just want a little bit of material let out to close that dreaded gap, find your closest decent alterations place and rejoice in having professionally tailored clothes.
Busty gals, go forth and conquer buttons.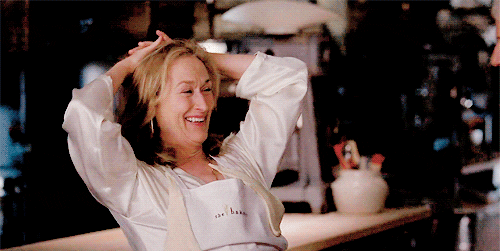 Have your say
More like this