Do Eye Creams Actually Work Or Is It All A Big Racket? We Asked An Expert
STELLAR is out here asking the tough questions.
To eye cream or not to eye cream, that is the question.
Eye cream is probably the most debated of all the skincare products – do you need one? Can you just use whatever you already put on your face? Is it all a big swizz? We put these very important questions to an expert, and here's what we found out.
Do I need an eye cream at all?
"The eye contour is thinner and doesn't have the same oil production as the rest of the face so definitely needs care," says Clontarf-based skin specialist Jeanne Brophy. "That being said, it isn't always about having a separate product."
It really depends on what products you're using on the rest of your face, and what they're formulated to do. Most professional skincare serums are fine for eyes. Where it is a no no is if your face product is designed to manage oil, as it may dry your eyes.
You also want to steer clear of anything very thick, as these products may be too heavy and lead to puffiness or milia (small white bumps where dead skin cells have become trapped under the skin) over time. So just be mindful of what you're putting there!
Can eye cream do anything for dark circles?
It's what we all wonder after a sleepless night (or week/month/year), and according to Jeanne, they can help if you need a pick-me-up. However, if you've had dark circles for as long as you can remember, you might need to look into stronger professional treatments to get results.
When should I start using eye cream, if that's what I'm into?
Well, if you're in your early twenties, you're probably grand. "The late twenties is a good time to start, as this is when structural changes start to come in," advises Jeanne. "The skin doesn't produce as much collagen or natural moisture as we get older, so it can do with a little support."
What kind of eye cream should I go for?
If you're in your early twenties and want to get in on the game anyway, your main concern is keeping everything hydrated. "A gentle eye cream with Vitamin C or hyaluronic acid is a perfect starting point, and don't leave your eye makeup on overnight!" says Jeanne. Which is something we would NEVER do, of course.
As you move into your late twenties, look for eye creams with hyaluronic acid and peptides to ease yourself into anti-ageing skincare. Peptides are chains of amino acids which work to encourage skin elasticity, keeping fine lines at bay (Jeanne's clients love the Skinceuticals AGE Eye Complex).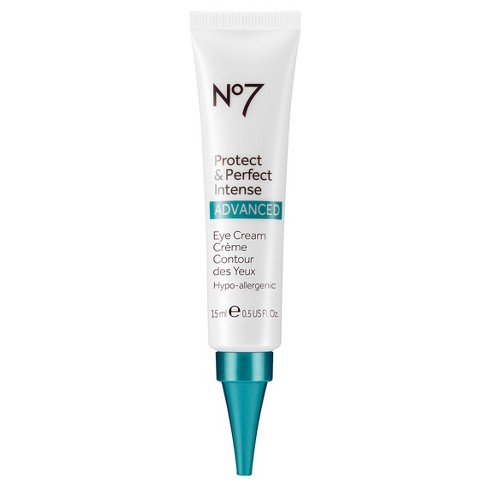 By your thirties, says Jeanne, it's important to introduce Vitamin A into your eye care routine in the form of retinoids – retinyl palmitate is a milder version and a good starting point (it can be found in the No7 Protect and Perfect Intense Advanced eye cream). As you move through your thirties and beyond, seek out ingredients like retinol or retinaldehyde to get the best results.
Whether you choose to use an eye cream or a suitable face product, remember to pat it on gently with your ring finger – you don't want to drag around that sensitive skin. Are you on the eye cream train or not? Tell us!
Have your say
More like this