Is Penneys' Tanning Water Actually Any Use? We Tried It Out
Valerie Loftus was a tanning sceptic... but this might have just changed her mind.
I've never really been one for fake tan – literally because I could not be arsed with the effort of it all. However, my natural leg colour could best be described as 'sickly'. To avoid this, I tend not to get my legs out at all. Opaque tights are my best friend.
But I couldn't exactly wear 60 deniers to the VIP Style Awards on Friday, could I? So I had to do something about the old legeens.
In a mad dash around Penneys, I picked up the €5 PS… Tanning Water, thinking that anything with 'water' in the name couldn't be that bad.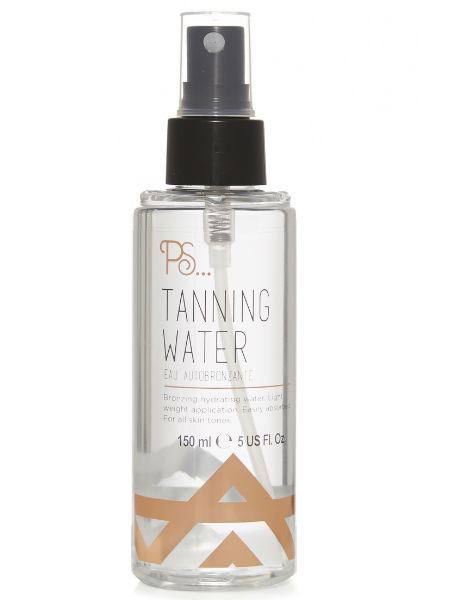 I'd heard whispers that it was good but there's virtually no information on the internet about it other than the fact that it exists, so I felt like I was taking a bit of a stab in the dark.
Armed with my first ever fake tan mitt, I set about making myself slightly more brown than I was that morning. And here's what I learned:
The tanning water takes a few hours to show up, so you're better off putting it on the night before.
It dries in about 20 minutes, and from my experience, doesn't transfer on to bedsheets, clothing, or towels.
Because it's so subtle, you don't need to shower it off (you should have your shower beforehand, though, because it does wash off a little bit. I learned this the hard way).
I was, however, able to reapply it the morning of the awards, put my tights on after a few minutes (love you tights) and go about my day while letting it develop.
The bottle says you can just spritz it on and go, but I'd definitely use a tanning mitt to rub it in properly. It's invisible, so you don't really know where's been hit and where hasn't.
What you get is a light but even tan that just lifts the skin a little bit. It's not orange, it's not streaky, but just right for me. Here I am on the VIP red carpet, looking like I'd been in Lanzarote for a week to ten days:
It won't be the answer for gals who like a deep tan, but the Tanning Water did make me feel more confident about having my legs out. So, tanning sceptics and all my fellow gals who just could not be arsed – there is a way.
Have your say
More like this