Jaclyn Hill has been accused of selling expired makeup after customers found strange fibres, holes, and 'plastic' pellets in their lipsticks.
With almost six million subscribers, Jaclyn is one of the original YouTube beauty gurus, and previously collaborated with BECCA to create the hugely popular Champagne Pop highlighter.
She originally announced that she was launching her own cosmetics line in 2017, and after two years of delays, her debut collection of 20 nude lipsticks finally landed on May 30.
However, as customers began receiving their orders, they noticed some issues with the lipsticks – some were broken, others had a 'gritty' texture, and yet more had unknown fibres and pellets embedded in the lipstick.
In a since-deleted tweet, Jaclyn responded to the above customer, claiming the lumps were down to her dry lips.
…You posted swatches two days ago loving the lipsticks? Now you're wondering why it's lumpy? It's obvious the lipstick is used and not fresh from the factory. Like any other lipstick, if you use it over other products, have dry lips etc, things like this can happen.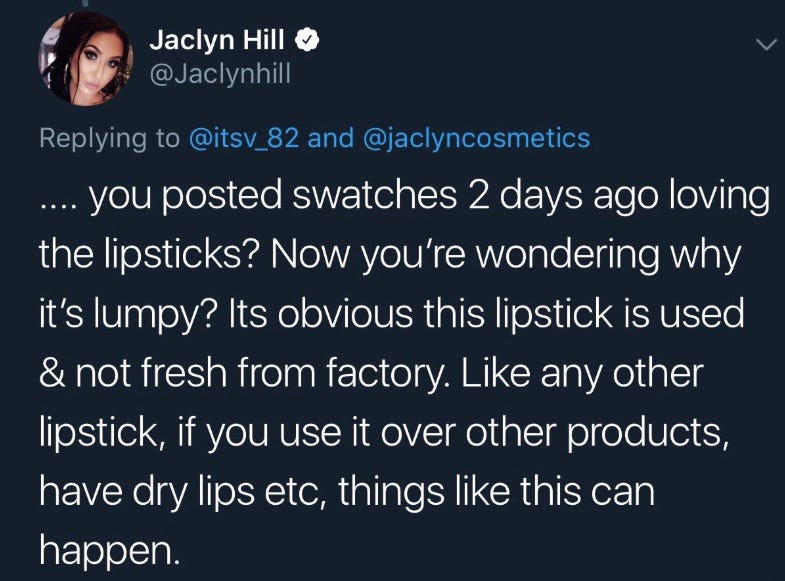 It all came to a head when YouTuber RawBeautyKristi posted a 50-minute video in which she examined the lipsticks under a microscope (really) to see what was going on.
"When I was unboxing and looking at each of the lipsticks, I noticed what people were saying was true… I noticed fibres, hairs, beads, and pitting in a bunch of the lipsticks," she said.
Looking at them under her microscope, she found even more fibres, holes, and other strange-looking marks.
"I do NOT think that Jaclyn was aware of the quality of these before them going out," Kristi said.
I think that these lipsticks are either OLD or the lab has ZERO quality control and that they are contaminated… I feel like the lab did Jaclyn dirty. I think they released poor quality products and now she and her brand's reputation are paying the price.
Following Kristi's video, Jaclyn addressed the issues with the lipsticks on Twitter, claiming the fibres were from 'white gloves' worn by the quality control team.
She apologised to her customers (and for her "unprofessional" response to that fan's complaint), saying she's working to rectify the mistakes.
My team and I are working very hard on finding out EXACTLY what is causing the 'grittiness and bumpy texture' on some of my lipsticks. I am so sorry to see some of you dissatisfied with my product. I will make it right for you and learn from this mistake! That's a promise.
Marlena Stell, creator of the brand MakeupGeek, has questioned the 'white gloves' excuse, saying she'd never seen anything but rubber or latex gloves used in any lab she'd visited. Hmm.
This isn't the first time Jaclyn has had issues with her products – in 2018, a collaboration with the brand Morphe was delayed after fans complained that some shades were not up to standard.
And in 2016, her eyeshadow palette with BECCA was pulled after early reviewers found it 'dry and patchy'. Seems she has some terrible luck…
Have your say
More like this