No Bullsh*t Beauty: The Best Colourful Eyeshadow Palettes, For Those Of Us Who Desire Rainbow Eyes
Yellows! Greens! Oranges! Reds!
Every week, STELLAR's online editor Valerie Loftus sifts through all the latest products and craziest trends to bring you the info you need to know.
One day I woke up with a fierce need for golden yellow eyeshadow. I don't know what inspired it, but I knew I wanted it all over my lids, no fussing around with any other colours, paired with just a touch of mascara.
Realisations that I also needed minty green, lilac, turquoise, and orange soon followed – and I immediately began the hunt for a highly-pigmented, rainbow bright eyeshadow palette. Luckily, bright eyes are kind of the in thing right now (so I was definitely subtly #influenced, not just creating a look all of my own as I had thought *eye roll emoji*) and there are loads to choose from.
First of all – the price of this! About the same as a Boojum and a drink. The pigment is no joke either, although some of the colours (the purples especially) don't blend as wonderfully as you'd want them to. But if you're looking for an extremely affordable brights palette, this could be a bit of you.
This palette is STUNNING. Like, I actually gasped when I opened it. It's one of the pricier palettes on this list, but the quality is seriously impressive (that neon pink is actually screaming neon pink, something I did not expect) and the colours are just beautiful. Plus, there are loads of transition shades and daytime-appropriate metallics, meaning it's great for all kinds of looks.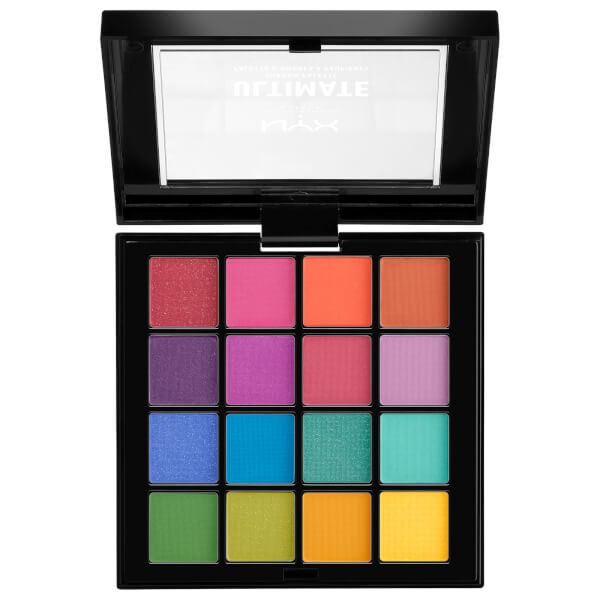 Here's one you can get in your local Boots, which is always dead handy. The Ultimate Brights packs 16 shades into a very portable palette – like the Revolution Pro one, the pigmentation isn't perfect on all of the shades (purples and blues are difficult, we know), but it'll certainly scratch that rainbow itch.
The Juvia's Place palettes are heralded by beauty bloggers and influencers worldwide for their amazing pigment, and they do colour better than just about everyone. Try the Zulu, Festival or Masquerade palettes for maximum brightness.
With a whopping 35 shades, including a black and dark brown, you will probably never need another palette again. Morphe are obviously leaders in the eyeshadow palette business, and their colours always perform. The price is also very pleasing indeed.
Whether you want to go a bit mad for a festival, or believe that rainbow makeup is a way of life (join the club), these palettes will take care of your need for colour.
Have your say
More like this