The 6 Most Annoying Problems You Have With Your Nails, And How To Fix Them
Nail technician Pamela Laird is coming to the rescue.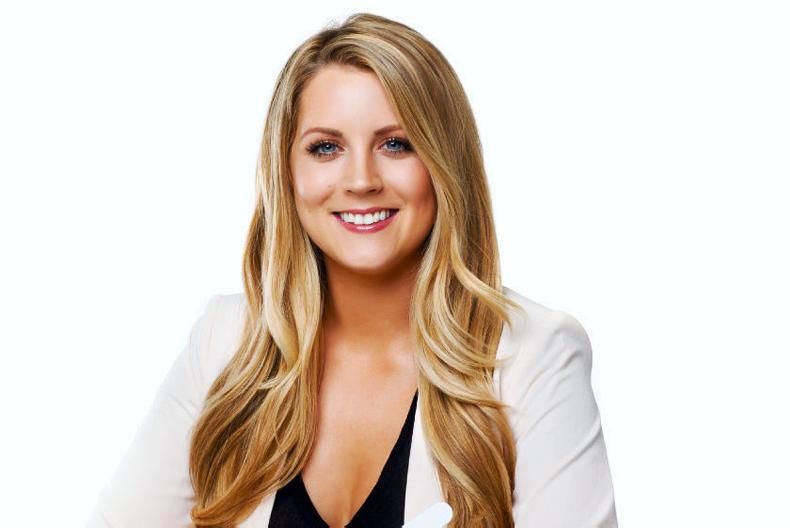 Having our nails done always helps us feel more put-together and confident. But we don't always have the moolah for a manicure, and definitely don't have the know-how to replicate a salon job ourselves at home.
STELLAR chatted to nail technician (and Moxi Loves creator) Pamela Laird about six very common, very annoying nail issues, and got all her tips and tricks for fixing them.
Dry, dry cuticles
Hands up who else is guilty of nibbling and picking at their dry cuticles? It ain't cute. But don't go mad getting them nipped at the nail salon – this can just make things worse.
If you have dry, overgrown cuticles that are prone to cracking resist the temptation to cut them with a nippers. Cutting cuticles will stimulate the growth of the skin, and can cause them to grow back thicker and faster! Instead use a cuticle remover, this uses fruit enzymes to break down dead skin over time – it'll tame that excess skin and allow better absorption of your cuticle oils and hand creams.
Pamela rates the Sally Hansen cuticle remover, which also doubles up as a callus peel for your feet. Handy now that we are (finally) heading into summer!
Cracking or breaking nails
If your nails are cracking and breaking all the time, you might just assume they're weak. In actual fact, they're brittle and in dire need of hydration.
"Strengthening treatments should be avoided," says Pamela. "Getting some hydration and flexibility is important for a brittle nail, so try using a nail serum like Sally Hansen Moisture Rehab and stick to a normal base coat with no strengthening properties."
Weak nails
Genuinely weak nails don't break, they bend. They need to be given a little bit of love and attention to make them feel strong again (and don't we all, TBH).
This often happens after gel or acrylic nails when the free edge of the nail bends or won't grow. These nails need extra TLC and a good strengthener. Look for products with omega extract and proteins like Sally Hansen Hard As Nails and use it once a week.
Peeling nails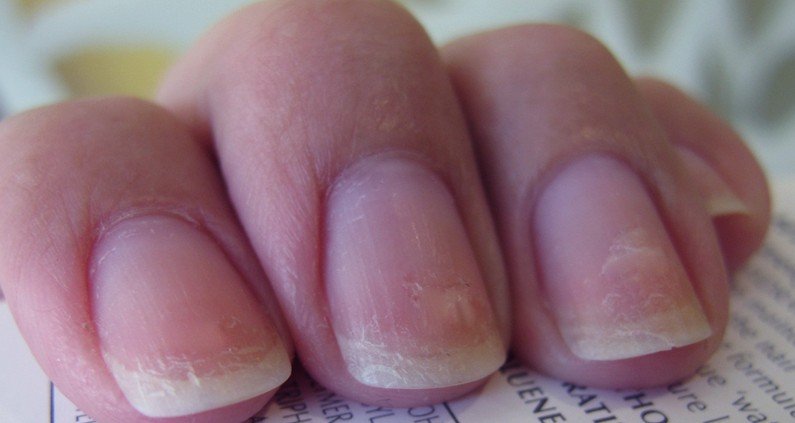 Nails peeling? It could be down to how you're filing them.
This problem is twofold – it can often be caused by incorrectly filing the free edge (AKA the very tip of your nail). If you imagine your nail as lots of flattened layers of dead skin compressed together, it's really important that you seal that edge in with your nail file to ensure the layers don't separate and peel. Use your file to shape your edge, moving side-to-centre rather than see-sawing.
"A single coat of a treatment like Sally Hansen Miracle Cure once a week, worn alone or under your nail colour, will protect the nails and help to stop the edges peeling," Pamela says.
Stained Shellac
Nude polish can look so elegant and chic, but it's also a magnet for stains which are… definitely not elegant and chic. How do you keep it looking pristine?
After your nail tech has finished your gel manicure, you can put a layer of ordinary topcoat on top. This extra layer will be the 'stain grabber' and is easily removed using acetone-free nail polish remover. Any stains will be removed with it!
Pamela recommends Sally Hansen Insta Dry for this – it's got acrylic molecules that will give your precious nude nails the best shield.
Botched home manis
There is nothing more annoying than going to the trouble of doing your nails before bed, only to smudge or mark them on your bedsheets. Pamela has a very simple way of avoiding this:
Keep some cuticle oil handy and after you've applied your topcoat, apply a generous amount of oil to each nail and cuticle. The oil will trap the oxygen and speed up the chemical reaction to reduce your drying time. It'll also lubricate and prevent any marking while the polish dries.
If you find you just can't get a nice-looking mani at home, consider adding these steps:
Wipe each nail with remover – this gets rid of any dust or oil on the nail plate. Next, apply your base coat. So many people skip this step, but your base is everything. Nails are naturally porous and uneven, so your base coat can give you the smooth surface you need to get a perfect finish with your colour.
Try a base coat that has a low gloss or matte finish, like Sally Hansen Nail Rehab – this helps your polish to stick to the nail – then add two thin (this is very important) coats of your chosen colour. Nail polish dries from the inside out, so the thicker each layer is, the longer it will take.
"Seal the edge of the nail with top coat to prevent chipping, and apply another layer of top coat every four or five days to revive the shine and help them last longer," says Pamela.
Now see. We have literally no excuse to have rotten nails any more. Pamela, you're a lifesaver.
Have your say
More like this