What's On The Cards For You In May? Find Out With STELLAR's Tarotscopes
White Witch Patricia Weston has consulted her tarot deck for you.
Need a bit of guidance for May? STELLAR'S Tarotscopes, cast by White Witch Patricia Weston, will reveal what's on the cards for you in love, life, and work.
Aries (March 20 – April 19): ACE OF CUPS
Aces are a powerful card and the beautiful, flowing Ace of Cups will have you focusing all your attention on love this month, Aries. Whether you are single or attached you're sure to see through loving eyes as you find compassion and healing glowing wherever you go. You'll be a magnet for all things love this month Aries, so enjoy it while it lasts.
Taurus (April 20 – May 20): ACE OF SWORDS
Your determination sees you cutting through any and all nonsense this month, Taurus, with the Ace of Swords in your sign. This mighty Ace will guarantee you powerfully plough through any confusion leaving no one in doubt about your clear-cut intentions. Just watch your words as your tongue is likely to be razor sharp this month too.
Gemini (May 21 – June 20): KING OF CUPS
The King of Cups in your sign, Gemini, and ensures you take an authoritative but compassionate stance in all matters this month. You'll be brimming with empathy and kindness and a listening ear for your fellow man. And if you feel your usual restless self, take a trip to the sea or running water so your body can bask in the calming, healing effects of water.
Cancer (June 21 – July 22): KNIGHT OF WANDS
You're all fired up this month Cancer and you're rearing to go. You have a fire in your belly that just won't quell this month and you'll be bursting with new ideas and enthusiasm for work and career projects. Just watch you don't burn yourself out and remember to nurture that kind emotional soul of yours too.
Leo (July 23 – August 22): SIX OF PENTACLES
Leo, your generous spirit will be satisfied this month as the focus is on giving and receiving. All those wonderful gifts and acts of kindness you carried out last month will be flooding back to you as the universe redresses the balance. Harmony will flow and you'll be in good form, feeling like the world is finally giving you all that you asked for.
Virgo (August 23 – September 22): ACE OF PENTACLES
The Ace of Pentacles in your sign this month Virgo brings a gift of financial reward. This is money that is well overdue, so you'll be delighted to receive it. Just be sure to spend some on yourself and treat yourself to something nice because there'll be plenty of hands out looking for a share.
Libra (September 23 – October 22): THE EMPEROR
Lovely Libra, the straight-laced Emperor in your sign ensures you dot all your I's and cross all your T's this month. No stone will be left unturned and you'll find yourself getting very organised and efficient, you might even get around to clearing out that long overdue clutter at the bottom of your wardrobe or that messy, muddled, paper-stuffed drawer.
Scorpio (October 23 – November 21): TEN OF CUPS
The lovely, harmonious Ten Of Cups in your sign this month, Scorpio, will have you beaming with happiness and dancing for joy. Ten cups brim with cheerfulness, love and lots of laughter, especially on the home front, so you'll finally be able to let loose this month and focus on plenty of frivolous fun.
Sagittarius (November 22 – December 21): WHEEL OF FORTUNE
Lady Luck shines on you this month, Sagittarius. The Wheel spins in your favour and you can't put a foot wrong. The Wheel of Fortune brings opportunities, chance meetings and lots of luck your way, so be sure to get out there and take full advantage of this lucky streak.
Capricorn (December 22 – January 20): FIVE OF CUPS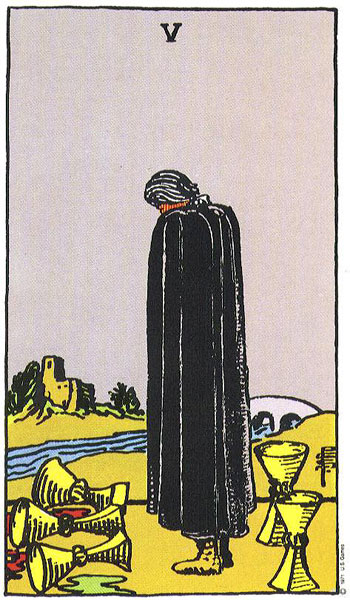 You may feel like a party pooper this month, Capricorn. You're moaning and mourning all the things that have gone wrong in your life that you can't seem to see what has gone right. Don't get too stuck in misery mode, use that famous discipline of yours to snap yourself out of it and put on some bright clothes to lift yours spirits and clear away the doom and gloom.
Aquarius (January 20 – February 18): SIX OF WANDS
You're on your high horse this month Aquarius, feeling very satisfied with your achievements. The Six of Wands sees you riding high and feeling very smug and satisfied with yourself. You may be offered that opportunity or promotion you were looking for. You settle into the saddle very comfortably and sure know how to take the lead and show others just how it's done, just don't get too detached from your crew and remember those below you who might need a helping hand.
Pisces (February 19 – March 19): FOUR OF CUPS
Your daydreaming might have gotten a bit out of hand this month, Pisces, and if you're not careful you may start rejecting opportunities on the ground. Time to get yourself back down to earth with a thud and see all the wonderful opportunities that are being handed to you. Take a closer look, survey your surroundings and see all you've got and how far you've come and really take it all in, this will soon have you smiling rather than scowling. 
Have your say
More like this