I Took the Plunge and Tried Virtual Dating – Here's How it Went!
STELLAR PROMOTION: Just because you're social distancing, doesn't mean you can't date!
By Catherine Taylor
As STELLAR's resident singleton, the current COVID-19 crisis has pretty much halted all of my traditional dating opportunities. Gone are the days of a cheeky swipe right on a dating app, leading to a pub meet-up, then, if I'm lucky, to a more formal dinner date; this pandemic has made it seemingly impossible for us single gals and guys to catch a break! Given that, as a country, Ireland is practising social distancing measures, this also means that any potential mates found online must be pursued online too. As a woman who prefers dating by getting to know someone in person, this change of pace seemed nothing short of a nightmare. How exactly are you supposed to gauge your chemistry with another individual when you can't even be within physical proximity of each other? Enter: Bumble, the social networking app in which tradition is thrown to the wind, and women make the first move!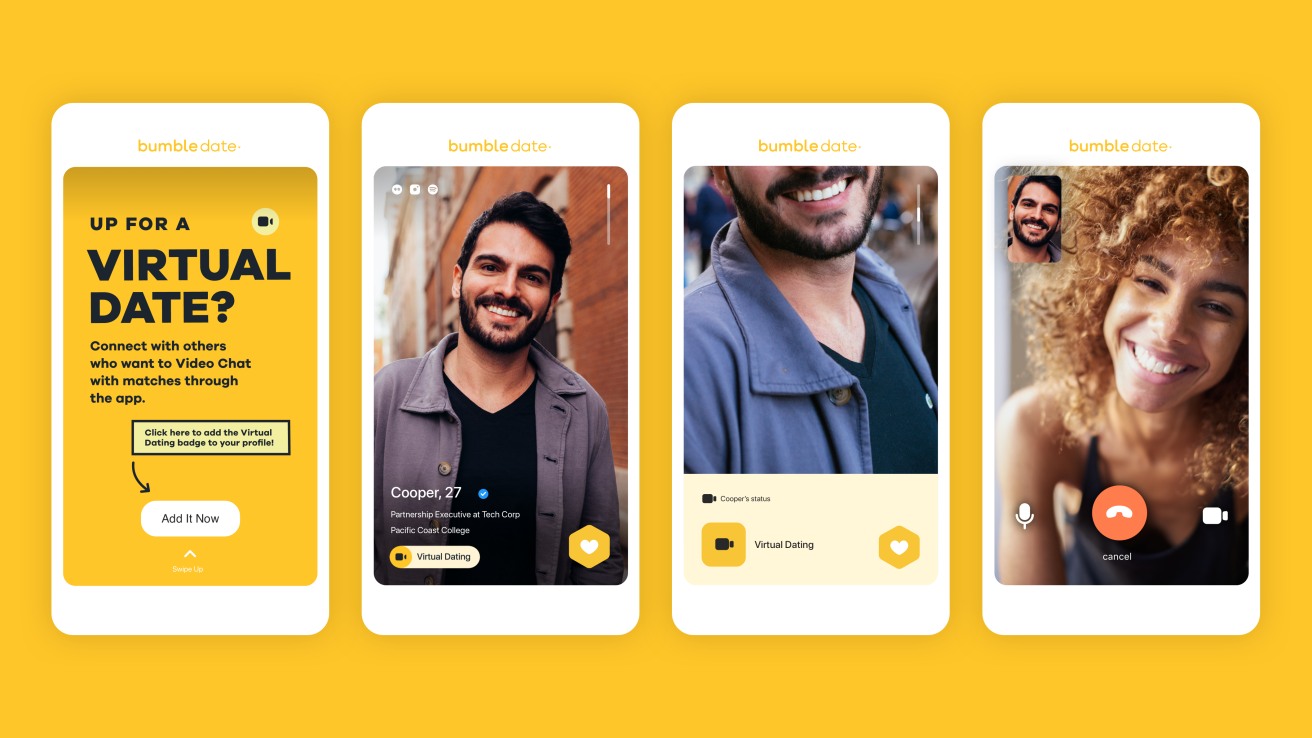 Now, I know what many of you are thinking; as women, we've been brought up in a world where, when it comes to love, men are often expected to make the first move. I can also admit that, upon signing up, it did take me some time to pluck up the courage to send that first message. After all, I have always been one to sit back and wait for interested parties to pursue me, rather than taking my love life into my own hands. But the great thing about the app is how selective it allows you to be about potential matches. Instead of swiping 'right' or 'left' based on a picture alone, users can give an indication of their lifestyle by answering questions about some traditional dating 'deal-breakers.' Some of these include whether your match drinks or smokes (I answered that I drink socially, and a glass of wine certainly helped to calm my nerves during the virtual date that followed!); whether they have pets (if you don't like dogs, that's a deal-breaker) what their star-sign is and even if they have kids, or want them in the future. I particularly enjoyed the option of adding my height to my profile. As a 5-foot 10 gal, this allowed me to find matches who weren't put off by my tall frame, because as other tall girls know, dating when you're blessed in the height department is a never-ending struggle. This spin on the traditional dating profile means that you can eliminate potential matches whose profiles don't align with your own, saving you time and effort in your pursuit of 'The One.' 
Just as I do on a 'real date,' you can bet that I dressed myself up to the nines for this virtual one.
Bumble has also released a range of new customised features to make virtual dating even easier. I added the Virtual Date Badge to my profile, which indicated that I was open to a face-to-face exchange over video-chat; and surprisingly, this reaped some very favourable results! Bumble has revealed that like myself, 21% of users are replacing IRL dates with virtual ones, proving that despite the physical distance between us, humans are still searching for real connection in lockdown. Following my first date, I came to realise just how similar dating etiquette is over video-chat, when compared with a real-life meet-up. Just as I do on a 'real date,' you can bet that I dressed myself up to the nines for this virtual one. I threw on jeans and a nice top for the first time in weeks, having previously LIL'd (Lived in Leggings) at home. I straightened the hell out of my hair, and even went glam with a full face of makeup, a feat which has been pretty much unheard of since quarantine began. The basic premise of my virtual date was also the same as a physical one: inevitably, my date began with awkward small talk, required a drink (or two!) to break the ice, and, surprisingly, ended with the promise of a second virtual date. 
Despite the success of my first date, I wanted to keep my options open, and so decided to use the Question Game to begin interacting with a new match. The app suggested some interesting ice-breakers before I settled on the easy-breezy, "what was your first concert?" question, which I sent off to my potential love interest before going about my day. To my (joking) dismay, within a few hours I had received his reply, 'Kanye West', while I had pre-set my own answer to 'Taylor Swift.' What followed was an intense yet hilarious debate about their celebrity feud, in which both parties eventually agreed to disagree. The following day, when we decided to video chat, this funny exchange ensured that we were both more at ease, having already had our 'first fight.' For this reason, the Question Game is my favourite of the new dating features; it broke the ice in the best way possible, and depending on the intensity of the question, can allow you to glean much of what you need to know about someone before deciding to take the next step with a virtual date.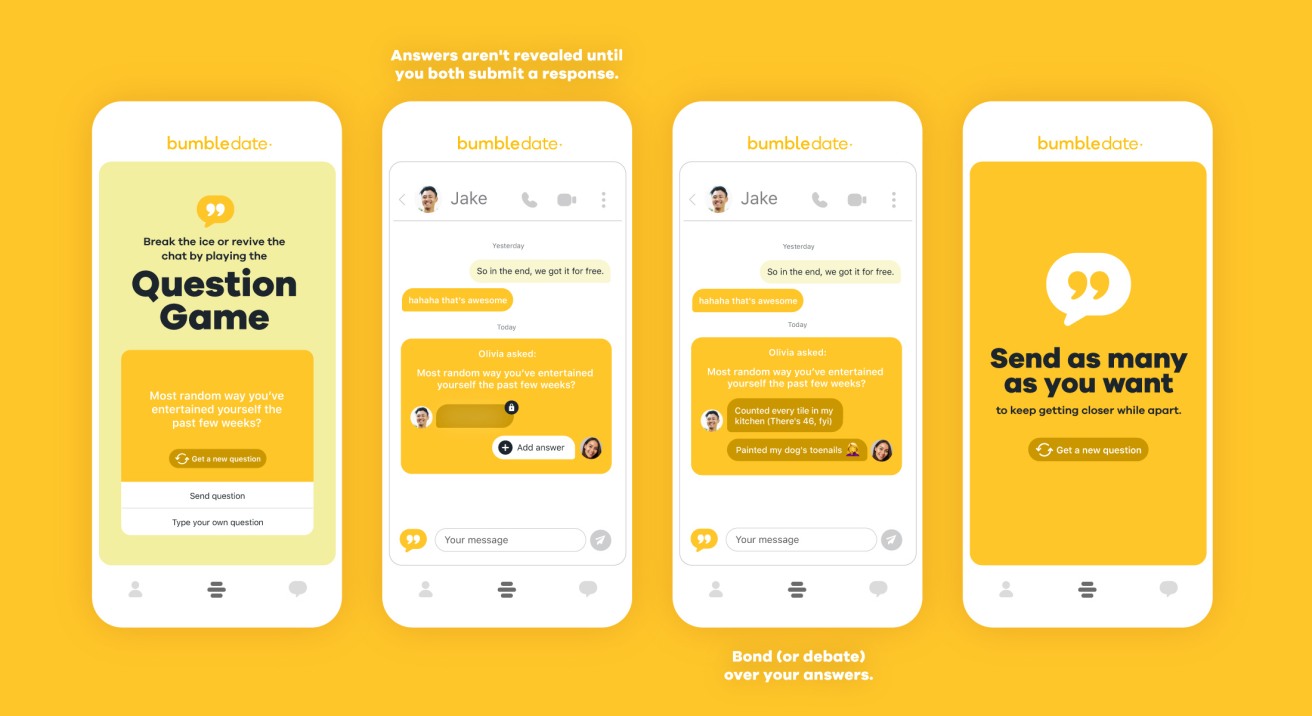 The fact that I was on a virtual date and not a physical one meant that I could politely make an excuse and end the call quicker than I could've if we had been in a bar.
They say that third time's a charm, and so for my final date, I decided to use the Distance Filter to expand my profile's reach. This new feature allows users a look at potential matches nationwide, and not just at those in your immediate area. Given how easy it is to travel nowadays (pre-pandemic of course), I supposed that having a significant other who's only a bus or train ride away isn't the worst thing in the world, and so, used the filter to match with potential dates across the country. To keep things interesting, I decided to forego the Question Game this time and instead used the new Audio Notes feature to make the first move. Though it was a little scary to send a voice note to a stranger (does anybody else just hate the sound of their own voice?!), when my match replied I was quite taken with his strong Dublin accent. After a virtual date, however, we didn't quite click, and our potential romance was quickly nipped in the bud. On the plus side, the fact that I was on a virtual date and not a physical one meant that I could politely make an excuse and end the call quicker than I could've if we had been in a bar. After all, there's nothing worse than having your friend call mid-drink with a 'fake emergency' so that you can leave an awful date behind! Knowing that 79% of users are starting to think about dating in person again, these 'practice' dates are a quick and easy way to identify the matches you're most interested in meeting up with IRL, once lockdown ends.
Overall, I really enjoyed my foray into virtual dating. While it may not be a true replacement for the real thing, virtual dating is a fantastic way to see whether you have real chemistry with a potential match. Bumble has revealed that like myself, 33% of users are interested in continuing to go on virtual dates, post-lockdown. There is also a focus on getting to know someone first, before agreeing to an IRL date, with 46% saying they are spending more time chatting with potential matches than they did before lockdown.  After all, there's no better set-up for an IRL date than having a virtual one first! Bumble's new dating features like the Question Game, Distance Filter and Audio Notes allow online dating to be more personalised, and give you the chance to make meaningful connections. Now, if you don't mind, I'll be off on another virtual date with Kanye West's number one fan. Sometimes, despite your differences, sparks really can fly…
Ready to try Virtual Dating with Bumble? Download the app here.
Have your say
More like this