Is There A Wrong Way To Get Engaged? We Break Down The Rock Hard Politics Around Proposals
STELLAR Promotion: From popping the question to picking the ring, this is your guide to all things engagement.
It's unofficially engagement season, and whether that fills you with dread or excitement will completely depend on your relationship status. As the years go by, proposals seem to be getting more extreme, more public, and are breaking the rules of what used to be considered the 'norms' of getting engaged. In 2019, we can only expect the politics of proposals to change or fade altogether, but do we all secretly believe there is a right and wrong way to propose? I asked Irish women just what they think.
The Rules of Engagement
Is there a WRONG time of year to propose?
In the US, engagement season is considered to occur in the months between Thanksgiving (November) and Valentine's Day (February).
According to a survey by WeddingWire, December, in particular, is the peak month for getting engaged – with Christmas Eve a particularly popular date. Despite this, a lot of Irish women think that getting proposed to on a big occasion is an absolute no-no. This goes for Christmas, New Year's Eve, Valentine's Day and your birthday. Ideally, I'd like to celebrate an engagement on a random day or month that I never saw coming. Then you'd have something to look forward to each year and a date that'll be about nothing other than you – what could be better than that? Michelle, 25, agrees.
"In the most selfish way possible, I want my own day. Birthdays, Christmas, Valentine's… we're going to celebrate anyway. Plus, it's too predictable. I don't want to join the list of 30+ people who take to Instagram on Christmas morning with a snap of the sparkler and caption: 'The boy did good!' I'd much prefer my other half to pop the question on a random Tuesday afternoon. A bit of originality certainly wouldn't go amiss!"
Public proposals – yay or nay?
Don't get me wrong, I'm a big fan of a bit  of PDA now and then, but the thought of sitting in a romantic restaurant and finding an engagement ring on a bread stick makes me recoil in disgust. Firstly, the pressure to say yes would be out of this world (perhaps that's why they do it?), and secondly, I feel I wouldn't be able to react genuinely without trying to curb my emotions for the sake of the poor souls witnessing the cringe act. Despite this, other people may applaud the brave man or woman who proposes in public. Nuala, 26, thinks an over-the- top proposal would be ideal.
"In general, I'm not a romantic, but when it comes to the proposal, there's just something about it. Most of us think that, hopefully, we will only be married once, so if this is my only proposal – I say go big or go home. For instance, I know flash-mobs have become a bit of a thing in recent years, and yeah they can be cheesy, but I think if you're going to make a memory – make it memorable."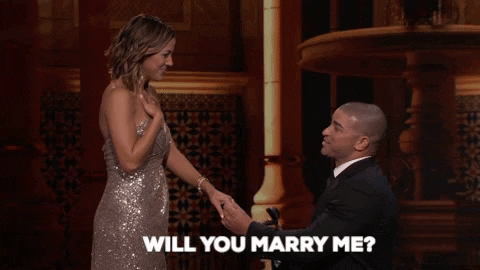 Should he ask your dad for permission?
You'll probably read the above question and think this is extremely old fashioned and unnecessary, but a lot of people like the idea of their other half asking their dad for permission to propose. For me personally, I think permission is a bad way to put it, but perhaps there's something sweet in running the idea by him and seeing what he thinks? Fiona, 29, thinks asking your dad isn't necessary, but it can be nice.
"I do think the idea is a little old fashioned, but at the same time I think some traditions can just be taken for face value as a nice little way to make the bride-to-be's family feel included and part of the exciting time. I wouldn't consider it necessary, but I wouldn't overthink it either, and if somebody wants to do it – go for it!"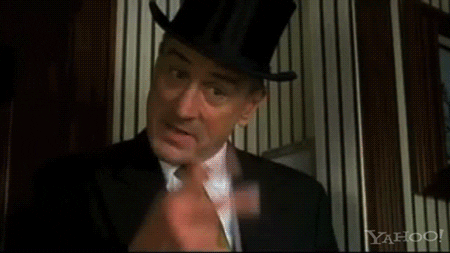 When it's time to take things into your own hands..
Of course, it's not necessarily a man's job to do the proposing – women can always do it if they feel the time is right. Carly, 24, says that ideally, she'd like her fella to do the proposing, but would have no quarrels asking him if it came to it.
"Ideally, I wouldn't have to, but if I felt like it wasn't going to happen I would do the proposing. I feel like you shouldn't wait around forever for a man to ask you to marry him, because that will ultimately make you resentful of them for taking so long. It's 2019, if you want something – ask for it!"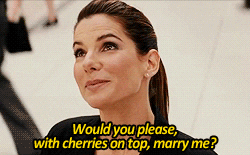 Hurrah! You're engaged – Now what?
Planning your wedding is probably one of the most exciting things you'll do in your life, but the first step to the perfect wedding is finding the perfect engagement ring. The ring choosing process can be an amazing but sometimes stressful time, so to help break things down and make your engagement as smooth-sailing as possible, I chatted to the engagement experts at Fields The Jeweller who know more than a thing or two about finding the perfect ring.
Picking the Rock
Store Manager of Fields The Jeweller, Grafton Street Elaine Byrne has sold her fair share of engagement rings and says she sees just as many couples picking rings together as men going it alone and finding one themselves. Elaine says that for her personally, there's a certain kind of magic to looking after a man who is picking a ring on his own.
"It's a privilege for us to share that secrecy with him while he's choosing something and to hear how he speaks about her. You can see that he's excited, and he's really taking a chance and picking something based on how he's describing her and her style and also what he thinks she might like."
Despite this, it's completely normal for couples to want to enjoy the ring choosing process together. "We also have gentlemen who really want to bring their future fiancée out and experience the whole day together – selecting the ring, going for lunch, having a little glass of something to celebrate. Most guys will know which side of things their partner will prefer – whether it's sharing the experience of coming in for the day, or that he selects something with her in mind."
When it comes to actually choosing the ring, Elaine says the first step would be to set a certain criteria. "They should initially figure out the basic things that they want to find in a ring – for example, the metal they'd like the ring to be in, or their budget. But the most important thing is to maintain an open mind – your selection is really the start of your journey towards the whole wedding experience."
As there are lots of styles of rings to choose from, picking an engagement ring can be a bit overwhelming, especially if you're going in with no idea of what you might like. According to Elaine, the most common style of ring sold in Fields would be the brilliant, round cut diamond – for the simple reason that it's the one that gives the most sparkle. "You get the most payoff with light from that kind of cut," she explains.
When picking an engagement ring we have to remember that this is a piece of jewellery we'll be wearing (hopefully!) for the rest of our lives. So how can couples ensure they'll choose a style that won't date? Elaine explains the best way to do this is by sticking with the classics. "Classics are always good – like a solitaire or a three-stone ring. We'd recommend The Fields Setting, for example, a timeless collection of classic style diamonds. But it's really more important that the wearer feels excited every time she looks at the ring on her finger, rather than keeping up with trends or current styles."
Many people believe that the process of picking and fitting to actually getting to wear your ring can be a long and draining process, but with Fields that's not necessarily true. "If we have the style and size of the ring you like in store, you can walk away with it then and there! Otherwise, the wait time is roughly two weeks if we're not doing a design process. If a customer sees something in our window and they want it in an alternative metal or setting, if it's something we have in stock it'll also be about two weeks. If the finger size is outside of our parameters that we have in general stock, they could be waiting ten weeks or so. Usually, we have a promise ring available for that specific reason, especially if the couple is shopping together."
Sometimes it can feel like being able to afford the ring of your dreams will never happen, but luckily lots of jewellers offer instalment plans. The old 'three months wages' rule until you're able to afford a ring doesn't apply anymore. "It depends on the style and what the customer is looking for," says Elaine. "We start our diamond rings in a simple solitaire at €410 – and then they go upwards  to, really, the sky is the limit! It really depends on personal preference and budget. We do have instalment plans; a customer can leave something on deposit with us, and we also offer flexifi, which is interest-free credit. That's available to our customers, too, in the store."
Weddings in general can be a stressful experience, so it's super important to  remember to relax and try to enjoy every second of it, especially when picking your engagement ring. Elaine's advice is to just trust your gut. "When you put the right ring on your finger, you'll know. We find that so many couples tie themselves up in knots with details, when diamonds really aren't that complex a subject. They should go with the flow, trust their gut and trust that their taste is what they like and that it's correct for them.
"We find couples sometimes ruin the experience for themselves. They come in and they've been researching on Google, but when you're shopping for diamonds on the high street, you're going to have a selection to choose from that's of a certain quality. The customer's expectations can sometimes be higher than that from the research they've done online and they can be looking for something that's really not in their budget. It's just about relaxing them, levelling their expectations and try to rein that in a little bit."
If you're surprised with the ring of your dreams, but it doesn't fit? Fields handles all that. "It's no big deal at all if your ring doesn't fit," Elaine says. "We'll always endeavour to help a customer get the correct fit, and that also helps maintain the longevity of the actual piece itself. If a ring is too big, and turning on your finger, it's more likely to get caught in things or be damaged, which is something we want to avoid. All you have to do is drop into store and if our goldsmiths can size the ring, we can have that done within a week or two."
So try your best to make the most of every second of your engagement and not let stress overcome the excitement. Your engagement ring is a ring for life and choosing it should be the most special and fun experience, so don't forget that!
Services offered by Fields The Jeweller
If you're having any issues with your ring, Fields offer in-store services to make sure you keep it in tip-top shape.
Resizing:
Resizing of the ring is charged per size up and down and can be more expensive depending on what metal the ring is made from. If it needs a few sizes, they add a half shank to the band. Bare in mind, not all rings can be resized but they can determine this if you pop into the store. 
Cleaning:
Fields can clean all stones in the stores except for emeralds. Any polishing, re-dipping, buffing or soldering needs to be done in their workshop, so the ring must be sent away for this. Yellow gold, platinum and palladium rings all need to be polished.  Fields can't re-do a matt finish, it has to be done by the supplier, however they can turn a matt ring shiny if the customer wishes.
Have your say
More like this