10 Books By Irish Women That Every Irish Woman Should Read
Happy World Book Day!
It's World Book Day today, and what better way to celebrate than by loading up your Kindle with some excellent reads by Ireland's wonderful female authors? Don't waste this ideal book-reading weather, for god's sake!
Almost Love by Louise O'Neill
The Cork author's third book, released today, tells the story of a young woman who falls for with a man 20 years her senior. Marian Keyes calls it a "bold and honest depiction of obsessive love", which is all the convincing we need to pick it up.
Rachel's Holiday by Marian Keyes
Speaking of Marian Keyes, no list of books by Irish women would be complete without her. Her finest book, in our opinion, is Rachel's Holiday, a bitingly funny and frank novel about a woman coming to terms (or not) with her drug and alcohol addiction.
The Likeness by Tana French
Tana French is unparalleled when it comes to twisty-turny, Irish-set thrillers, and The Likeness will have you on the edge of your seat. It follows a Dublin-based detective as she tries to solve the murder of a woman who looks just like her. Spooky.
Oh My God What A Complete Aisling by Emer McLysaght and Sarah Breen
Everyone will relate to Aisling, the infinitely sensible gal from the sticks who just wants to get married to her Generic John boyfriend and settle down – when he doesn't propose, she decides to shake up her life. This is a treat of a book (and very excitingly, it's soon to be a film).
Conversations With Friends by Sally Rooney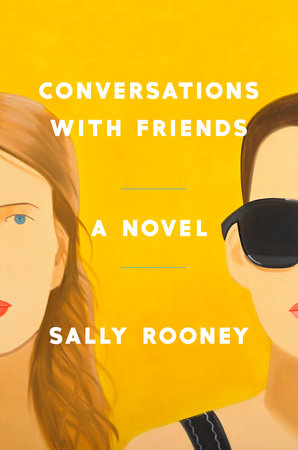 Sally Rooney's critically lauded debut novel is a tale of two friends who enter the orbit of a wealthy, glamorous married couple. There's something incredibly real about it, from the texts between the characters to the decisions they make.
A Line Made By Walking by Sara Baume 
An artist struggling to cope moves to rural Ireland in the hope of finding herself again, and finds herself inspired by the wild countryside. As one Goodreads reviewer writes, it's a story "for anyone who is lost".
A Girl Is A Half Formed Thing by Eimear McBride
The peculiar language and rhythms of this book about a girl living in the shadow of her brother's illness are hard to get into at first, but once you do, you'll find it's unforgettable.
Letters To My Daughters by Emma Hannigan
Look! My 1st copy of my new novel! Out Feb 1st #LettersToMyDaughters pic.twitter.com/5KsljkL9Z5

— Emma Hannigan Author (@MsEmmaHannigan) January 4, 2018
The author's 14th book is about three sisters carrying on after the sudden death of her mother – it's especially poignant considering Hannigan recently announced that her cancer, which she has battled ten times, is terminal.
The book is currently number one in the Irish charts after a campaign by her fellow writers, and €100,000 has been raised for Breast Cancer Ireland in her name. A beautiful tribute.
Light A Penny Candle by Maeve Binchy
The queen! And for a good reason. Her first novel follows two girls growing up in Ireland during and after World War II, and is a great example of her talent for creating realistic characters.
The Country Girls by Edna O'Brien
This book tells the story of the titular Country Girls as they leave their tiny village to find life and love big city. It was banned in Ireland on its release for its depiction of female sexuality (eyeroll), but is now a modern classic.
Have your say
More like this