9 Times Evelyn Cusack Was An Absolute Boss
She won't be presenting the weather on RTE any more after getting a new job in Met Eireann. Sob!
It's a sad day for weather forecasting in Ireland, to be sure.
After 30 years on our screens, Evelyn Cusack is moving on from her hosting duties on RTE to a top job at Met Eireann. And no better woman!
But we'll miss her on our tellies, mostly because she is the ultimate example of a woman who takes no crap – a trait she has displayed many times over her three decades as a broadcaster.
When someone tried to shade her on the cover of the RTE Guide, but we all knew better
'I didn't even know what a cloud was!' pic.twitter.com/nTeWHqMk9S

— Neasa Conneally (@neasaconneally) July 27, 2015
Listen you little messer, there is no way Evelyn Cusack didn't know what a cloud was. She IS the weather!
When she reminded Irish kids that they were going back to school in the morning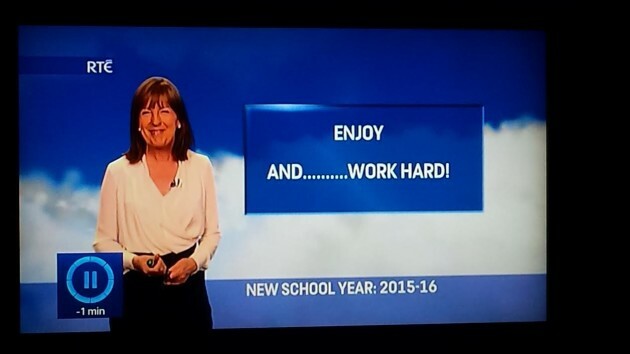 Did she care if she was harshing everyone's buzz? No! And why should she?
When she didn't really trust that Irish people knew their geography
RTE pointing out Ireland just in case we didn't know where it was… #RTE #weather #neverknewitwasthere @MetEireann pic.twitter.com/YUoH9tVig8

— Alser (@Alser82) August 12, 2015
Like, fair enough.
When she took some time to disprove someone's weather bullsh*t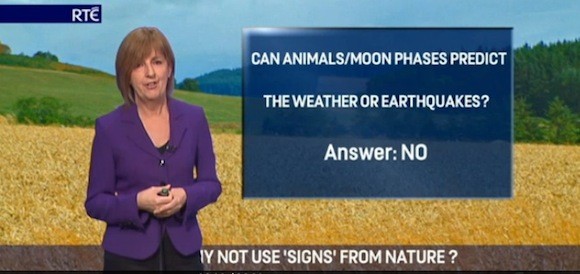 If Evelyn is known for anything, it's for not standing idly by while someone's spouting weather bullsh*t.
And then did it again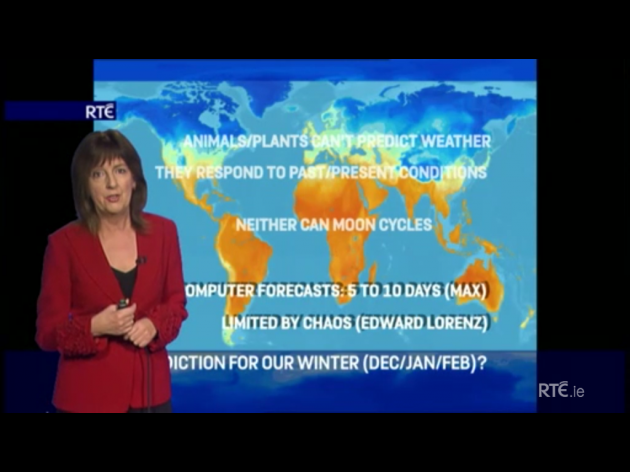 And again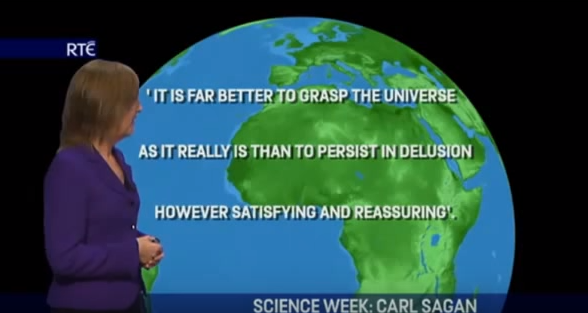 Basically, she spent most of her RTE career trying to get people to stop talking shite about the weather.
When she went all "Well it wouldn't be for me now" about the other presenters' outfits
She famously said that she doesn't think women should 'be sexy' at work, and compares her fashion sense to Angela Merkel. But she also doesn't think anyone has any right to be complaining about what the female presenters are wearing, telling TheJournal.ie:
Disgraceful, that's absolutely disgraceful… I couldn't possibly comment on how other people dress of course, Personally, I'm not a fan of the bare-arm look in winter.
When she was ruling the roost during the Storms Emma and Ophelia
Honestly thought Evelyn was having a stress-smoke in this pic pic.twitter.com/dTrCZ1eiI0

— Nick Sheridan (@nick_sheridan) October 15, 2017
Check her out there at the National Emergency Coordination Group briefings, being a reassuring presence and sh*t. (She is not having a stress-smoke in that picture though. She's got it all under control.)
She even had all the bread and milk sorted for everyone! What a champ.
Evelyn Cusack being gas craic! #BeastFromTheEast #StormEmma #breadmageddon pic.twitter.com/Tt6xvCK23n

— Today FM News (@TodayFMNews) March 1, 2018
And every time she had to soldier on through less than perfect forecasts
When the live broadcast for the weather forecast doesn't quite go as planned on @RTE watch the video below @JOEdotie pic.twitter.com/VukzHrJVjp

— Richard Conachey (@RichySpeedbird) July 26, 2016
Who was messing with the queen's charts? Ah, we'll miss you on the box, Evelyn. Don't be a stranger now.
Have your say
More like this