Apparently Khloe Kardashian Responded To Tristan's Apology With A Private Message
But will she forgive him is the million-dollar question?
It's been just over a week since Tristan Thompson dropped the bombhsell that he's fathered another child when he yet again cheated on baby mama Khloe Kardashian.
After a paternity test revealed that Tristan was the father of a little boy with fitness model Maralee Nichols, he took to his Instagram account to share the results of the test and also publicly apologise to on-again-off-again girlfriend Khloe Kardashian.
"Khloe, you don't deserve the heartache and humiliation my actions have caused you," he wrote.
"I have the utmost respect and love for you. Regardless of what you may think. Again, I am so incredibly sorry."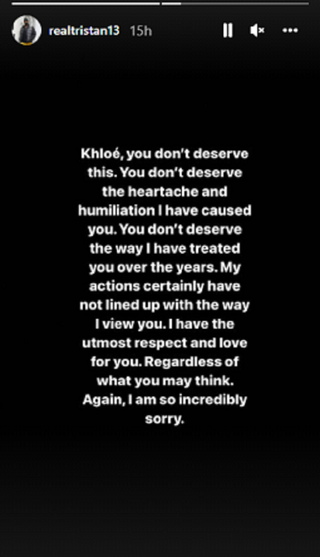 While Khloe is yet to respond publicly to the situation, it's now believed that she has reached out to Tristan privately to accept his apology. A source has told Page Six: 
"Khloé decided not to respond back publicly, but privately she let him know she appreciated the message"
However, fans of Khloe needn't worry that her allegedly accepting Tristan's apology could mean that she's planning on getting back with him again sometime in the future, as the source added that they're 100% dunzo.
"She is taking the high road, and while she will never, ever get back with him, Khloé really wants Tristan to be a good father to True, and for him to be a big part of their daughter's life"
Khloe will now reportedly focus on herself and her daughter True will she intends to remain cordial with Tristan as they co-parent their child.
Have your say
More like this