Dec Hinted That Holly Willoughby Could Be Coming Back To I'm A Celeb Last Night
Ohoho.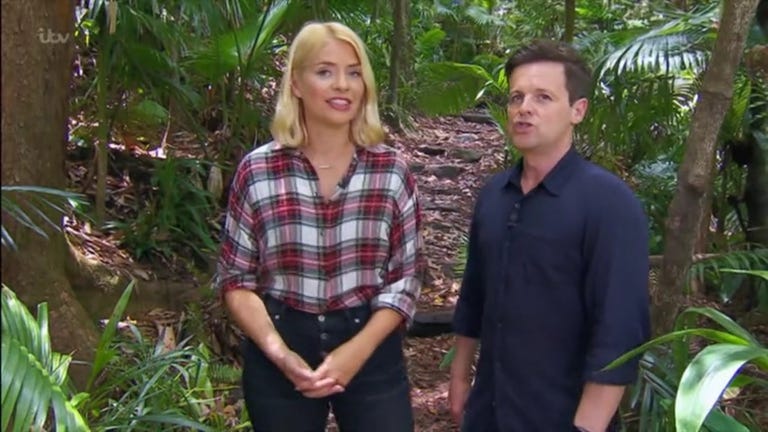 After a slightly frosty reception from viewers more used to Ant and Dec's jungle banter, Holly proved herself to be a more than capable stand-in for the presenter.
She had tons of empathy for the campmates, weeping when they wept, celebrating when they triumphed, and screaming in terror during every single Bushtucker Trial (as any regular person would, in fairness to her).
The people at home came to love her, but it was pretty much accepted that this was a once off and Ant would be back next year… until now, that is.
The I'm A Celeb Coming Out Special aired last night, catching us up with what all the celebrities have been up to since they left the jungle. At the very end, Dec presented Holly with a little parting gift – a jungle campmate t-shirt with her name on the back "for next year".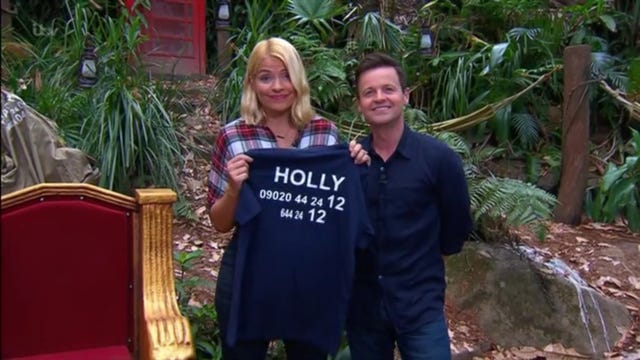 "The biggest thanks goes from me goes to you, Holly Willoughby," Dec continued with lots of feeling. But does that "for next year" mean for when sitting on her couch at home watching it next year, or for when she returns to co-host the next series?
Fans seem to think it's the latter:
They basically just confirmed Holly will be presenting again next year #ImACeleb

— ???? ??‍♂️ (@AdsyAds) December 12, 2018
Holly confirmed for next year? #imaceleb

— Bay (@Bay55150378) December 12, 2018
While others seem to think she'll be a contestant:
Omg is that a hint that Holly is going to be one of the celebs next year?!?! #ImACeleb

— Animal3887 (@Animalz3887) December 12, 2018
My new dream now is having Holly as a campmate next year #imaceleb

— risos (@letsgetcomecar) December 12, 2018
We wouldn't mind seeing Holly back next year, but she previously said that she's more than ready to hand the reigns back to Ant:
I'm just looking after it until he gets back. It's lovely that he trusted me with it.
She'll be back on This Morning early next year anyway, so we won't be missing her for long.
Have your say
More like this