DJ Calum and his hype man Jackson stole our hearts and the show on The Late Late Toy Show
Ireland's new favourite DJ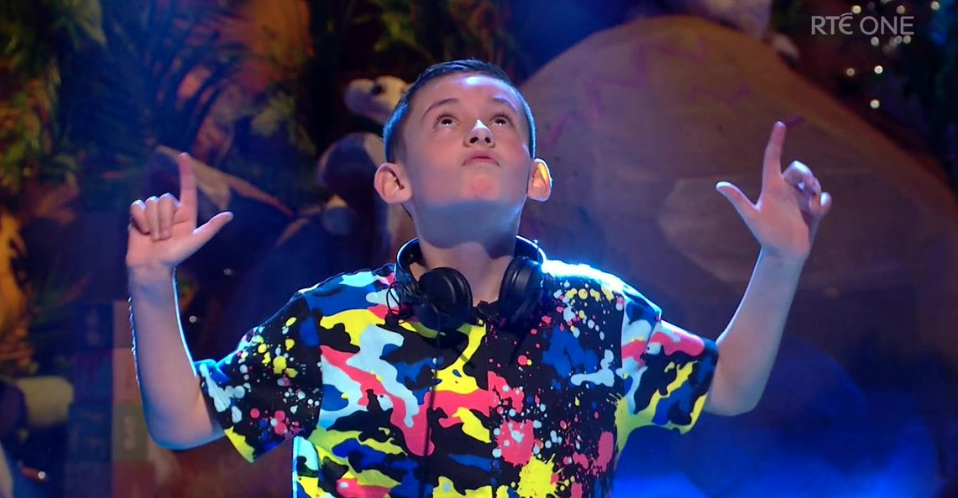 We all enjoyed the Toy Show last night, it was exactly the pop of Christmas cheer we needed this time of year and seeing all the talented children show off their skills and their favourite toys had us smiling, laughing and crying (of course) all night.
Two very memorable guests on this year's show were brother's Calum and Jackson Kieran who put on a very memorable DJ set.
DJ Calum, who is 11-years-old wowed the crowd as he played an incredible set on the show, Jackson had the very important job as the hype man, who "gets the crowd going".
Jackson began the dancing which then turned into an impressive dance performance with all sorts of styles including latin and ballroom, hip-hop, Irish dancing and even ballet.
Calum told Ryan that he began DJing during the pandemic, but his dad's computer wasn't quite up to scratch. In true Toy Show fashion Ryan sprinkled a bit of magic for Calum and presented him with a brand new set of DJ equipment to perfect his skills.
Calum's reaction was so sweet, moved to tears (which his brother pointed out to the audience) he was extremely grateful for his gift and our hearts couldn't take the cuteness.
He then went on to tell the world how much he loved his younger brother, and if that wasn't enough after the show viewers took to Twitter to share how much they enjoyed his performance.
Calum has been swarmed with exciting offers since his appearance including FM104 inviting him to DJ next Saturday, as well as on the Tracey Clifford show on RTÉ 2FM, Marty Guilfoyle also has gotten in contact with Calum about a collab! Wow!
Hi DJ Callum and hype man Jackson 👋

We'd love you to DJ and hype on @FM104 next Saturday evening from 6pm til 7pm if you're up for it!

Let us know

From the Strawberry Alarm Clock 🍓⏰#LateLateToyShow pic.twitter.com/Q3TvNGXFvy

— FM104 (@FM104) November 26, 2021
#djcallum and #hypemanjackson💗💗🙌
Want to come on @RTE2fm this week and play some tunes??#LateLateToyShow2021 https://t.co/H85MKrGQJZ

— TracyClifford (@TracyClifford) November 26, 2021
I currently have my people contacting DJ Calum's people to discuss a collab. #watchthisspace #LateLateToyShow

— Martin Guilfoyle (@MartyGuilfoyle) November 26, 2021
We cannot wait to see what's next for him!
Not only did Calum win our hearts with his DJ talent, he also made us smile with his adorable reaction to Opera singing Fergal as he gave an incredible performance of his own.
Honestly, if I'm ever asked to explain Ireland to someone from abroad – this might be the clip.pic.twitter.com/7aaqUAT0Ed

— Richard Chambers (@newschambers) November 26, 2021
Have your say
More like this